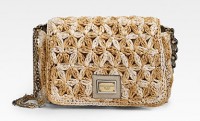 I'm still not entirely convinced that I would pay more than $300 or so for anything made out of raffia (Except for possibly a thatched hut on a tropical island. Do they make those out of raffia?), but that doesn't stop thousands of women from doing so every year and dozens of brands from cashing in on their desires for a luxurious beach bag.
I'm also not sure that I'd take the Dolce & Gabbana Miss Charles Raffia Flap Shoulder Bag anywhere near the water, but if a fabulous beach party were top pop up somewhere (Preferably with a bonfire, I love a bonfire.), then this might be the type of bag that I would be inclined to carry. If, of course, I could bring myself to over a thousand dollars on straw. Ladies and gentlemen, that's a really big "if."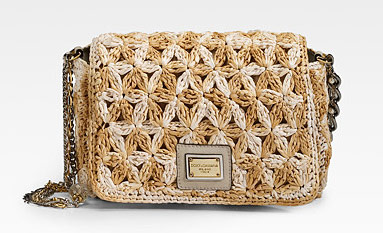 For those who are so inclined, however, this bag does represent something of a good deal when compared to Prada's Resort 2011 bags, which will set you back two grand. The type of weaving on this design is also particularly interesting, and the structure of a flap bag provides the perfect canvas for texture and pattern. I could perhaps even convince myself to break my personal price ceiling for straw and go to $500 or $600 for this bag, but with a four-figure price tag, I'll just hope that it eventually finds its way to a sale table. Buy for $1075 via Saks.