If it didn't look absolutely ridiculous, I would have titled this thread, "Alexander Wang welcomes a new color that is similar to a color you welcome when changing the diaper of a new baby". Let me preface this by saying that I actually love hues of yellow and even a mustard color when done right. But mustard is really really tricky to perfect, and if you are one hue too dark it starts to look like… well, you know what I mean. (more…)
Alexander Wang is sticking with the bags that are working for him for his fall 2010 line. While there may be some new additions, the classics from Alexander Wang will remain staples. These include the Rocco, Brenda, and Diego.
For Fall 2010, expect more of the same in different colors and materials. Lately I have been digging the Diego Bucket Bag for its long strap and sack shaped body. Shop Alexander Wang at ShopBop.
I'm speaking for all of us here at PurseBlog when I say that we are all thrilled that new Alexander Wang handbags are available. While new handbags seem to pop up all the time at some of our favorite retail stores, there are some days where I feel like I've already seen everything. I guess that's what I get for basically scouring the internet for the best (and sometimes worst) handbags available. So, needless to say, I welcome these new Alexander Wang bags with open arms. (more…)
Against perhaps my better judgment, I really like the Alexander Wang Jena Laser-Cut Leather Clutch. And I mean, I like, REALLY like it. The shape is a bit odd and I typically stay away from oddly shaped bags. Don't ask me why, it's just what I do. Yet, this clutch, this adorable, edgy and versatile clutch has captured my attention and I've not been able to get out of its hold since. (more…)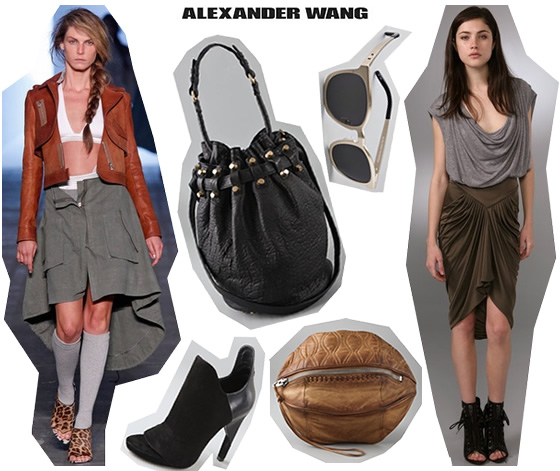 Lately, I have been adoring all things Alexander Wang. You see, when Alexander Wang sent his Spring 2010 collection down the runway, I fell in love. The design aesthetic paired sportswear with preppy cool. And while the collection was far too tomboy for many, I found so many elements that I loved. (more…)
I know what you are all thinking: "Megs, you already bought this bag, didn't like it, and returned it". You will be right in thinking that. Call me crazy but this exact Alexander Wang Rocco Bag has been haunting me since the day I wanted it, the day I got it, and the day I returned it. It still is not the bag for me, but if you don't mind the weight and the lack of shape of the bag, you may need to buy this Rocco before it sells out. Part of the Net-A-Porter end of season sale, the Alexander Wang Rocco with wavy stitch detailing is marked 30% down. (more…)
Is there a certain handbag that haunts you? The Alexander Wang Rocco has haunted me since I first laid eyes on it: leading me to buy it, only to end up being disappointed with it, returning it, and now feeling tormented like I could have liked it. You see, if you read my review of the bag I was entirely let down. I knew the studs would add weight, but the heavy studs paired with the shape of the bag made it appear frumpy. And I couldn't seem to make it work for me. But I think of the bag often and feel like I want to give it another try. Little secret into my mind: I *hate* returning bags and almost always find something good in a bag so I can keep it and wear it.
But this bag might work better for those that love the Alexander Wang aesthetic but need more support for a heavier handbag. Welcome the Alexander Wang Darcy Slouchy Hobo to the family, I think many of you will welcome her with open arms and wallets. (more…)
As I mentioned over on PurseBlog Savvy this morning also, I went to Kelly Cutrone's book-signing in Atlanta (look for a post on that on Monday) and had a lot of fun scoping out what everyone was wearing. The girl carrying the Rebecca Minkoff Loveletters Leopard-Print Morning After Mini Bag was clearly the winner, at least for me – she did such a great job making a leopard print bag look like a wardrobe staple that I couldn't help but mention it to you girls.
Her outfit inspired me so much, in fact, that I wanted to talk about another leopard bag that I had mostly ignored until now – the Alexander Wang Millie Leopard Bag. Although I love animal print, I had written it off as too busy and too difficult to fit in to the wardrobe of anyone who doesn't find themselves constantly wearing solids. I wear so much black that I could see myself using it regularly, but I wasn't sure that anyone else would find a use for it. Well, I'm no long unsure. (more…)
Everyone remembers my Alexander Wang Rocco love and letdown story. My returning this bag still haunts me a bit, as I rarely *rarely* return bags and this one held such a special place in my heart but fell short when it came to my expectations. Either way I will not ignore this bag or stop showing support for a design and idea that I love.
What I don't love is this version of the bag. I don't know why designers attempt to add luxury to PVC. It is like adding nice a set of $10,000 rims to a barely functional beater car. (more…)
One of my favorite lines from one of my favorite movies, My Big Fat Greek Wedding, is when Toula's father Guss recovers his mother who is constantly running away and says, "Hey everybody, look who's back again!". Clearly reading that line loses every bit of hilarious context in the movie, but it not only applies perfect to the movie but also to this bag.
The original, classic Alexander Wang Rocco is in stock on Alexander Wang online right now. The classic is the black leather with brass studs. This is the most sought after combo of the bag that was originally named the Coco, though the name seems to have caused some legal problems hence the name change. The Rocco continues to garner an immense amount of press and buzz, with everyone wanting to get their hands on this particular combination. You all may recall my lackluster feeling toward my Rocco I ordered and eventually returned, but it does not take away from my respect for the design and idea of the bag.
Buy now via Alexander Wang online for $875.
We're all told from a young age that we shouldn't judge books by their covers, but how many of us manage to make a good-faith effort to follow that advice? I know that I'm guilty of it, even as a writer myself – we all like a pretty picture. The problem with pictures, however, is that they don't give you the whole story. I know for a fact that most of the ones that I've seen of the Alexander Wang Diego Bucket bag didn't paint an accurate picture of how I would feel about the bag in person.
In photos, I hated it. In fact, I kind of hate it in the photo we've got here – it looks shapeless and busy, like you'd have an impossible time trying to figure out how to get in and out of it. I thought it lacked the simple elegance that Wang's Rocco duffel has, and that it was surely a rare miscue for the young designer. And then I saw it in person. (more…)