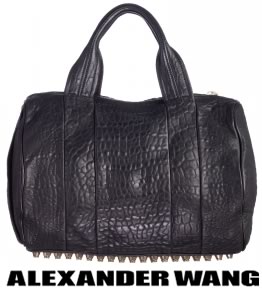 One of my favorite lines from one of my favorite movies, My Big Fat Greek Wedding, is when Toula's father Guss recovers his mother who is constantly running away and says, "Hey everybody, look who's back again!". Clearly reading that line loses every bit of hilarious context in the movie, but it not only applies perfect to the movie but also to this bag.
The original, classic Alexander Wang Rocco is in stock on Alexander Wang online right now. The classic is the black leather with brass studs. This is the most sought after combo of the bag that was originally named the Coco, though the name seems to have caused some legal problems hence the name change. The Rocco continues to garner an immense amount of press and buzz, with everyone wanting to get their hands on this particular combination. You all may recall my lackluster feeling toward my Rocco I ordered and eventually returned, but it does not take away from my respect for the design and idea of the bag.
Buy now via Alexander Wang online for $875.