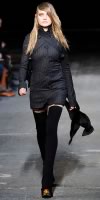 Does anyone remember a little film called The Craft, a tale of four goth-y, snarky teen witches and the classmates that they hated? You have to think back almost 15 years, to a time when I was merely a tween exploring my burgeoning love of black clothing that I have come to embrace now, at this later juncture in my life. I didn't have any social problems in school, but I loved the idea of being disaffected and misunderstood. It seemed like all the coolest people were, at least in the movies, and it also seemed like something that was easy enough to strive for. Obviously, I loved The Craft.
Alexander Wang says that his Fall/Winter 2010 collection was inspired by Wall Street's Masters of the Universe, but I think he might have secretly been a fan of a certain coven of mid-90s conjurers as well. The only things this collection missed were suspenders and Fairuza Balk.
And really, based on the styling, it looks like Ms. Balk had her goth/grunge hands all over it. All of the models were a few days past their last hair-washing, and the sunken-looking eyes and hollow cheeks made it seem as though it had been just as long since their last meal or nap.
As for the collection itself, it included lots of deconstructed suiting, pinstripes, and tweed – Wall Street with a significant punk twist. We would be remiss, however, to not point out all of the incredibly 90s touches – mini backpacks, bare midriffs, knee socks, velvet. Since the fashion industry has already done nostalgia for every decade up to the 80s, it only make sense that the 90s would be next, and it appears that Wang is one of the first major designers to usher in the trend. At an accessible price point and in neutral colors, I'm sure we'll see plenty of this collection on fashionistas next fall. Do I like it? Well, sort of – it does remind me of my wannabe-disaffected youth, after all.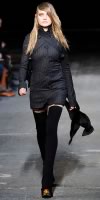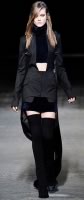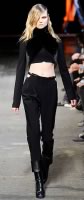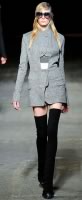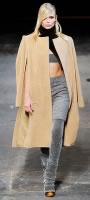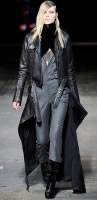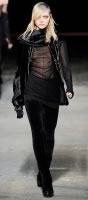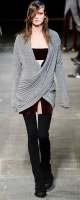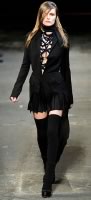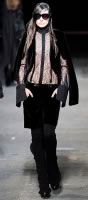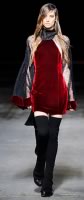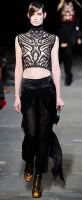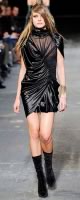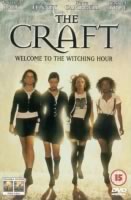 Photos via Style.com.