I'm speaking for all of us here at PurseBlog when I say that we are all thrilled that new Alexander Wang handbags are available. While new handbags seem to pop up all the time at some of our favorite retail stores, there are some days where I feel like I've already seen everything. I guess that's what I get for basically scouring the internet for the best (and sometimes worst) handbags available. So, needless to say, I welcome these new Alexander Wang bags with open arms.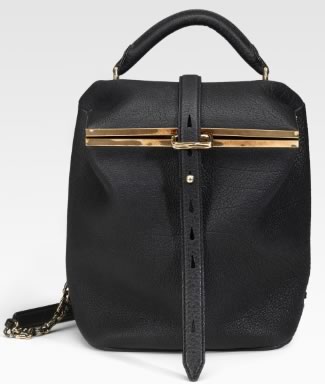 The thing about Alexander Wang handbags is that they are unique – very unique. Yes, you need to have a bit of an open mind to fully appreciate these bags, but when you are able to open your mind, you might find yourself lusting after a bag that makes quite a statement.
In fact, this Alexander Wang Willow Top-Frame Messenger is just what I am talking about. I've always envisioned a messenger bag to have a particular shape and style. Sure, there are slight variations, but all in all, you know what I am saying. However, this messenger is quite different. First of all, it seems to be taller than it is wide. Not what you would normally expect, right? The black pebble leather bag is opened with a hinged metal frame and is closed and secured with a leather-and-loop strap. There is a single top handle (2″ drop) as well as detachable leather and chain shoulder strap (20½" drop). This is the kind of bag that will bring an entire new look and feel to almost any outfit. I appreciate the direction Mr. Wang has gone with this bag, do you? Buy through Saks for $925.