Guess the popular French street style blogger! I spotted her during Fashion Week NYC with her vibrantly red Hermes Kelly over her shoulder and her camera strapped around her neck.
Edit: It is indeed Ms. Garance Dore.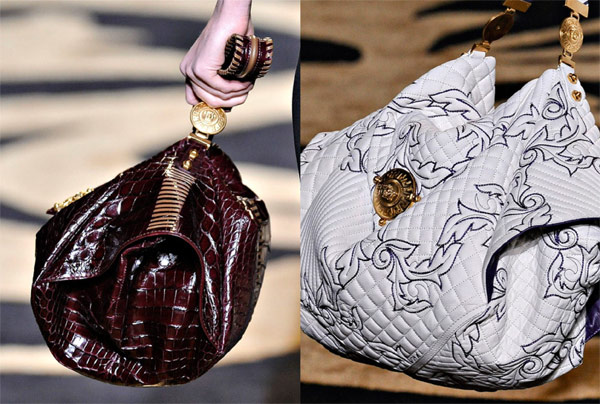 I'm as surprised by this as you are, but the handbags from Versace Fall 2011 are more than a little great. The big, soft hobos in various textures and color combinations aren't on-trend or directional or any of those other fashion buzzwords, but they do look like they'd be functional and wearable and all of those other buzzwords that matter to people who actually need to use their handbags.
My favorites were the quilted and re-quilted versions with plenty of decorative stitching, but it would be difficult not to also enjoy the burgundy crocodile and blue python iterations. And what of the bedazzled Medusa-head evening bag? I even loved it, if only for its unabashed, enthusiastic commitment to being as Versace as humanly possible. (more…)
If you haven't enjoyed the occasional deconstructed, undone intrecciato bags that Bottega Veneta has done in the past few seasons, you might want to skip a fair portion of this post. If you liked those ideas, though, Tomas Maier sure has a collection for you. Bottega Veneta Fall 2011 takes the strongly tailored Hitchcockian ideal of the 1960s and unravels it just enough to make it feel modern, and the bags follow suit from leafy leather clutches to frayed, unfinished-seeming woven totes.
Even if you prefer your bags tightly realized, this collection had something for you as well: The ubiquitous Bottega Veneta Knot Clutch. And it's ubiquitous for a reason; the design lends itself easily to a thousand interpretations and reinterpretations, the best of this bunch in vibrant midcentury shades of orange and yellow velvet. And if you're still not satisfied, Maier provided a few other Bottega classics, from the absurdly luxurious Cabat bag to nubby leather totes that matched the textured of some of the wools used in the ready-to-wear. There was something outrageously gorgeous for everyone. (more…)
Who's that girl wearing a Bottega Veneta Crocodile Knot Clutch to the 83rd Academy Awards tonight? Click to find out!
Fashion Month is half complete right now. As much as we are checking the fashion week shows to dish on the upcoming trends, we are also loving people-watching those who attend the shows. One of the must have bags of the moment is the Mulberry Tillie.
Following the huge success of the Alexa, Mulberry decided to follow up with the Tillie. The debate has ensued whether or not the Tillie is as covetable as the Alexa. (more…)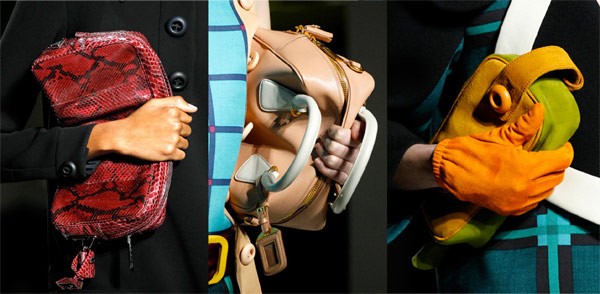 To fully judge the bags from Prada Fall 2011, I strongly urge you to look at the collection as a whole. If you like Prada's quirky retro-futurisim, you will love the 60s mod quasi-innocence of what Miuccia put together, and in the context of fall's Prada girl, the bags make perfect sense. The highly textured collection lends itself to simple, single-material bags; after all, if your ensemble already has fur, paillettes and a pair of glitter and python boots, you probably don't need a handbag that competes for attention.
That being said, I wonder how the bags will sell when removed from the spectacular clothing that provided them with a backdrop for them during the runway show. They're simple and luxurious, but they lose some of the magic of the mod look when considered on their own. Still, Prada's overall output for fall is easily my favorite of the season thus far, so I wouldn't worry too much for the company's coffers. (more…)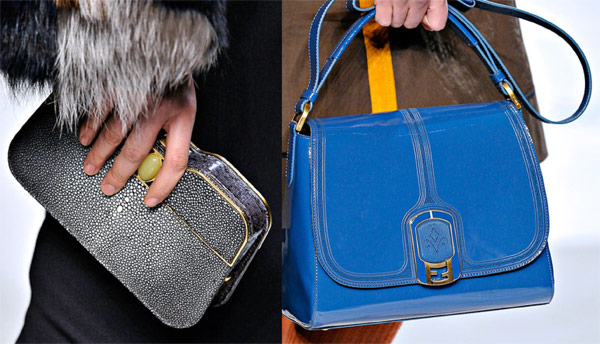 Over the last several season, I've come to anticipate Fendi's fashion shows because of the uptick in the quality of the brand's accessories. Not only were its Spring 2011 bags totally on-trend and directional, but they seem just as brilliant now that they've arrived in stores as they did on the runway six months ago. I'm not as in love with Fendi Fall 2011 handbags as I was with those pieces, but there are still several winners to be found in the collection.
The line was fit for a wealthy New England art student, and the handbags also had the same vintage-modern flair. Shapes were mostly structured and ladylike, with several repeat visitors from Spring 2011, along with a handbag (literally) of textured, jeweled clutches that looked like the kind of thing you'd find at a finely curated thrift store in a great neighborhood. And I mean that in the nicest way possible; the charmingly retro feel of these bags will please a lot of customers. (more…)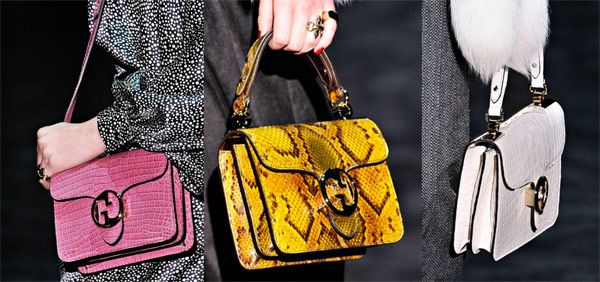 If Gucci Fall 2011 is any indication of what we'll see from the rest of Milan Fashion Week, then I think my credit card is going to be begging for mercy when fall pre-orders start. The ready-to-wear had an easy, colorful, jet-set hippie feel to it with lavishly draped chiffon and vibrant furs, and the handbags were just as luxurious. Exotics outnumbered regular leathers and some models carried multiple bags, indicating Gucci's emphasis on accessories for the season to come.
What was perhaps even more interesting than the colors or materials were the shapes that they took. Gucci is the latest brand to embrace the so-called "lady scale" bag, and most of the runway options were sized for essentials only. If you're a woman who needs to carry her whole life in her handbag, though, fret not; Gucci showed several larger New Jackie shoulder bags as well. (more…)
Nothing irritates me more than an overpriced "designer" canvas tote bag, particularly when that tote bag looks suspiciously like those totes people buy to carry their groceries. Believe me when I say that there are no differences between those bags and the "designer" version and any difference in price is merely the brand's marketing department at work. Don't let them fool you, you know better than that.
Which is why I was so pleased to see that the M Missoni Horoscope Bag is only $29. Sure, a cheaper alternative can probably be had at Target, but it wouldn't be that much cheaper. And besides, the fun colors and silly zodiac theme make these totes a fun option for a run to the store. (more…)
In 2007 we had the exclusive on the Chanel Diamond Forever Classic Bag which came with a $261,000 price tag. But today $261k appears to be nothing compared to what the Guinness Book of World Records crowned as the world's most expensive purse.
Here is the outrageous "1001 Nights Diamond Purse" which is valued at $3.8 million. The heart-shaped bag is encrusted with over 4,500 diamonds – of that 105 yellow, 56 pink, and 4,356 are colorless. Total carat weight is a staggering 381 carats. (more…)
PurseBlog was started because of my love for bags. From a young age I remember being drawn to purses, always eying the latest designs and seeing what bags people around me were carrying. Over time, my love has only grown. All of you come to this blog because of your love for bags as well.
We started a new category to share reasons Why We Love Bags. While we will be updating it with our own reasons, we want to hear from all of you as well! Email us your reasons why you love bags and our favorite submissions will be picked and posted.
Let's hear it!