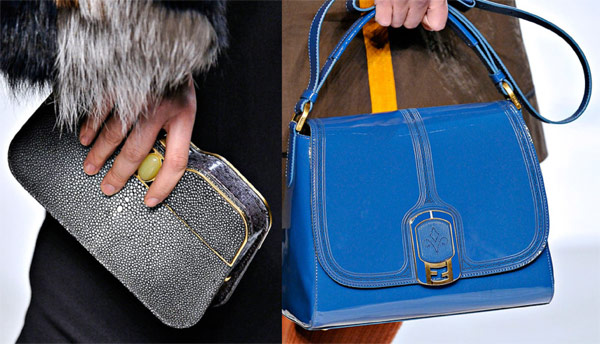 Over the last several season, I've come to anticipate Fendi's fashion shows because of the uptick in the quality of the brand's accessories. Not only were its Spring 2011 bags totally on-trend and directional, but they seem just as brilliant now that they've arrived in stores as they did on the runway six months ago. I'm not as in love with Fendi Fall 2011 handbags as I was with those pieces, but there are still several winners to be found in the collection.
The line was fit for a wealthy New England art student, and the handbags also had the same vintage-modern flair. Shapes were mostly structured and ladylike, with several repeat visitors from Spring 2011, along with a handbag (literally) of textured, jeweled clutches that looked like the kind of thing you'd find at a finely curated thrift store in a great neighborhood. And I mean that in the nicest way possible; the charmingly retro feel of these bags will please a lot of customers.
Photos via Vogue.com.