As I've said repeatedly in this space and others, I do not wear real fur. That's a personal choice for me, and I'm not going to lecture anyone on why they should make the same decision. I merely wish that more designers would consider using faux fur instead of the real thing, particularly when they just need a little bit and warmth is not an issue. The Olivia Harris Fur Baby Ball Bag would have been a perfect opportunity to use high-quality faux.
Joy Gryson, the designer behind the line, chose to use rabbit instead, which means that I can't buy this particular bag. And that's too bad – if it had been faux, I would have certainly considered it. Most fur bags look shapeless and puffy, but this one uses its small scale to its advantage and ends up being pretty cute. (more…)
After featuring a crystal-encrusted Valentino bag so prominently yesterday, it's only fair to recognize the brand that made sparkly animal clutches into a worldwide business. Judith Leiber can bedazzle anything and make it into a great work of inventiveness, but my favorites from the brand are often among its more restrained offerings.
It's difficult to imagine a context in which the Judith Leiber Crystal Chain Strap Clutch could be considered "restrained," and yet that's exactly what this evening bag is, when compared to a Swarovski-studded Dachsund. (more…)
The lovely ladies of Botkier call this particular shade of the Botkier Kasper Hobo "light grey," but I think it can be just as accurately described as that elusive color, winter white. And that's a very, very good thing.
Dressing for the fall can be a simultaneously luxurious and dour experience – the rich knits, leather and suedes of fall clothes and accessories tend to come in darker shades, and adding a bit of color without looking season-inappropriate can be difficult. If you prefer to stick with neutrals in your accessories but still want to lighten up your sartorial mood, a bag in a shade of very light grey or cream is the perfect option. (more…)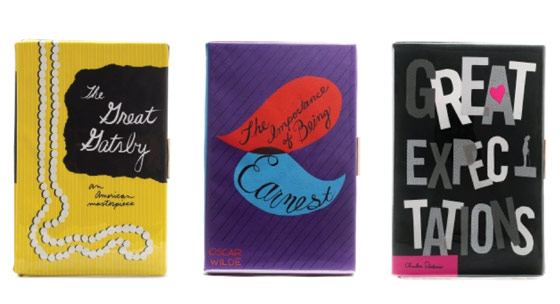 Well, the idea may be literally novel, but some people say it's not figuratively novel – we'll get to that in a minute. All I know is that the Kate Spade Book of the Month Clutches appeal very strongly to the book nerd residing just below my surface.
I've always been a reader. I used to make forts out of couch cushions in my parents' living room and read with a flashlight when I was in elementary school, and the habit never really abated, even though my days of fort-building are probably over. I took so many comparative lit classes in college that sometimes I'd have assigned reading of 18 to 20 novels in a single semester, and I had so many credits in the department by the time I graduated that it became my minor by accident. For me to see two of my greatest loves, handbags and books, come together in such a perfect way almost brings a tear to this old blogger's eye. (more…)
We have teamed up with Net-A-Porter for a fabulous and plentiful giveaway! We are giving away FIVE of the highly sought after and coveted Chloe Marcie bags.
This Chloe bag has been designed in different styles, including a hobo, messenger, tote, and satchel. Instead of the exact same versions, we are giving away a combination of different Marcie reincarnations. As far as Chloe bags go, the Marcie is a staple. Don't miss out on being one of five lucky winners.
For certain occasions, you need a bag that can hold your entire life: work, school, a rainy day in need of a significant umbrella. Other times, you just need the basics, and having a larger bag would be overkill. For those times, allow me to suggest the Marc by Marc Jacobs Party Foret Chain Wallet.
The word "wallet" is a bit misleading – in addition to your cards and cash, this little bag is big enough to hold all of your essentials on a convenient cross-body strap. (more…)
This was just going to be your average runway review of the handbags from Michael Kors Spring 2011, but then I noticed something interesting – one of Kors' runway bags is already available for pre-order on Saks.com. Much has been made of designers offering their runway wares for order via their own channels following presentations, but as far as I can remember, this is the quickest I have seen a brand go from runway to mass retailer with relatively little fanfare – it's enough to make you wonder if this is the new normal.
As for the collection, much of it was classic Kors, although the offerings ranged from small-scale and ladylike to large-scale (and I do mean large) and beach-appropriate. All of the designs gave a nod to fashion's newly streamlined accessories shapes, and many of the bags could be used by men and women alike. As promised, what appears to be a smaller version of the collection's Santorini Raffia Totes are now available for pre-order via Saks for $495 with delivery expected by the end of the year. (more…)
I've been critical of Twelfth St. by Cynthia Vincent's handbag line in many and various ways in the past, but I can think of nothing I love more than when a line that used to disappoint me comes through and makes a bag I love. With the Twelfth St. by Cynthia Vincent Harvey Tote, Vincent has done exactly that.
Great design is often found toward the ends of the design continuum – successful bags are usually very broadly appealing or very taste-specific. This bag fits easily into the first category by virtue of being neutral, useful and priced under $500, and hopefully it's an indication that the brand has found its accessories footing and will continue to churn out attractive, functional, reasonably priced handbags. (more…)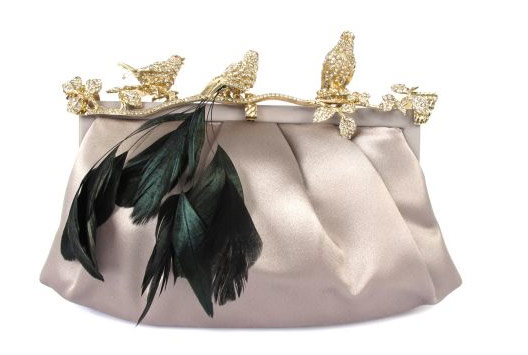 Valentino's handbags are notorious for their use of literal flora – flowers and leaves of every variety have dotted the brand's bags for several years running, to the near-exclusion of any other aesthetic ideas. The motif works for Valentino, and the brand has carved itself a significant, ladylike niche in a very competitive handbag market.
What Valentino has never used on a bag before, at least to my knowledge, is literal fauna, which is what we have with the Valentino Bird Clutch. A rather run-of-the-mill silk evening bag is topped by perching crystal birds; if this is the direction of Valentino's evening accessories, then the brand might just end up giving Judith Leiber a run for its bird-bag money. (more…)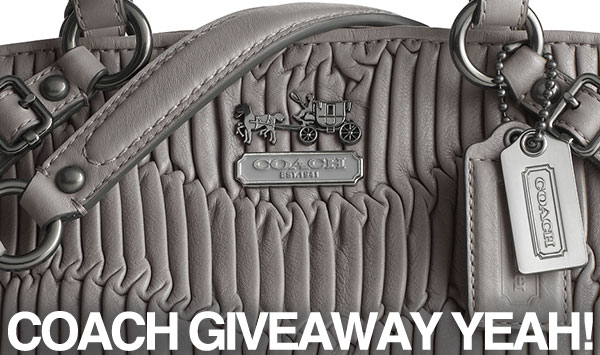 Earlier this month we asked for your vote on your favorite bag from the new Coach Madison collection. With over 40% of the total votes, the Coach Gathered Sophia was the overwhelming winner.
Not only was I able to include your voting results in for my guest blog for Coach.com, but also we have teamed up with Coach to giveaway a Coach Gathered Sophia to one lucky winner. (more…)
It seems as though Diane Von Furstenberg got the message about the importance of color in Spring 2011's accessories loud and clear. The bags in this collection have just as much verve and personality as any of their higher-priced counterparts, and the collection perfect for a younger woman who wants to subscribe to the trend and and still be playful.
Von Furstenberg does a good job thinking about providing bags for her customers in every part of their lives, and Spring 2011 provides everything from box clutches to patterned canvas weekender bags. For some people, these bags will be a lot of look, but they'll appeal to anyone who already loves DVF's print-heavy, brightly colored aesthetic. (more…)