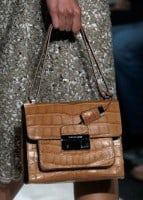 This was just going to be your average runway review of the handbags from Michael Kors Spring 2011, but then I noticed something interesting – one of Kors' runway bags is already available for pre-order on Saks.com. Much has been made of designers offering their runway wares for order via their own channels following presentations, but as far as I can remember, this is the quickest I have seen a brand go from runway to mass retailer with relatively little fanfare – it's enough to make you wonder if this is the new normal.
As for the collection, much of it was classic Kors, although the offerings ranged from small-scale and ladylike to large-scale (and I do mean large) and beach-appropriate. All of the designs gave a nod to fashion's newly streamlined accessories shapes, and many of the bags could be used by men and women alike. As promised, what appears to be a smaller version of the collection's Santorini Raffia Totes are now available for pre-order via Saks for $495 with delivery expected by the end of the year.
Photos via Women's Wear Daily and Style.com.