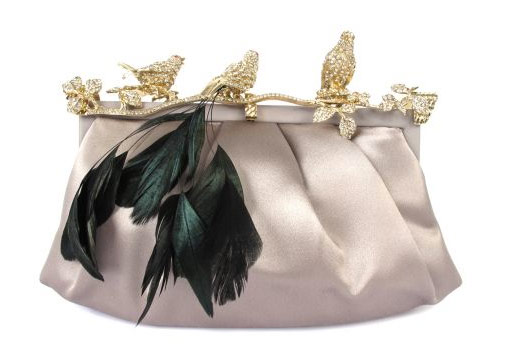 Valentino's handbags are notorious for their use of literal flora – flowers and leaves of every variety have dotted the brand's bags for several years running, to the near-exclusion of any other aesthetic ideas. The motif works for Valentino, and the brand has carved itself a significant, ladylike niche in a very competitive handbag market.
What Valentino has never used on a bag before, at least to my knowledge, is literal fauna, which is what we have with the Valentino Bird Clutch. A rather run-of-the-mill silk evening bag is topped by perching crystal birds; if this is the direction of Valentino's evening accessories, then the brand might just end up giving Judith Leiber a run for its bird-bag money.
With Valentino's penchant for fine details and intricacy, the brand seems like the perfect place to look for ultraluxe clutches. But yet, it's not – Valentino's nighttime options tend to be streamlined and structured instead of glitzy and complicated. That's not a bad thing, but the utterly fabulous bird closure atop this relatively boring bag shows us that the company is capable of much more. I hope we get to see it eventually. Buy through Colette for $2963.