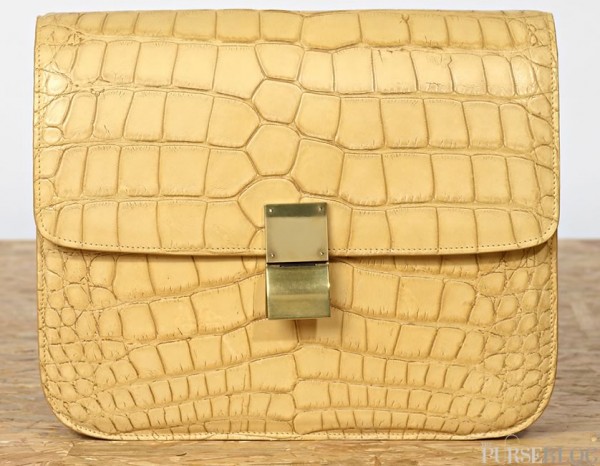 Right now I can not stop crushing on the color yellow. Yellow signifies happiness not only for me but also for the majority of people. With such a bring and fun color, it is hard not to have it put a smile on your face. I've shared some of my yellow handbag picks in the past but I just found the ultimate yellow bag that I am totally wanting. Of course I have the impeccable ability to find the most expensive items everywhere I look, and this Celine bag is no different.
But I will not delve into the price. Ok fine, call me out, I am too scared to call Celine to ask because once they tell me the price I will know for sure I can't buy this bag. Instead, I want to focus on its beauty. I can't imagine anyone looking at the Celine Classic Croco Flap Box Bag and not having some part of them want this bag.

If you can find fault with this bag it would be that it is too classic, too refined, too simple. But that is the immense beauty of it. The hardware does not distract and the skin speaks for itself. I am wholeheartedly obsessed with matte crocodile skin, it has the uncanny ability to multiply the beauty of the material in an effortless way. And really what else is there to say other than the fact that Celine accessories have been knocking it out of the park? A brand that was not on the tip of every accessory lover's tongue a few years ago now tops the charts. More info via Celine.