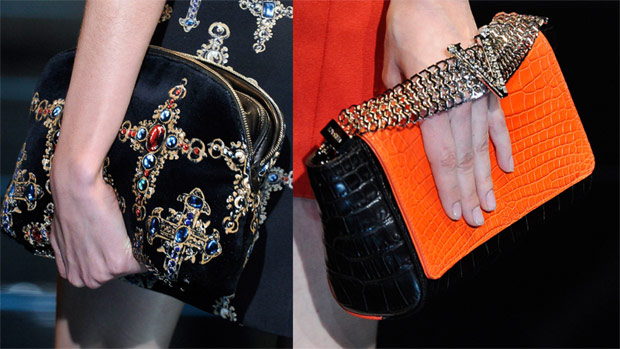 Images via Vogue.com
Before taking a look at the stills from Versace Fall 2012, I had heard the collection repeatedly described as Rooney Mara-inspired and high-end goth and all of these other things that made me think that the handbags stood a chance in hell of being really, really good. I was hopeful, you guys. Genuinely hopeful. I should know better by now. When Versace is involved, that sort of hope can only end in disappointment.
The bags in this collection could have been darkly luxurious and full of interesting detail. Instead, it looked like Ed Hardy had provided the accessories for Donatella's runway show, all tacky cross prints and unfortunate bling. Although I'm not sure if it's fair to criticize Versace for being too crassly and uncreatively 80s – after all, that's perhaps similar to criticizing Dior for being too New Look. And actually, the clothes themselves were in fact quite nice at times. The clutches, though, were terrible, and they were only saved in part by the distraction of a few bicolor croc flap bags that showed a bit of promise. Even then, Donatella just had to festoon the straps with a giant, blinged-out V, because apparently the brand can't help itself but to go at least one giant step past good taste.