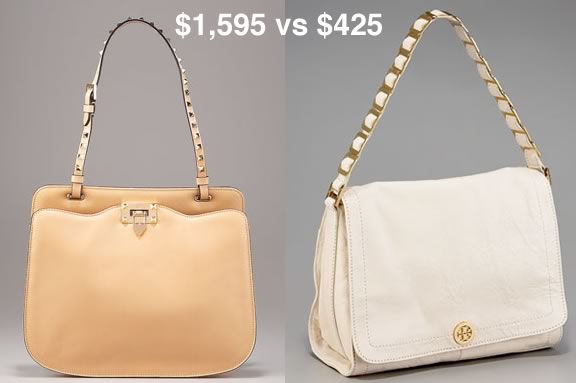 One of the hottest handbag trends right now is studded detailing. I know that this is nothing new to the fashion world, rather it is a trend that tends to go in and out of style often. The studs we are seeing as of late are a bit different, more refined and subdued, and often being used as shoulder strap accents. This is precisely the look for less I am bringing to you today: the accented shoulder strap bag.
While the Tory Burch Louisa Shoulder Bag does not technically have a studded accents on the shoulder strap, it does have a deco chain and leather strap. On the other hand, the Valentino Rock Stud Shoulder Bag is all about the studs on the shoulder strap. I know so many of you were sick of the over-studding, but both of these bags offer a touch of tough with a glam overall appearance.

The major difference between the two bags is evident however. The Valentino bag features a much more structured shape with a very demure appearance. When I look at the Valentino bag, I can easily see a business woman use this accessory to amp up her wardrobe. The Tory Burch bag is much more casual. The shoulder strap is not studded, rather features a chain/leather combination. The body of the bag has a flap top closure versus the open top Valentino showcases. When it comes down to it, these two bags have some similarities but I believe they bring two very different feels and would be worn by two very different people. Which accented shoulder strap bag do you prefer?
Buy the Tory Burch Louisa Shoulder Bag via Neiman Marcus for $425 and buy the Valentino Rock Stud Shoulder Bag via Neiman Marcus for $1,595.