YSL fangirl, but despite the brand's history of sleek, classic bags, even they make a misstep every once in a while. It's a forgivable thing to do, for sure, but that has never stopped me from calling a spade a spade, so to speak.
I'm normally something of a
Ladies and gentlemen, the Yves Saint Laurent Shopping Tote is a spade. Which is to say, of course, that it's a misstep, as are all the bags with this weird raised logo thing that YSL insists on doing. I don't like it and no one shall convince me otherwise. Probably because it reminds me of something…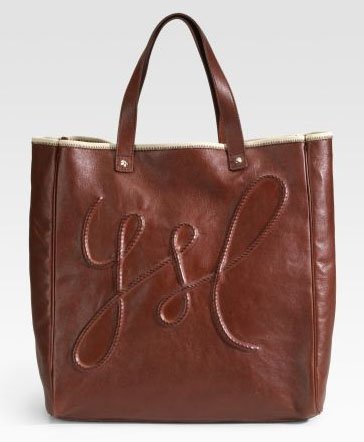 You know those weird, raised tattoos that some athletes, often football or basketball players, have on their arms? They're usually a Greek letter of some sort. Sports fans out there might know what I'm talking about, but the rest of you are probably confused. Sorry, but I just ate and I'm not about to start Google Imaging stuff like that for you guys. Just play along.
I don't know what they mean, but I do know that it looks like someone did that to this YSL bag, and that's not a good thing. They look painful as it is on live people, and somehow I doubt that that was the sort of idea that YSL was trying to evoke by doing a similar thing to a bunch of their bags. Unfortunately, that's more or less all that I can see when I look at this.
Not only that, but a logo like this completely forgoes the subtlety that I've grown to love from the brand. They always manage to incorporate their Y logo into the lines of their bags, and this flies directly in the face of that aesthetic. It's just a boring brown tote with an unattractive tattoo. Buy through Saks for $945.