Yves Saint Laurent Safety Pins Tote brings up all of those questions and more.
Ahh, the eternal handbag questions: how much should we, as consumers, be willing to pay for bags that aren't made out of leather? How about one made out of canvas? How about a really SIMPLE bag made out of canvas? Should it vary by brand? If it does, does that mean we've all fallen victim to someone's marketing scheme? For me, the
For what it is, I quite like this bag. But is the bag that it is worthy of the price that Yves Saint Laurent is asking? I suppose that depends on who you are and how much extra money is sitting in your bank account.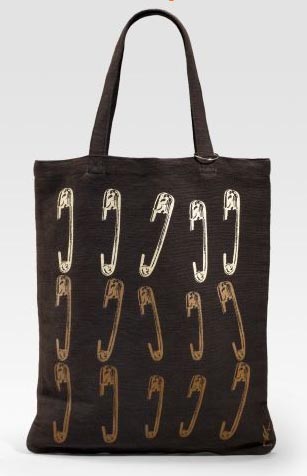 If I disregard the price tag, I kind of enjoy the form factor of this bag by itself. Sure, it's just a canvas tote, and it's probably just like the canvas totes that the natural-foods grocery store I go to gives away. There are precious few ways to make something like this "high quality" – at a certain point, it just is what it is. Taking that into consideration, the graphic safety pins are still not only an appreciated visual departure for this bag line, but they remind me of the pins I used to put in the canvas messenger bag that I carried as a scenester and punk music obsessive in high school. So, it's possible that I'm a bit biased, since this seems to be a post-modern rendering of the look I spent years of my youth trying to achieve.
But then I have the unfortunate duty of considering the price. If I had a bunch of extra money, I'd probably buy it just because it makes me smile, even though I think that $195 is too much for untreated canvas in such a simple, common tote form. As I stand right now, I'm a fairly recent college graduate that hopes to maybe buy a new car (Audi A3, come to me) in the next couple of years and upgrade my apartment furnishings, and a $200 canvas tote just seems like the last thing I need to be buying. Then again, I guess "need" isn't really the point here.
So if "need" isn't what we should be considering here, what about "want?" Do I want to pay $200 for a canvas tote of any kind? No, I want to spend $200 on a dress and sweater at Anthropologie. This tote may not be quite as egregiously priced as some that I've seen in the past few years, but I think I've answered my own question. Buy through Saks for $195.