If you love the Valentino aesthetic but can't justify shelling out two grand (or far more) for one of their plush, ladylike bags full of bows, ruffles and flowers, I may have a viable alternative for you.
The Villador Carpetto Bow Bag has a couple of Valentino's most obvious signatures – drool-worthy leather and an oversized bow placed proudly for all to see – without being a ripoff. It'll also run you about half of what Valentino's most basic bags usually cost, and who can't get behind that?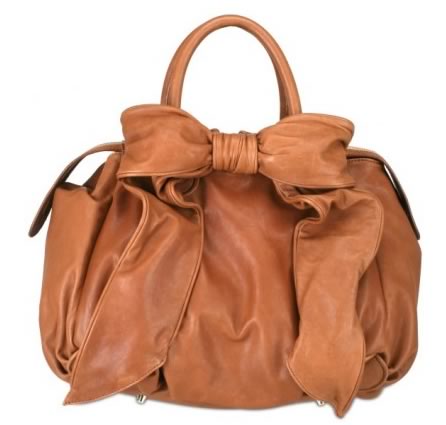 I don't love the seaming around the edges of the leather "ribbon" (I think it looks a bit cheap, in fact), but I'm willing to overlook it because the leather itself, which is goatskin, looks so soft and touchable.
Other than the bow and the texture, the structure and color remind me a lot of another designer – Chloe. It has a boho feel and attitude to it, and the slouchy look is perfect to wear with boyfriend jeans or a flowing sundress. Buy through Luisa Via Roma for $1054.