Just the other day, Megs and I were having kind of an odd discussion. I don't know how we ultimately landed on the topic, but somehow, the subject of pig leather came about. We both figured that it existed, since the nickname of "pigskin" for old-fashioned footballs certainly came from their porcine origins (although they were made from a pig's bladder, not its skin, but that's a whole 'nother kettle of fish.) She and I spend exponentially more time than the average purse-lover studying the details of the world's finest handbags, and neither of us could ever remember coming across a bag made primarily of pigskin.
Mere days later, and I come across the Rochas Pigskin Tote, from the first look at the brand's Fall/Winter 2010 accessories collection. With a little research, I've found that Prada appears to have made a travel bag out of pigskin in 2007 and that there are many suppliers overseas offering the leather to manufacturers. Pigskin appears to be durable and at least reasonably attractive – why don't we see it more often?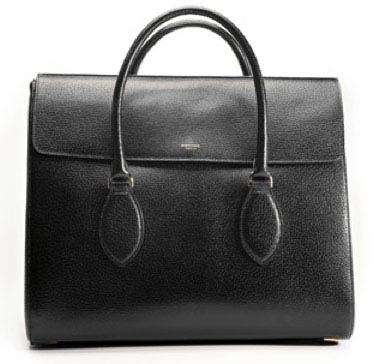 That's a difficult question to answer, since I'm not inside the heads of the people that design high-end handbags and, as you would expect, basically none of them have ever commented on their lack of porcine accessories. That doesn't mean we can't recklessly speculate, however, and that's exactly what I intend to do.
The more I looked, the more I found that workmanlike leather goods were mostly what utilized pigskin – work gloves, men's boots, things that get dirty and take a beating. Somewhat unexpectedly, I also found that the material was quite popularly advertised as the main ingredient in lots of counterfeit bags.
Based on that information and what we see of the Rochas tote, it may be that pigskin is just a bit too durable and hardy for most luxurious bag designs. I could see it working for bags like this one that are super structured and clean-lined, but I think that pigskin is ideally left for more functional uses. Are Megs and I the only bag fans that have ever wondered about this?
Pricing information is unavailable at this time – the bag will debut in August. Photo via Style.com.