I love it when something great to write about just appears in my email right when I'm looking for ideas. That's exactly what happened yesterday when ProenzaSchouler.com sent out an email about the Proenza Schouler Fish Print Shopping Tote – I was in the process of looking for something lovely to post, et voilà ! They gave me the perfect thing. Good lookin' out, Jack and Lazaro.
The only problem is that now I have to decide if I want to buy the tote (and it's matching wallet). When you zoom in really close on the brand's website, it's clear that the jacquered fabric is gorgeous – detailed, textured, full of color. I wear a lot of black and grey, so this might be the perfect thing to compliment my wardrobe. Plus, for a brand that normally charges quite a bit for their bags, this one is downright affordable.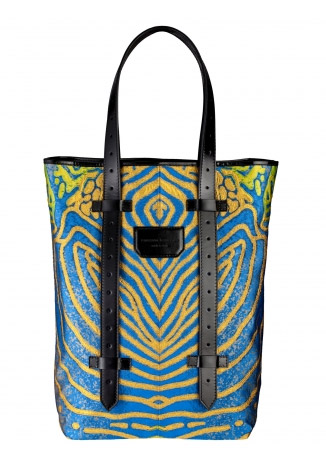 Other considerations aside, the vibrancy of the print is really what's making me pay attention in this case. The blues, yellows and oranges pop wonderfully and make the fabric look truly rich, something that's usually lacking in even the nicest of non-leather designer bags. I'll admit that I've gone a bit fangirl on Proenza Schouler recently, but its their willingness to make all of their products, not just their most expensive ones, beautiful, detailed and special that makes me love them so much. Buy through Proenza Schouler for $325. If you'd rather have the wallet, it's $125.