To quote the title of one of my all-time favorite episodes of Sex and the City, I love a charade. Well, a fashion charade, that is. It almost never fails to impress me when designers are able to take a material that has a certain set of expected characteristics and make it look like something completely different. Earlier this week, I was impressed by how much Maison Martin Margiela made bike reflectors look like sequins, and now I'm feeling similarly pleased with the Bottega Veneta Woven Leather Tote.
On first examination, it looks like a really nice straw tote. And of course, I would expect that any straw bag coming from the Bottega Veneta workshops to be really nice, just like all of their leather offerings. That's the thing, however – this IS one of their leather offerings. Plus it has a little bit of croc trim, just for good measure.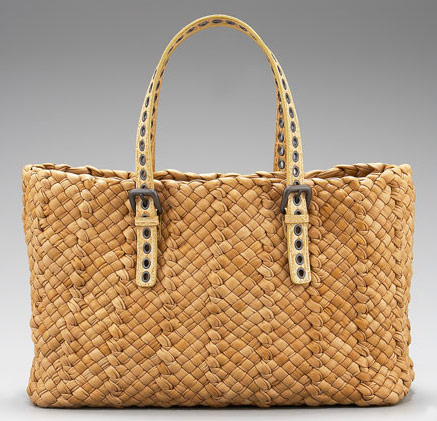 That the fine folks at BV managed to dye and weave soft leather in such a perfect way to make it mimic straw totally blows my mind. The color variation is subtle and utterly terrific, and the weaving differs just enough from the brand's iconic intrecciatio that it makes you nearly certain that the material they're using must be different. But it's not – it's your perception that's different.
At its best, fashion plays with visual ideas in ways that are thought provoking and new. Bottega may not get as much credit as they deserve for being innovative because they have such a classic, widely recognized look for a lot of their bags, but this tote should be enough to make anyone look at them anew. Buy through Bergdorf Goodman for $5700.