Valentino, I want designers to show me what they can do with the material we're all so used to seeing.
I'm so in to texture right now. From pintucking, ruching and pleating all the way to leather flowers a la
I think that my current obsession makes sense, though. Texture requires creativity and vision, but its implementation in a design rarely makes a bag less functional or useful – it's the perfect added element to make a bag really special. Take the Agnona Pleated Leather Tote, for example: the weaving and pleating combine to make the bag more than just an average black tote.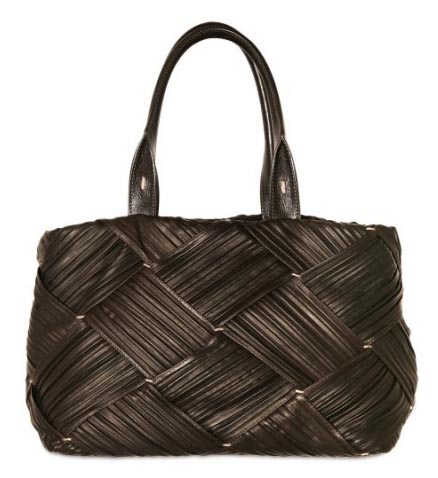 I'm willing to admit that the construction of this bag sorta-kinda might remind me of those woven recycled seatbelt bags, but since I always thought that those were kind of cool when I was a teenager, and this is a decidedly more mature and elegant version, I'm not going to hold that comparison against the designers.
Not only is the use of texture on this bag excellent, but they could use it to teach lessons on proportion in design school. Because the weaving is so large, it doesn't compete with the fine pleating of the leather. The two textures compliment each other instead of losing their appeal through the combination, which is so common.
The only thing that's stopping me from completely loving this design is the handles. The body is so rich and lavish that the plain rolled handles look like an afterthought. If the designers could have come up with a way to incorporate a bit of texture into them, perhaps they wouldn't look like such non sequiturs. Buy through Luisa Via Roma for $2576.