Clearly, accessories designers at Tod's have not set out to reinvent the wheel. They're very happy with the handbag as we know it, and their designs celebrate the essential need that we all have to carry our belongings, combined with our desire to do so with a beautiful sartorial object.
The Tod's Ivy Sacca Media Shoulder Bag is just that – a beautiful, simple object that performs its essential function without fuss or bother. For those who love Hermes but simply cannot afford to spend Hermes prices, a Tod's bag like this one is perhaps the best alternative on the luxury mass-market.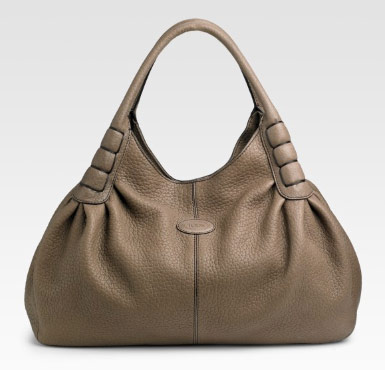 I make the Tod's/Hermes comparison because of this design's emphasis on the beauty of the bag's material. The putty-colored, pebbled Italian leather takes center stage, just as the unique and detailed leathers do on so many Hermes bags. And when you're using leather as nice as both brands generally do, there's no reason to guide the emphasis elsewhere. Tod's isn't innovative, but it makes beautiful, functional bags that don't need any innovation. Buy through Saks for $1495.