Hailey Rhode Baldwin Beiber (now that's a mouthful) is an American model, Instagram icon to her 46.8 million followers, founder of the new skincare brand Rhode skin, style icon, and wife to international superstar Justin Bieber. The model and famous celeb daughter's celebrity profile has risen tremendously in the last five or so years, and as Mrs. Bieber has gotten older and spent more time in the spotlight, her style has certainly evolved.
When it comes to handbags, Hailey's collection has also gone through some major changes since she first popped up on our radar. While Louis Vuitton was once a beloved choice for the trend-loving, street-style darling, over the last two years, the skincare entrepreneur has favored lots of Bottega (I mean lots of Bottega!) and Saint Laurent. One abundantly clear thing? When Hailey like a bag, she loves a bag, and below, you'll see multiple of some of her favorites.
Let's get started!
Lots of Bottega Classics, Saint Laurent, and more
To kick things off, we've got a bag from Coperni, a Parisian brand established in 2013. This sleek shoulder bag is a slimmer, more ornate version of the brand's classic Swipe bag, which has become quite popular with the street style crowd. While her overall look is more casual, it's classic Hailey—on-trend.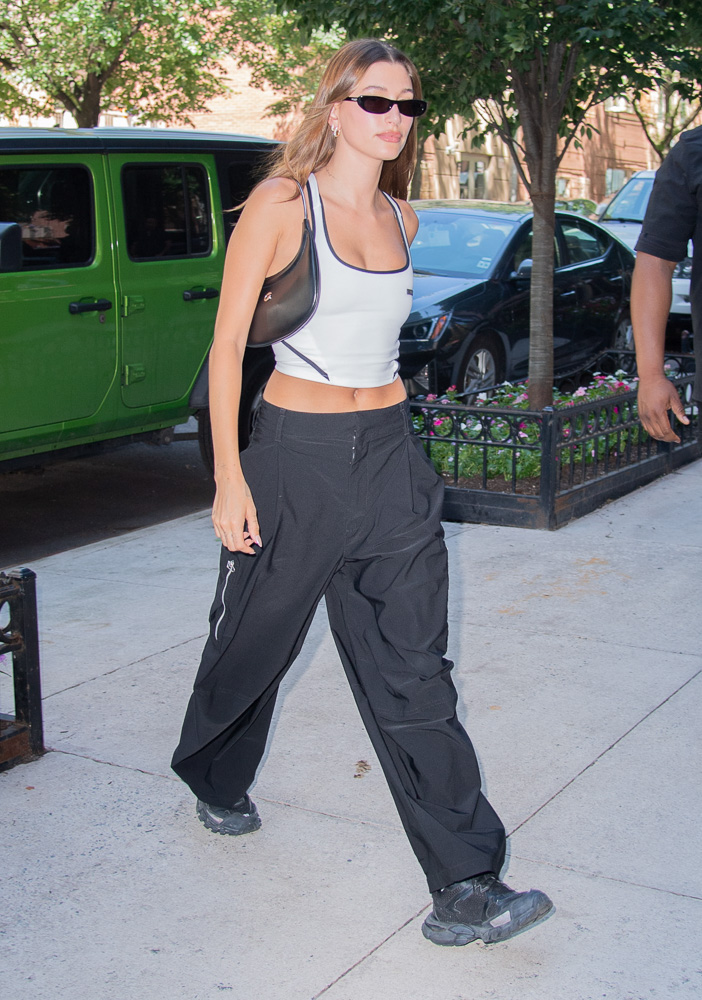 Next up, we have this obscure mini bag, which, if you didn't know, you would never know, is by The Row. She paired this little mini that could with a matching athleisure set, likely heading to or from the gym.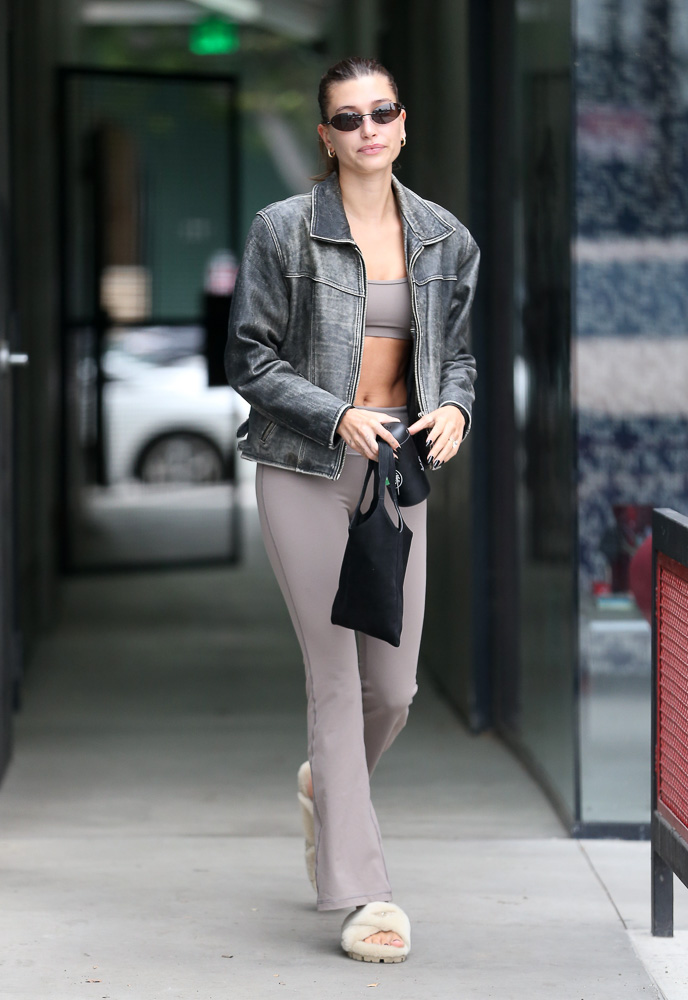 Here, HB was spotted in New York toting Saint Laurent's latest hit, the Le 5 a 7 Shoulder Bag. She paired it with green cargo pants and a crop top. Are you noticing a trend yet? I bet Hailey has an entire closet for her crop tops.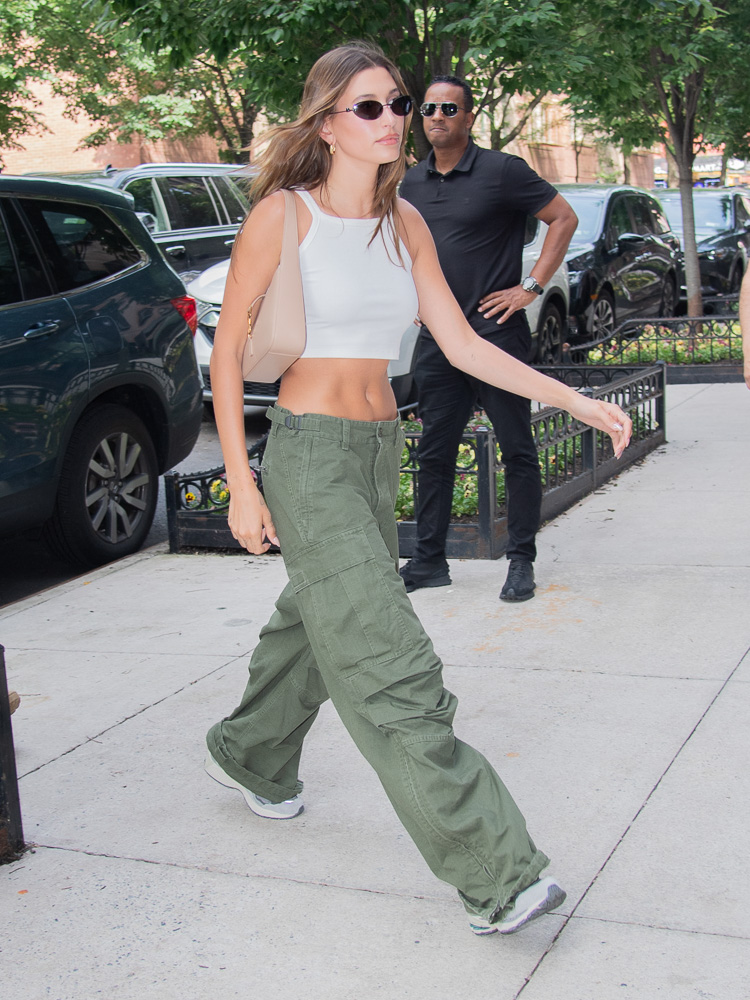 Look familiar? Mrs. Bieber made a quick handbag change, pairing a Pistachio-green version of the Le 5 a 7 with the look above for an outing later that same day. A girl has gotta have options, ya know?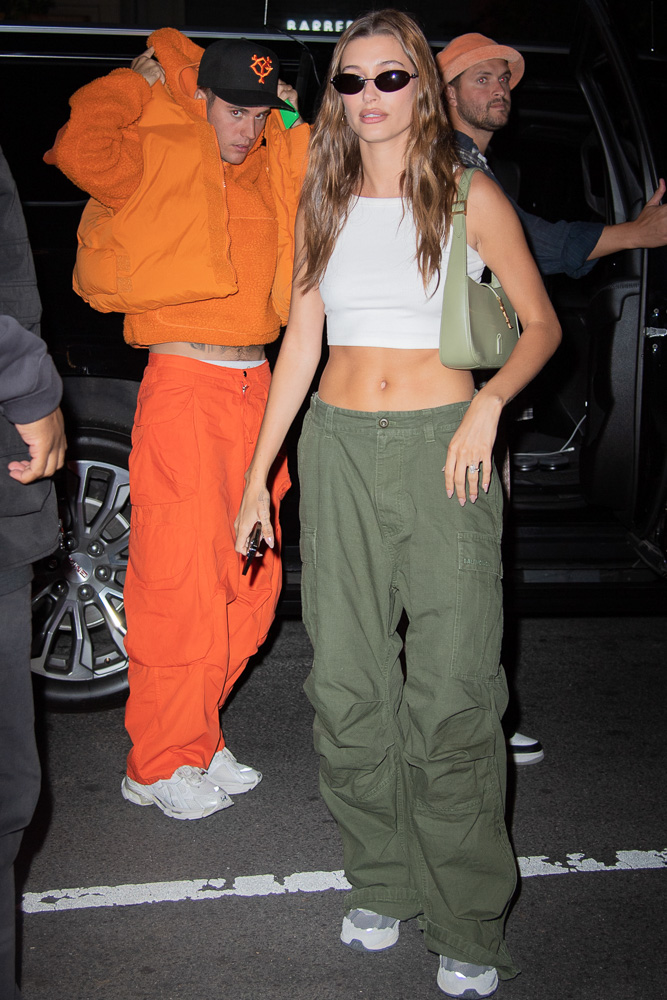 Another thing to notice about Hailey is that her outfits, at the core, are fairly simple. She knows what she likes and sticks to what works for her. This outfit formula is one we've seen before (and will see again); we've got a crop top, cargo-style jeans, and a sleek shoulder bag—The Row's Half-Moon Bag.
Another day, another Saint Laurent Le 5 a 7 Shoulder bag. This time, HB showed off the original version in smooth black leather. She paired it with a head-to-toe black look which is casual yet cool, HB's signature!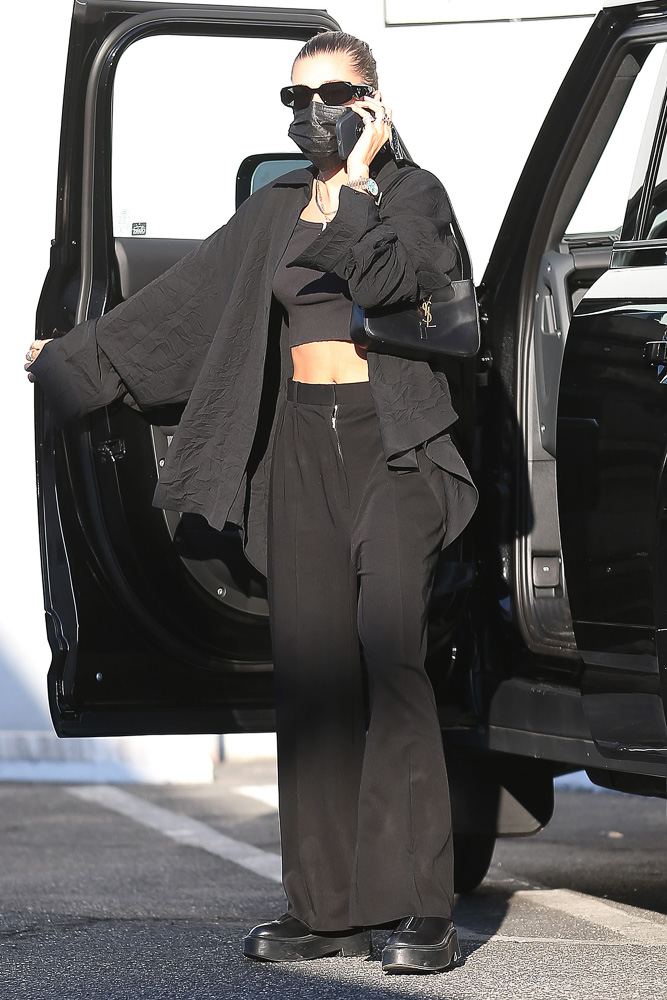 Hailey is a huge Saint Laurent Bag, as you'll continue to see. Here, she has a lesser-known style from the brand tucked under her arm. Paired with athleisure and her hair in a ponytail, she's likely heading to the gym, obviously.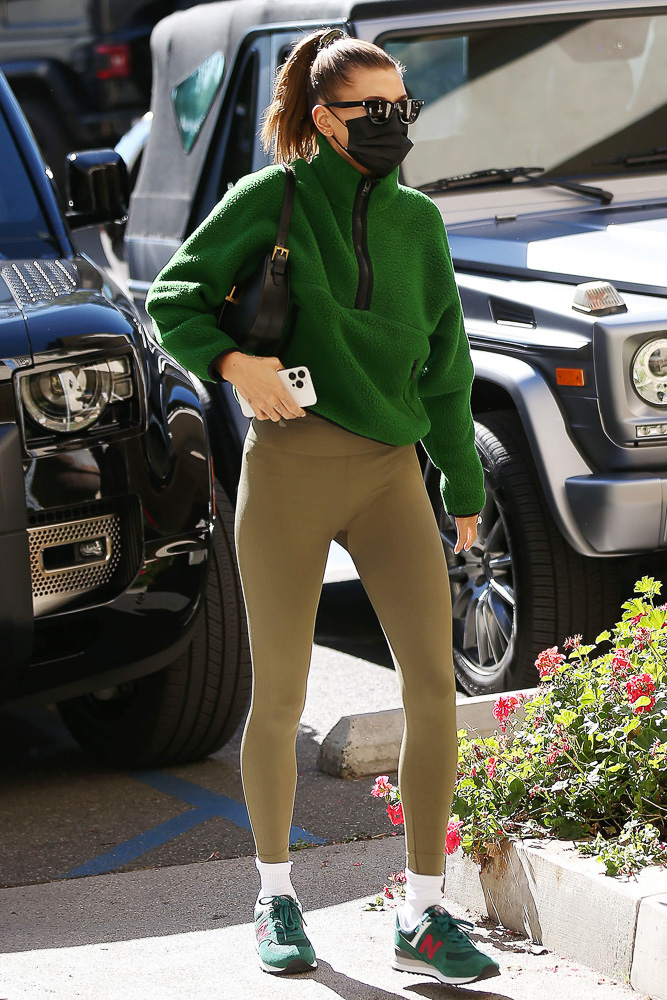 This. Entire. Look.
That is all.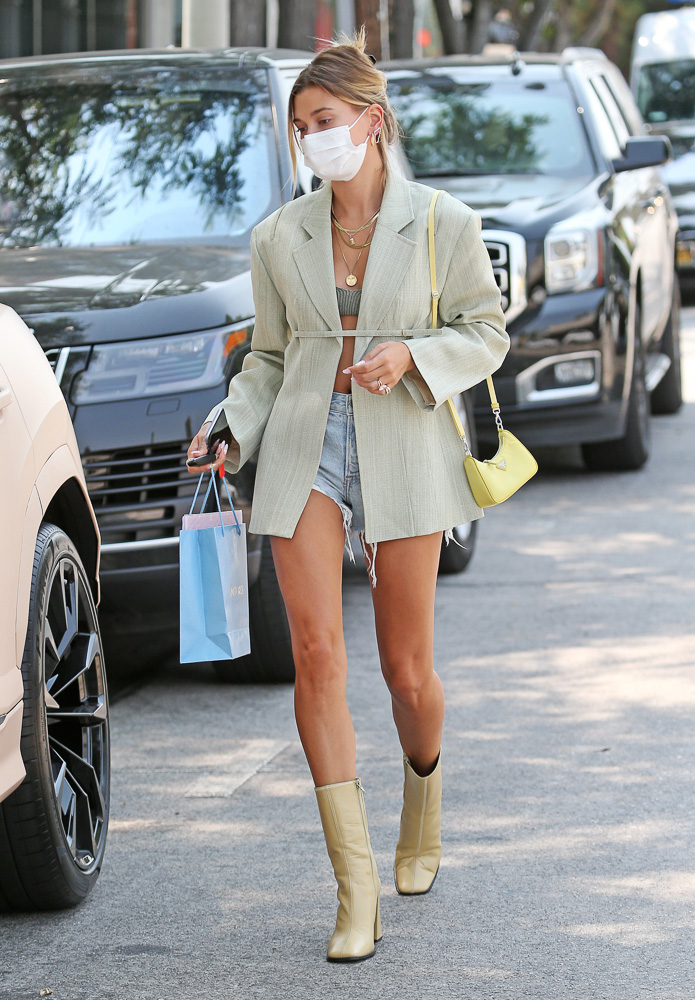 When Hailey Bieber hits colder climates, she's often snapped wearing an oversized coat, which works oh so well on her small frame. I hope you all like looking at Bottega Veneta's The Pouch; you're about to see a whole lot of them.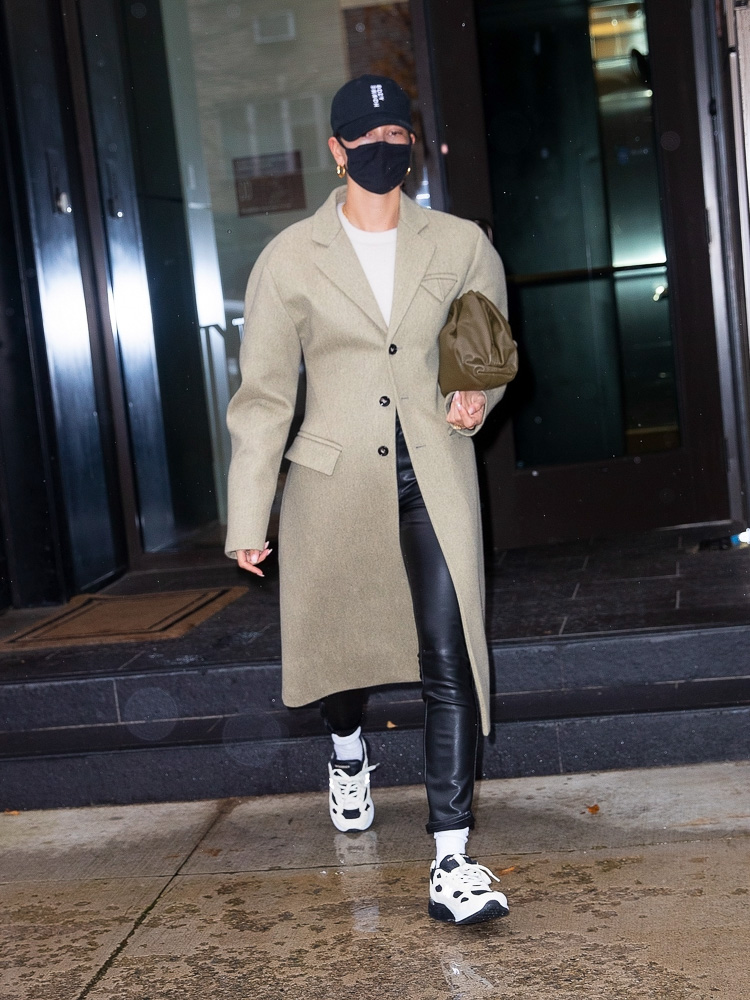 Another day, another Pouch, this time in the brand's iconic Intrecciato leather. This is Hailey's stylish CEO look, paired with a sleek black power suit and neon green heels from The Attico.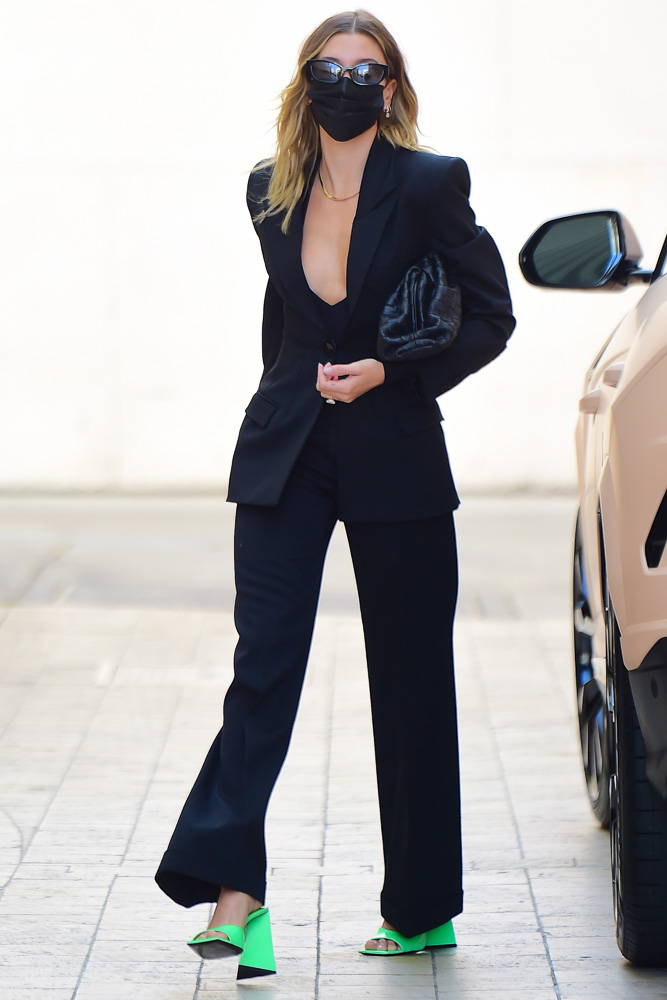 Give Hailey a good blazer, and she can conquer the world. She paired this one with slim-fitting pants and a beautiful blue version of BV's woven pouch. What did I say? She likes what she likes.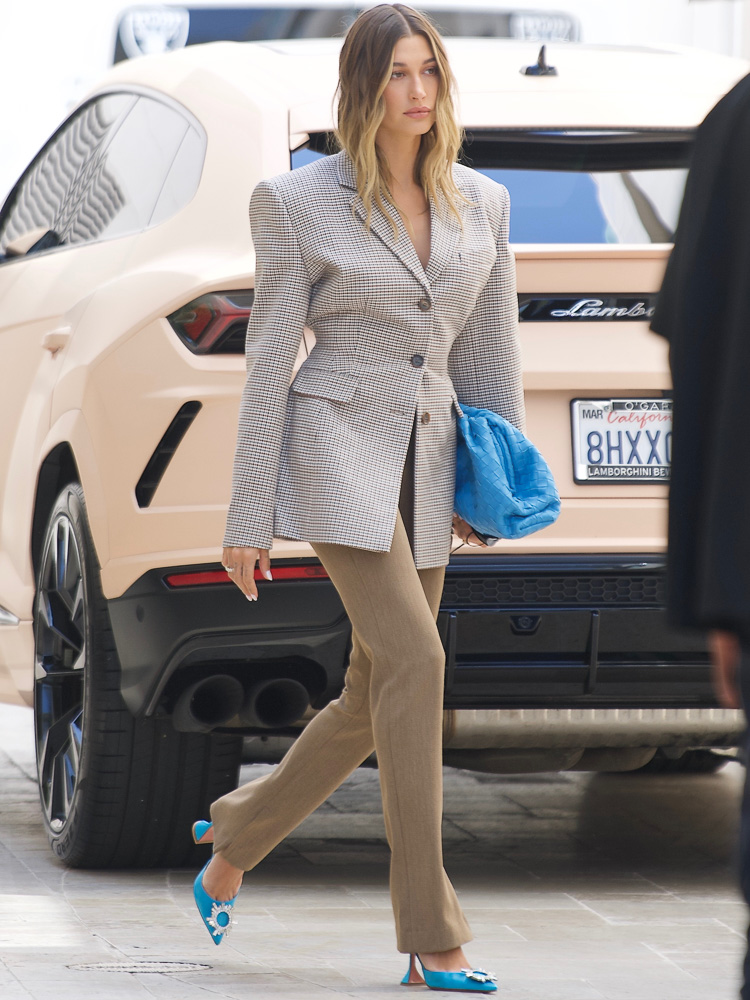 This is a full Bottega moment, and we are here for it. During Daniel Lee's prime at the brand, he introduced the Point Bag, a statement-making carryall that came in a slew of novelty versions. This one happened to have a full matching outfit, and of course, she had to wear it all.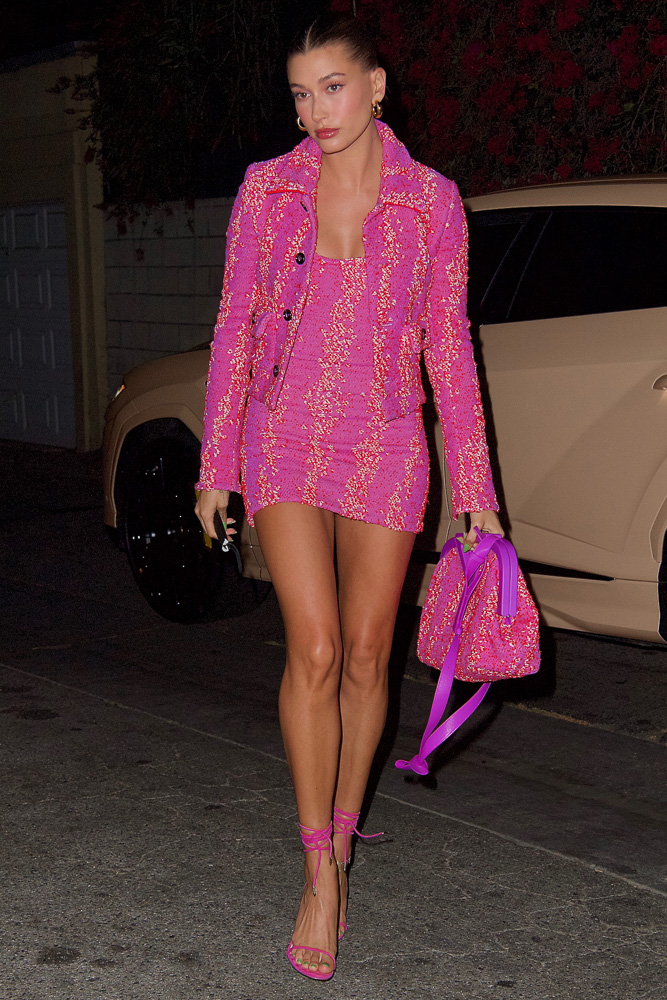 One plus of the pouch? It's big enough to hide your face from the paparazzi's prying eyes.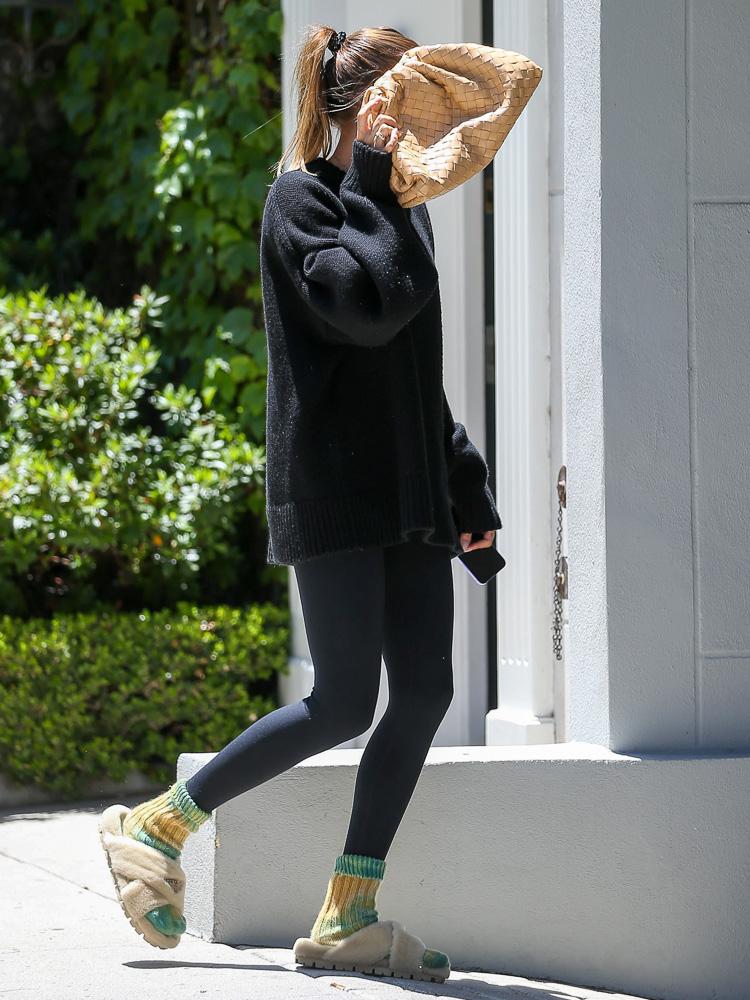 Did you think you'd seen the entirety of HB's Saint Laurent Le 5 a 7 collection? Wrong. She paired the brand's bright white version with sneakers and a long-sleeve New York Jets tee. Hailey attended the American Ballet Theatre in New York as a teen, which could be where her New York pride comes from.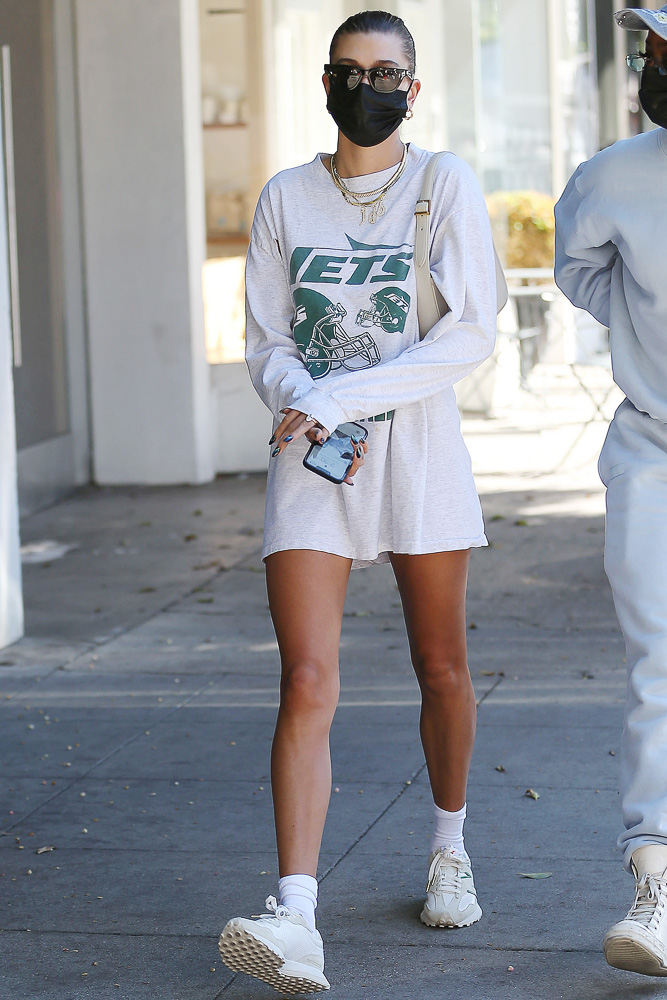 Leather pants? Check. Oversized jacket? Check. Bottega Veneta Pouch? Check. Mrs. Bieber debuted this iconic HB look on a rainy day in New York during the early days of the pandemic when the rest of us were still sitting at home baking banana bread and sitting in sweats.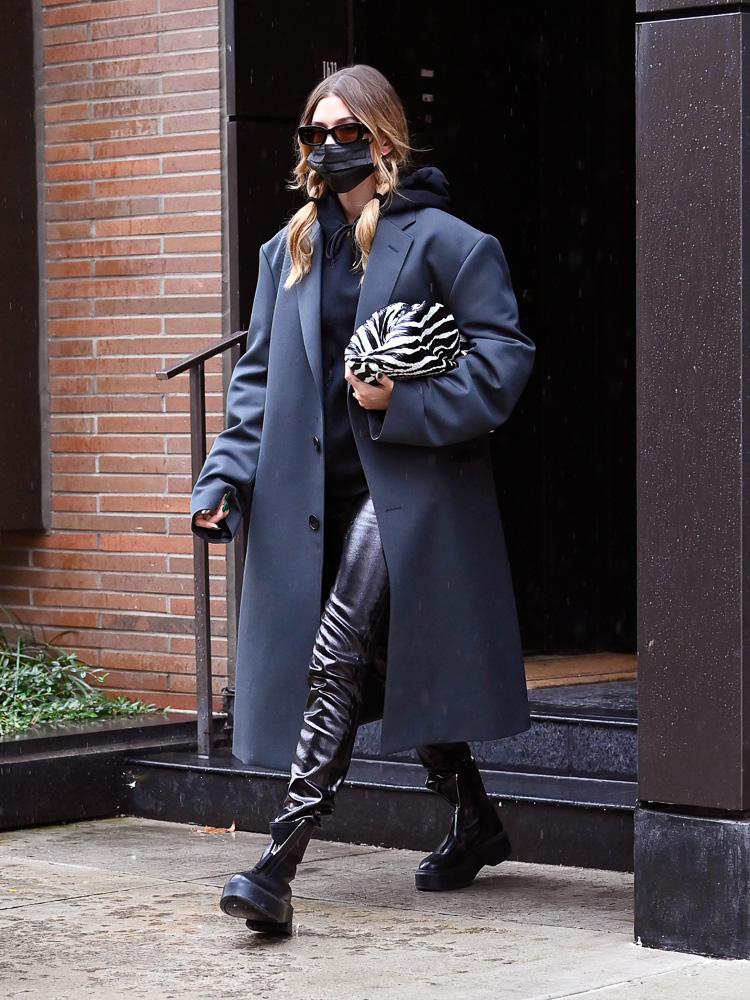 Hailey Bieber was spotted in LA wearing this sleek look, which is super on-trend, given her Bottega Veneta Tire Boots and her stunning red Balenciaga Hourglass Bag. The pops of red really make all the difference.
If I had to describe this look in one word, it would be this: sleek.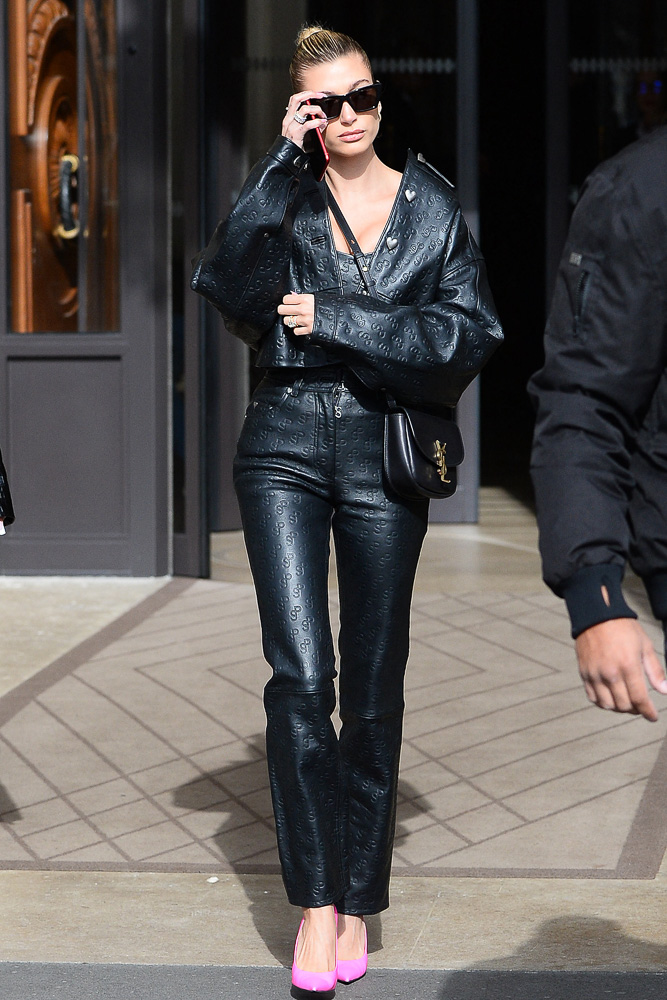 It is genuinely impossible for me to pick a favorite look of Hailey's, as her closet is probably the one I am most envious of, but this look certainly nears the top of the list. This deep purple color is insane, and the leather looks so dreamy and soft I'd like to stick my face in it. The Bottega Veneta chain Pouch is not my personal favorite bag, but I will say it does work here.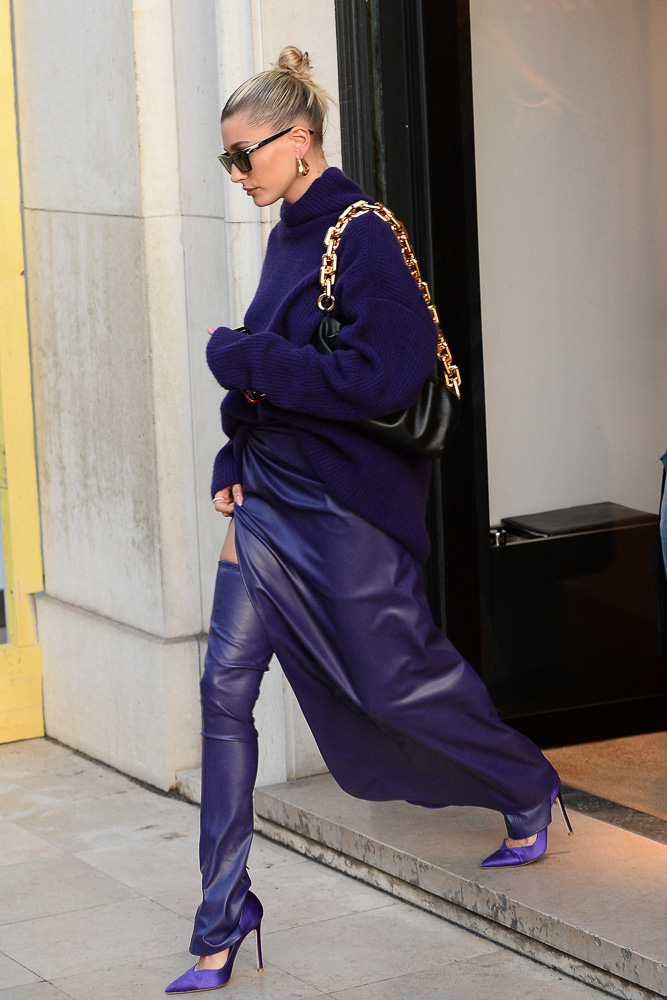 Ok, ok. It works here too, and HB is actually selling me on a bag I never really liked.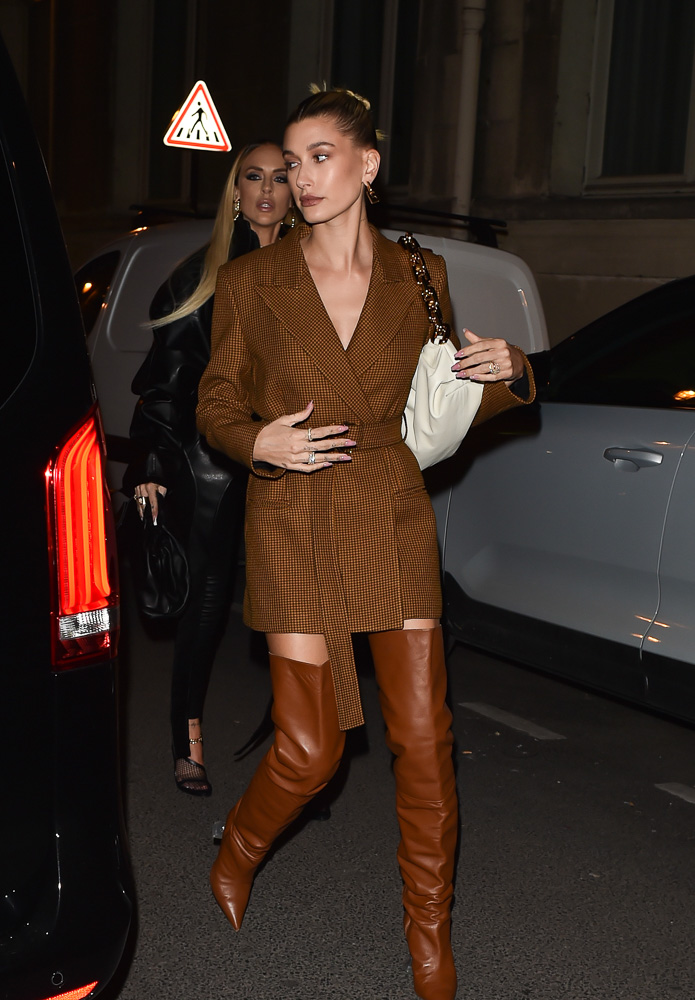 The main thing that strikes me about Hailey Bieber is how much she prefers neutral-toned pieces and outfits. She lives for a monochromatic look, and she consistently nails them.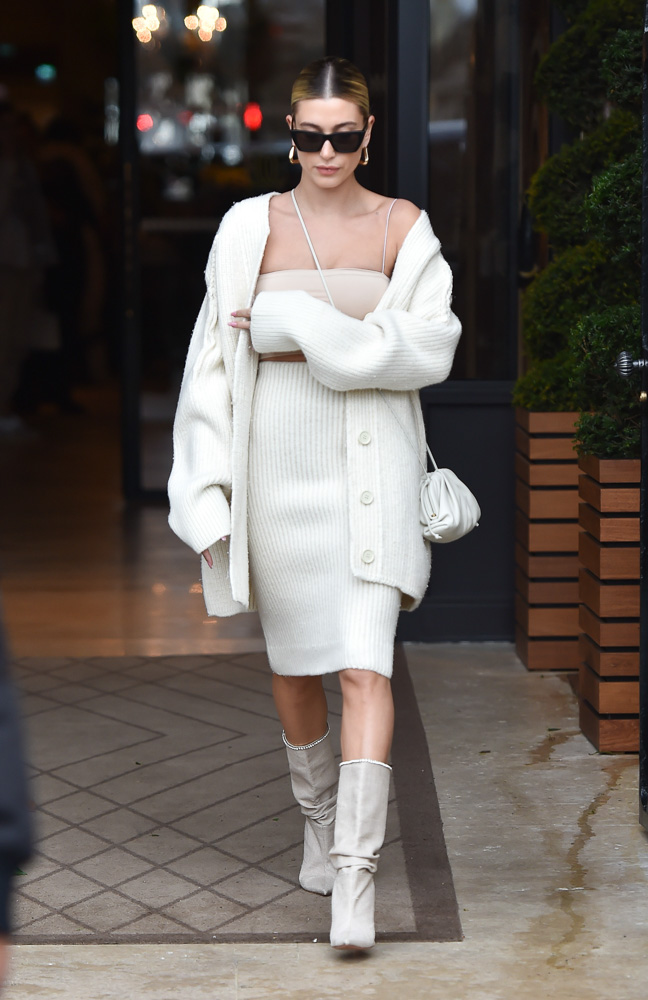 Even when she's in sweats, she's stylish. *shrugs*
When the Balenciaga Hourglass Bag first came out, Hailey was a big fan of the bag. This black matte croc Hourglass was an early version of the bag, and I'm not sure if it's just me, but the proportions of this bag look a bit different to me…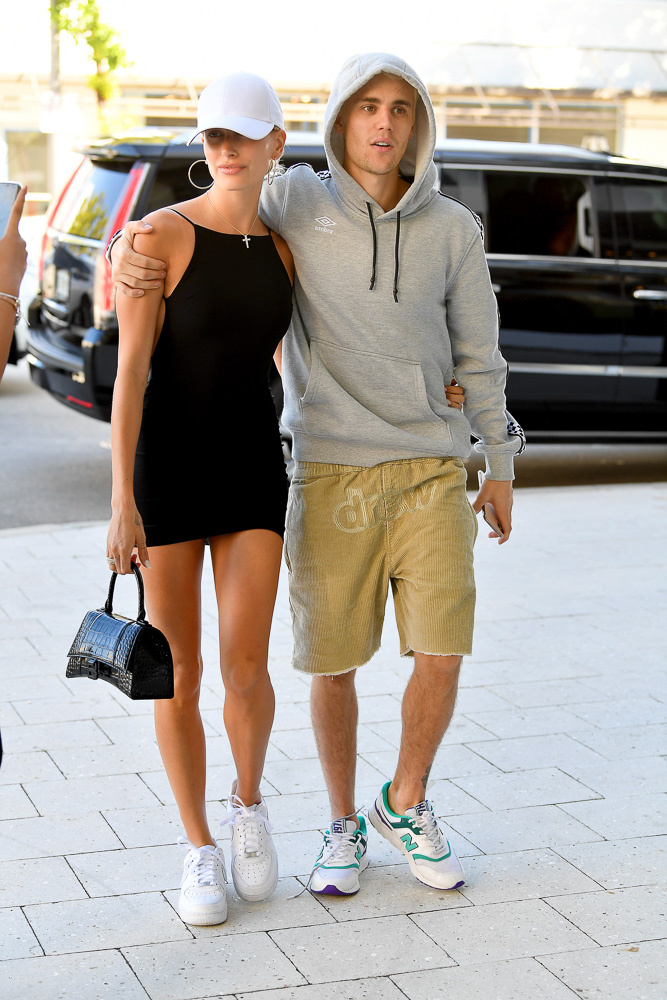 Pre-pandemic, Hailey really loved Balenciaga (and pointy-toe boots).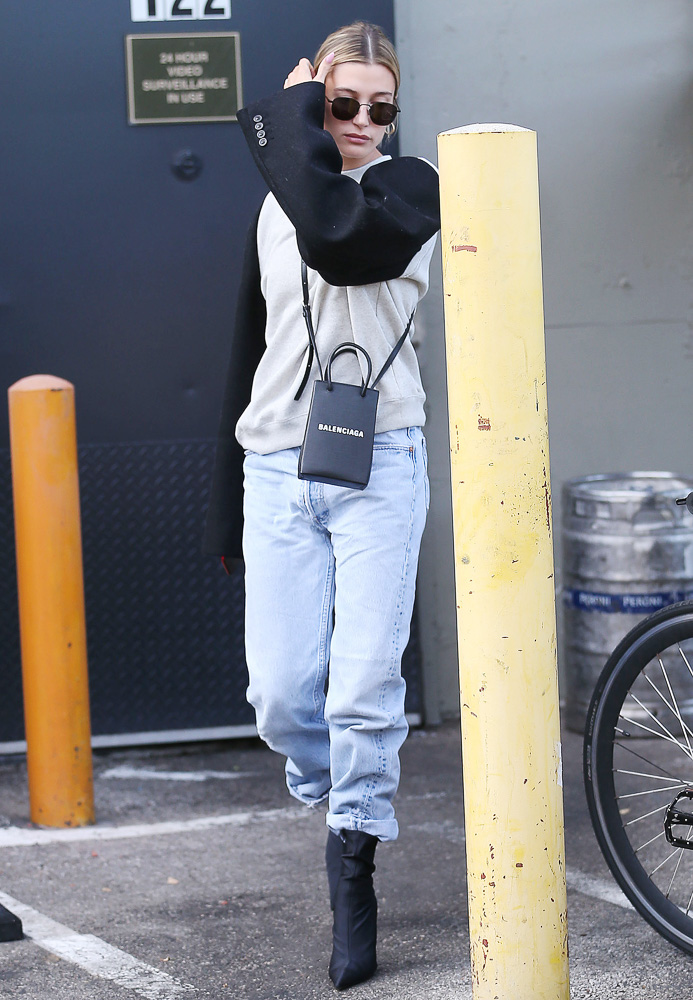 Again, this look is effortless in theory. Jeans, a black turtleneck, boots, and a long leather coat (which just so happens to be Bottega Veneta), but it all works together so well that I will be googling long leather jackets when I finish this lengthy compilation. Her Padded Cassette bag isn't too shabby either.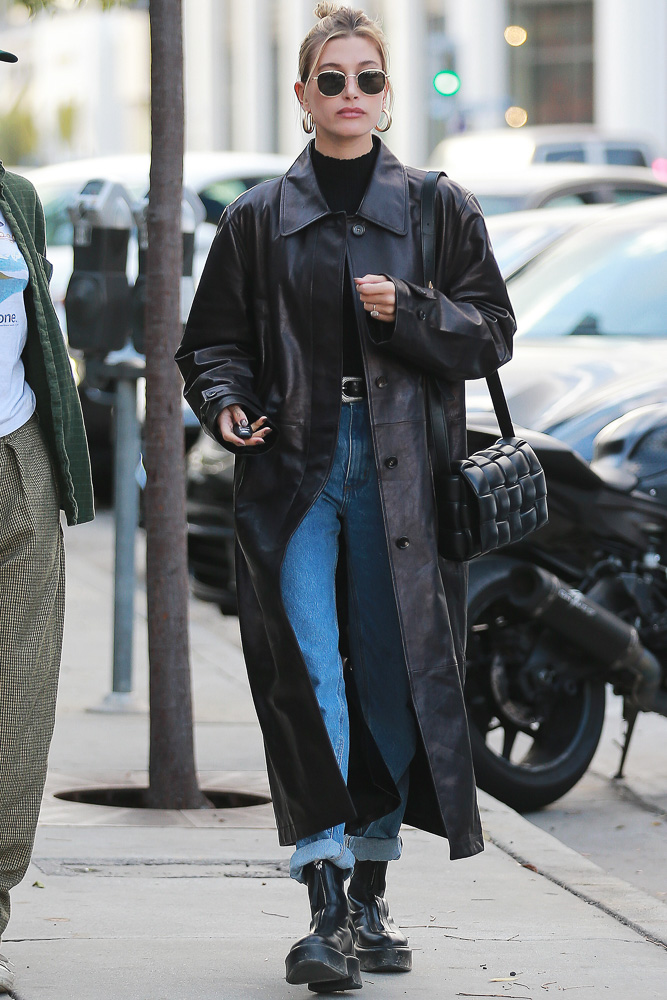 While I am not a fan of White AF1s, I am a fan of this buttery long green leather coat.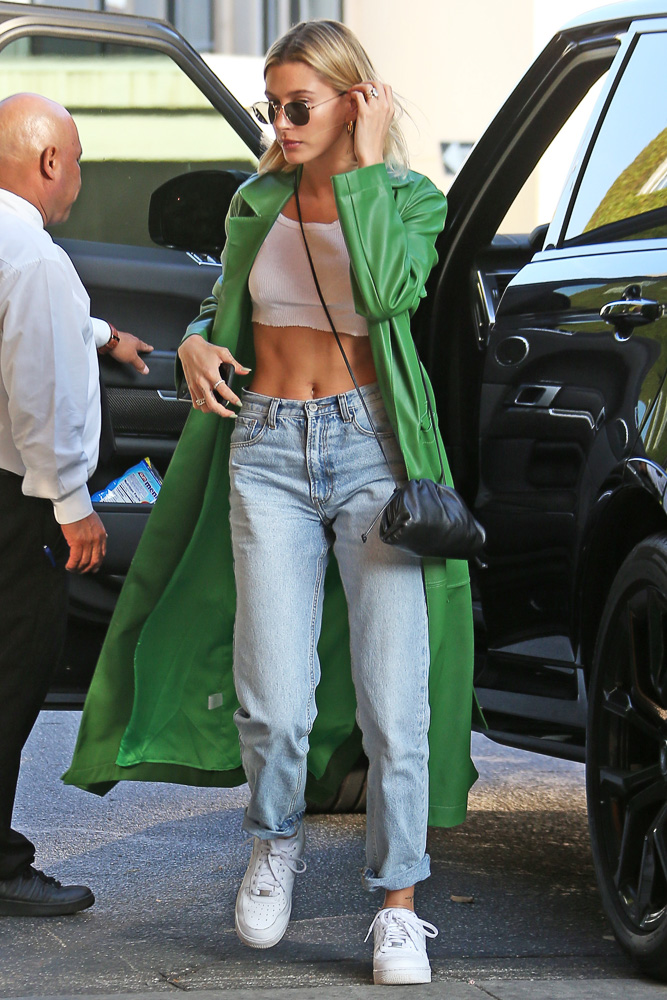 We've reached the beginning of the end, back when HB often opted for Louis Vuitton. Here she's carrying a new classic, the Reverse Monogram Dauphine.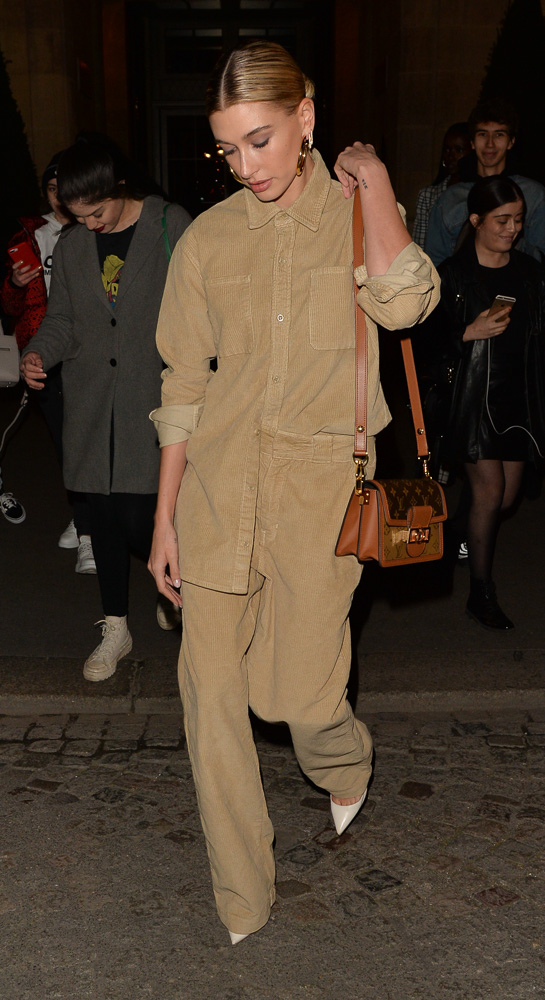 Always on-trend, should we even be surprised that Hailey owns a Jacquemus?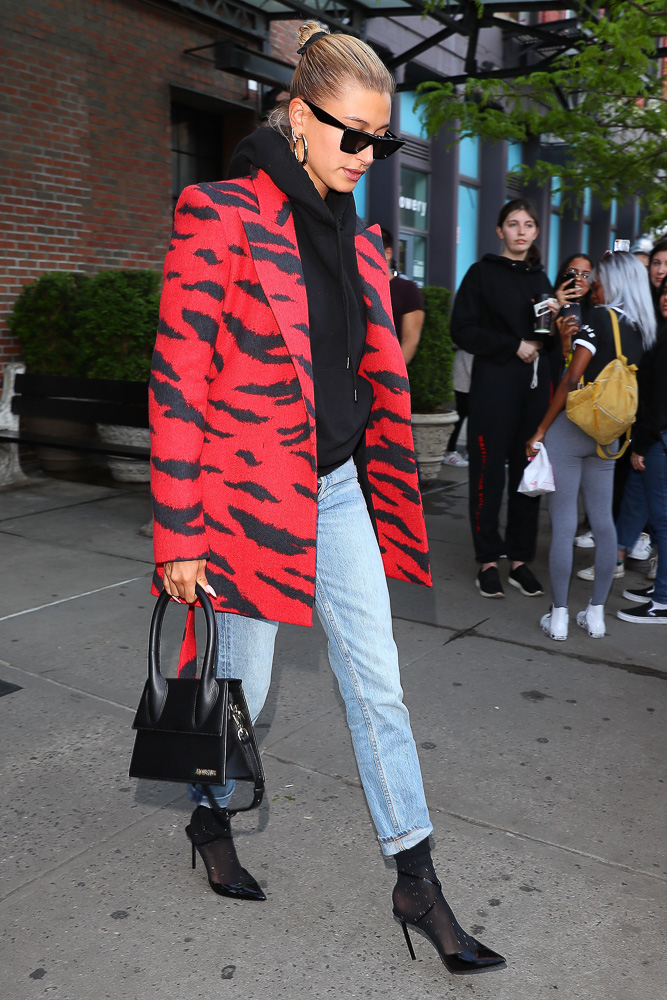 Hailey is a #NewCeline stan, and this bag was one of Hedi Slimane's first.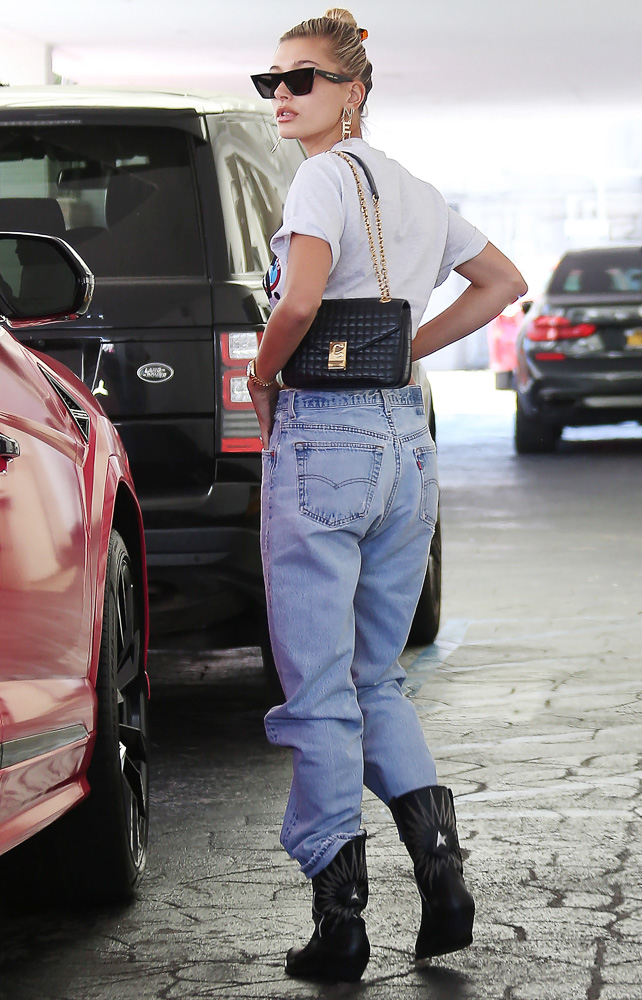 Another super-trendy piece; we aren't at all shocked to see HB rock.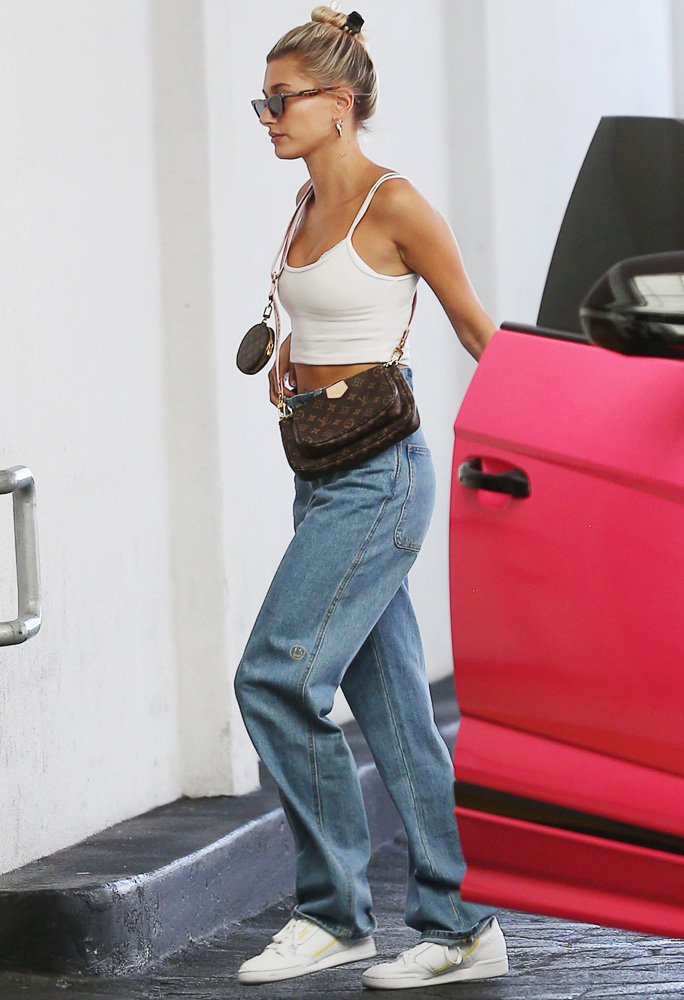 Bulgari is one of those brands that somehow still flies under the radar, but of course, when you are a style star like Mrs. Bieber, you know it all. This version of the brand's iconic Serpenti is a cool collab with Alexander Wang.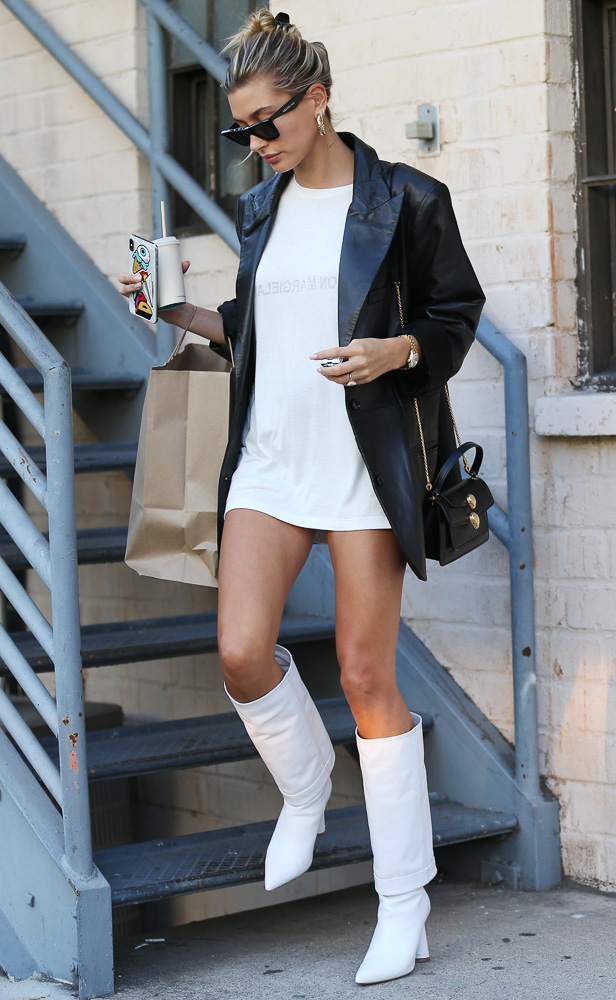 This outfit is the definition of casual meets cool. It very well could be a pajama set, but when paired with chunky gold hoops and a Louis Vuitton Bumbag, it works.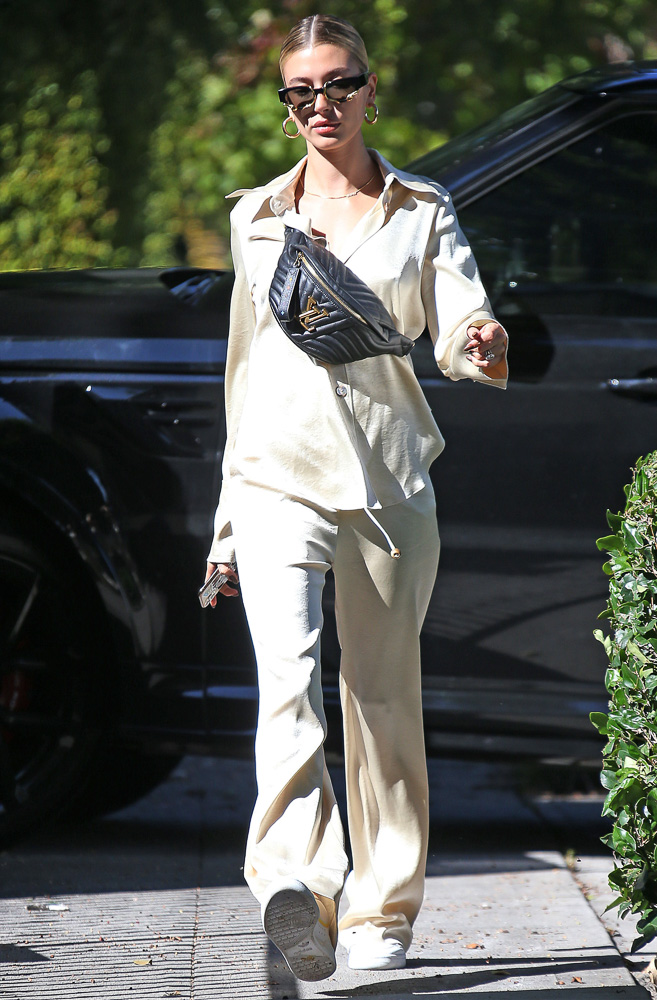 This early HB look is a classic representation of how her style has evolved, and we love it.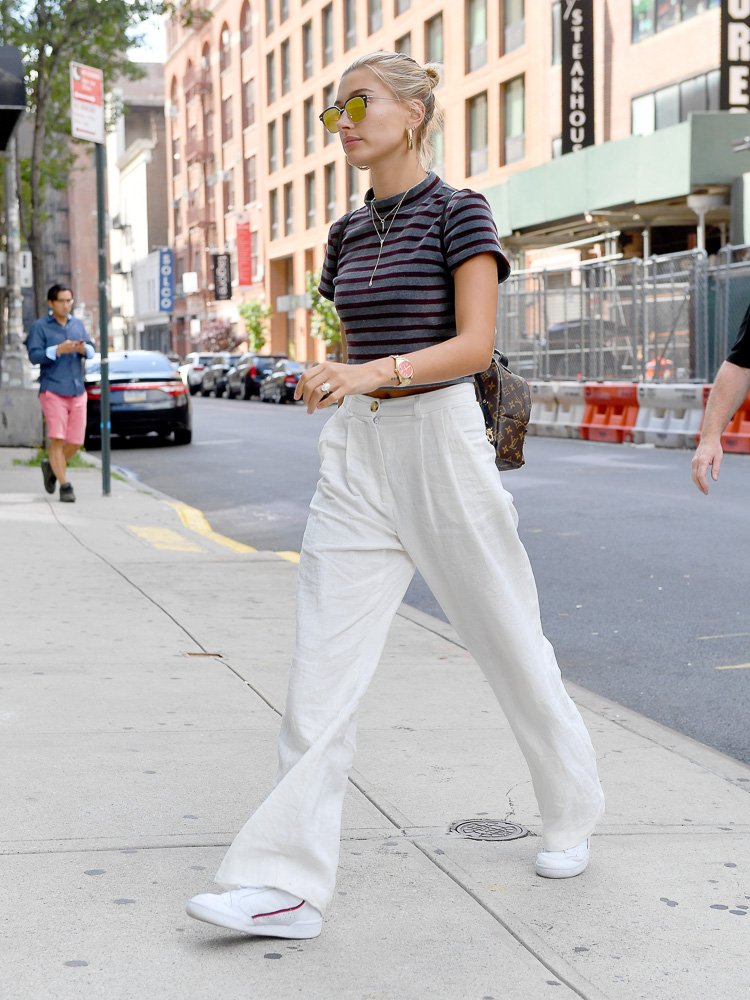 Prada makes another appearance here, and this Galleria is fairly classic compared to Hailey's other bags. Her oversized flannel and ornate gold earrings make it all work, though.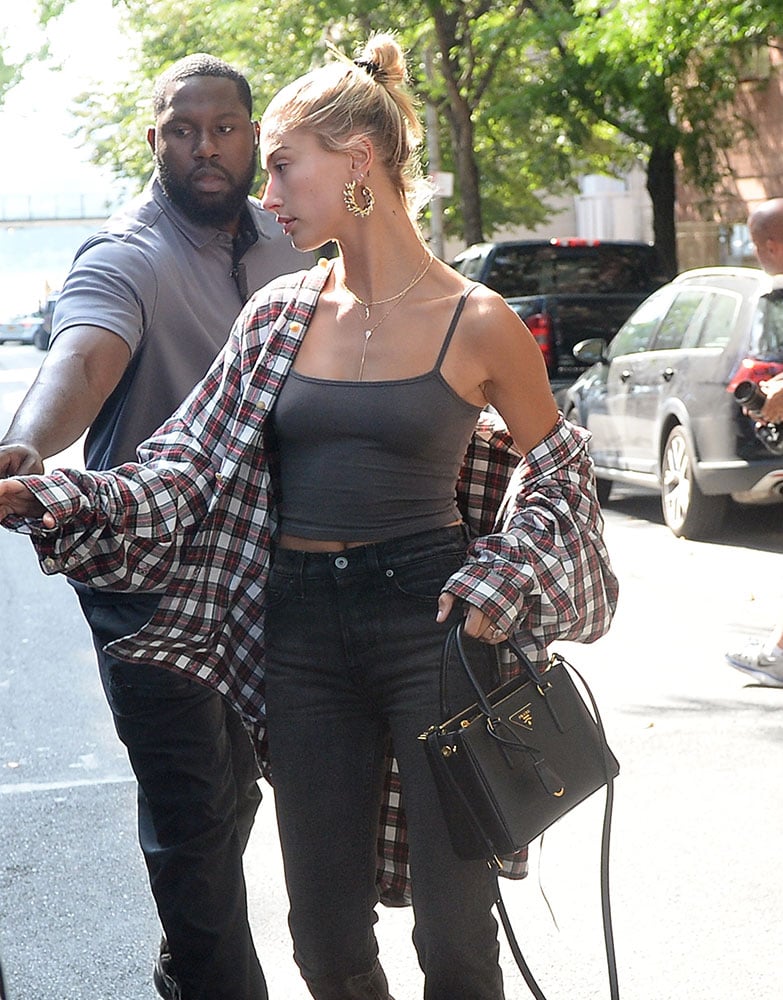 Just in the nick of time, our first Fendi before we reach the end of our journey!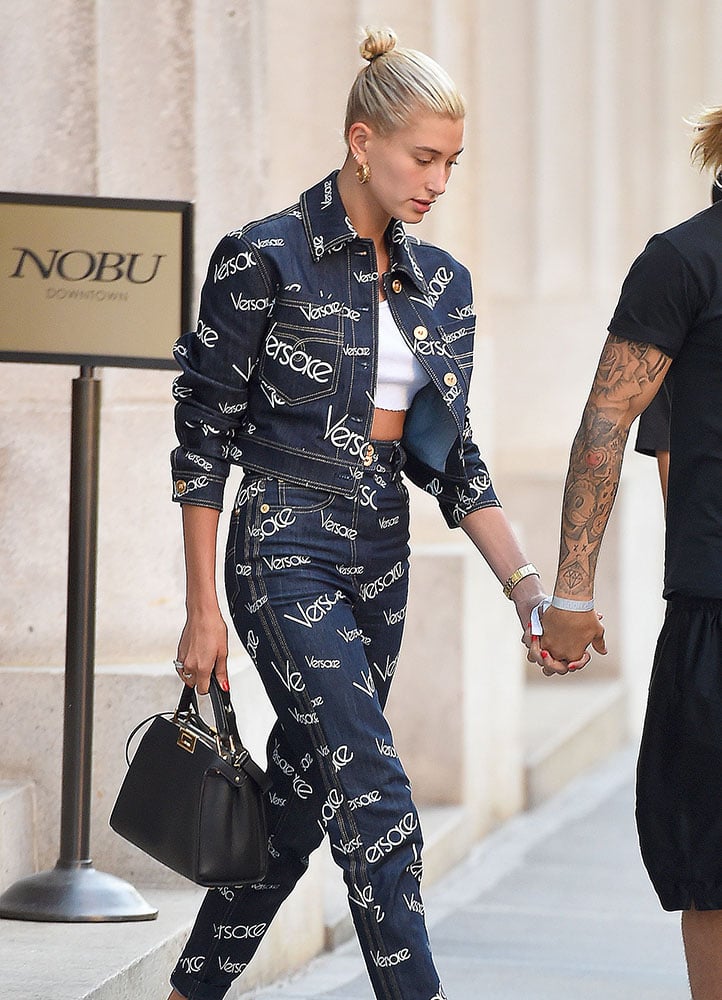 HB's hype-iest bag of the bunch is definitely this Supreme x Louis Vuitton shoulder bag. I wonder if she still owns these skinny jeans, though?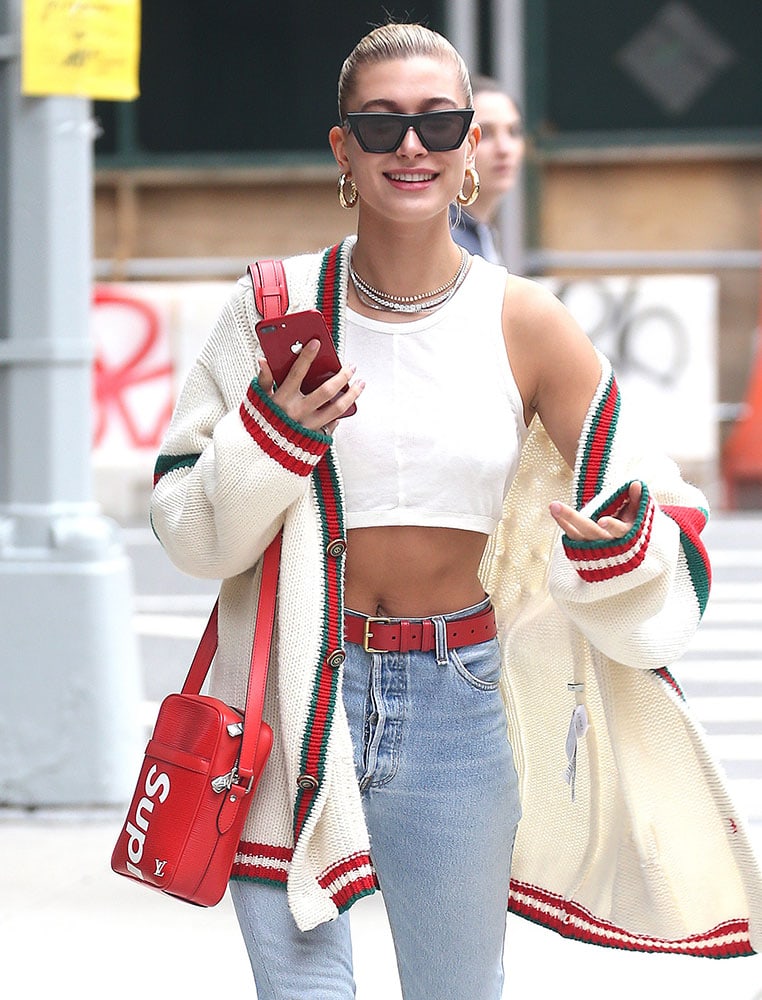 Still here? We've got one more bag for you, and it is a classic.
Here is HB before she was Mrs. Bieber, with a classic Givenchy Antigona bag. Though this photo was taken years ago, this is a look she would likely still wear today, maybe with the sweater tucked into a trouser or a boyfriend jean though.