There are no two ways about it: Rachel Bilson's bag game is absolutely sick. I always knew that, but when I actually sat down to look at paparazzi shots of her and all the fabulous things she's carried, I was even more impressed. Rachel's known for her Chanel collection (oh, and also her scene-stealing role on a little show called The OC, which makes her very near and dear to my forever-nostalgic heart), but she has a significant haul from lots of great brands.
In fact, what made going through Rachel's collection so interesting is that she somehow manages to be loyal to such a wide variety of brands simultaneously. Her collection includes not only multiples from Chanel, but also from Chloe, Miu Miu and 3.1 Phillip Lim. Even though she's almost always dressed down, her bags are eye-catching and luxurious, without exception. No wonder the folks at ShoeMint, where Bilson lends her designs idea to a stylish, affordable footwear line, decided to expand into bags. Check out our rundown of Rachel's amazing accessories choices after the jump!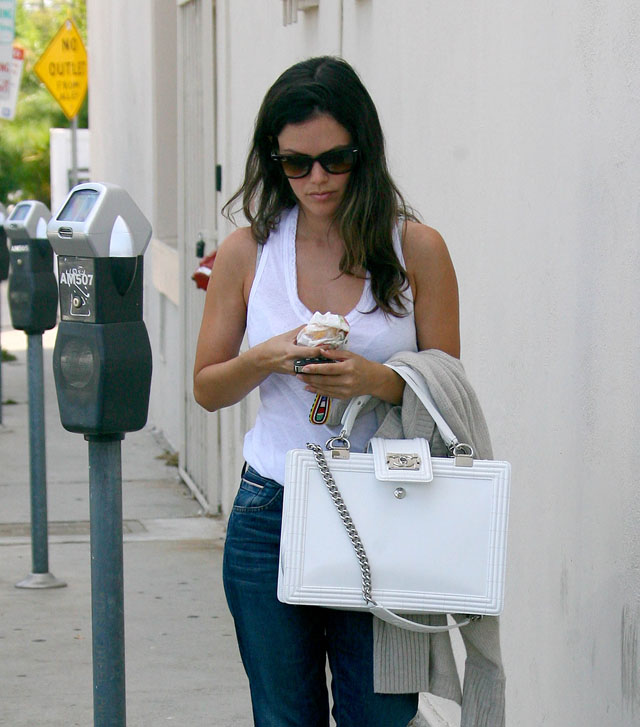 We're going to start with Chanel because we feel like that's where Rachel would start. How gorgeous is this pristine white Chanel Boy Chanel Tote? Way too gorgeous.
1 / 25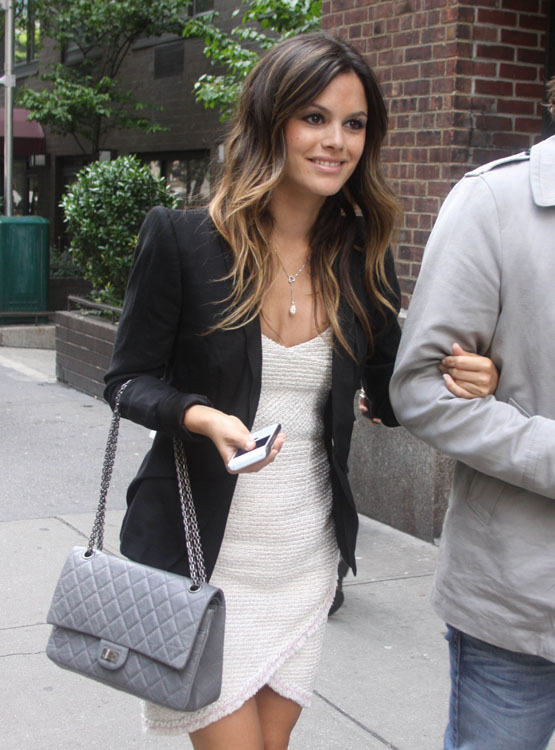 Next up is what might be Rachel's favorite bag - her Chanel Reissue 2.55 Flap Bag in beautiful distressed grey leather. Rachel's had this bag forever (it came out in 2005!) and she still carries it all the time. We found more examples than we could post, but we have a few...
2 / 25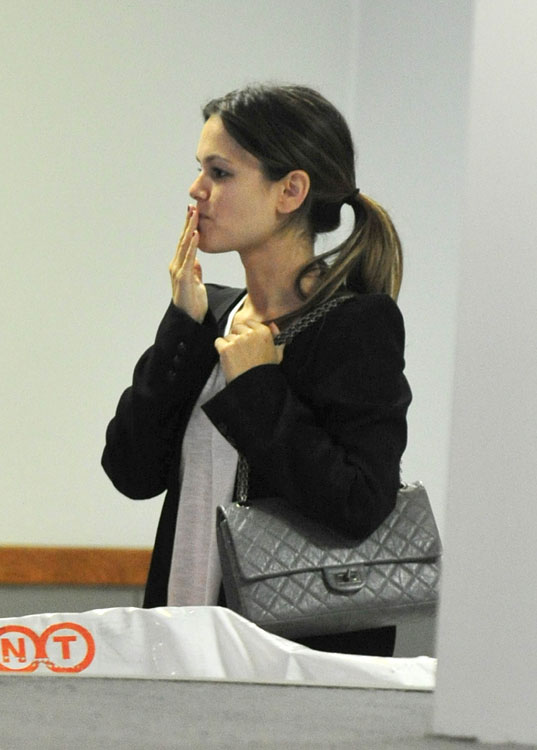 ...Like this one...
3 / 25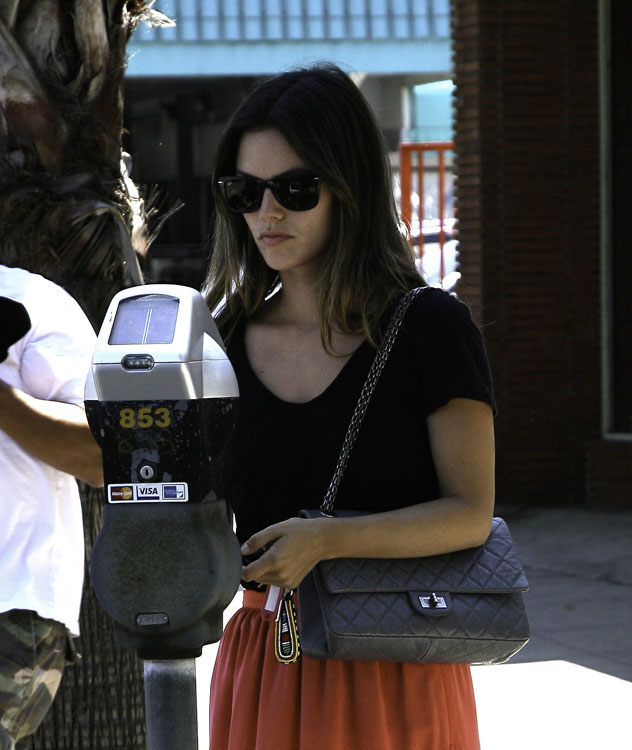 ...And this one. Also worth noting: based on these pictures, Rachel spends an inordinate amount of time standing near parking meters.
4 / 25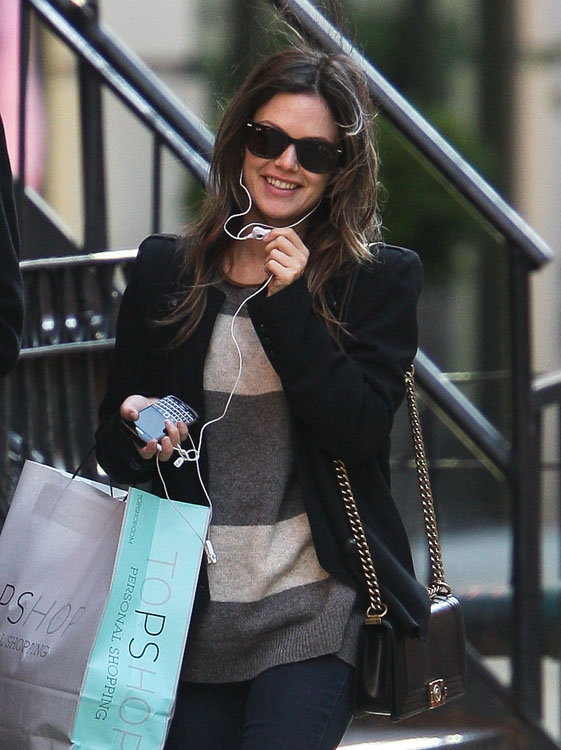 My favorite part of Rachel's Chanel collection is her classic black Chanel Boy Chanel Flap Bag. Gimme.
5 / 25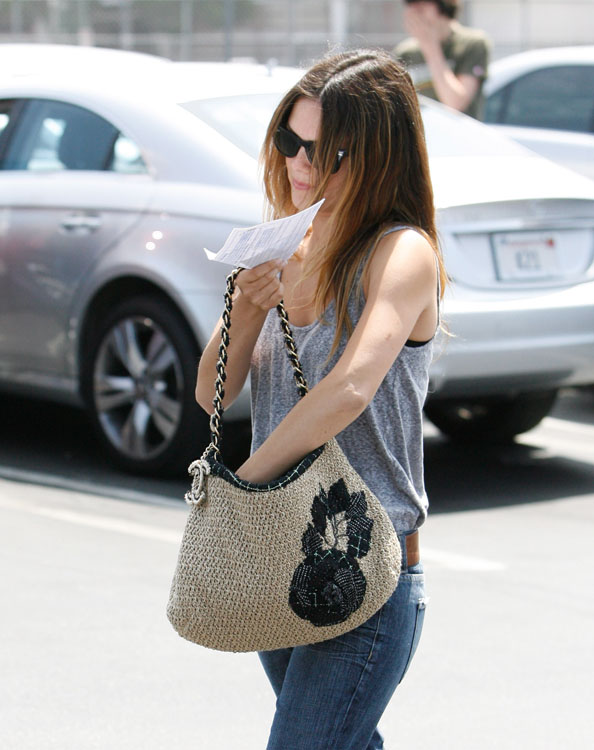 Rachel's versatile when it comes to Chanel, though. This Chanel Woven Straw Hobo is quite different than the brand's usual Parisian look.
6 / 25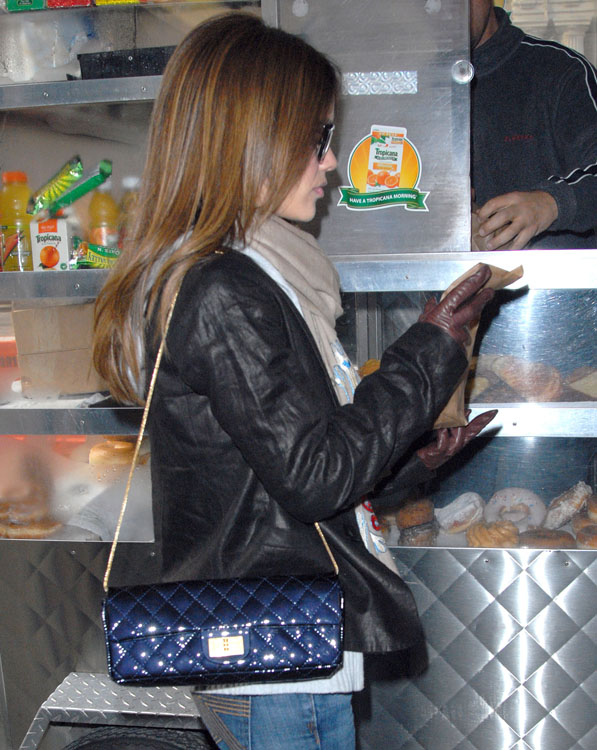 Even back in her OC days, Rachel was a big fan of Chanel - look at this teeny blue Chanel Reissue 2.55 Flap Bag!
7 / 25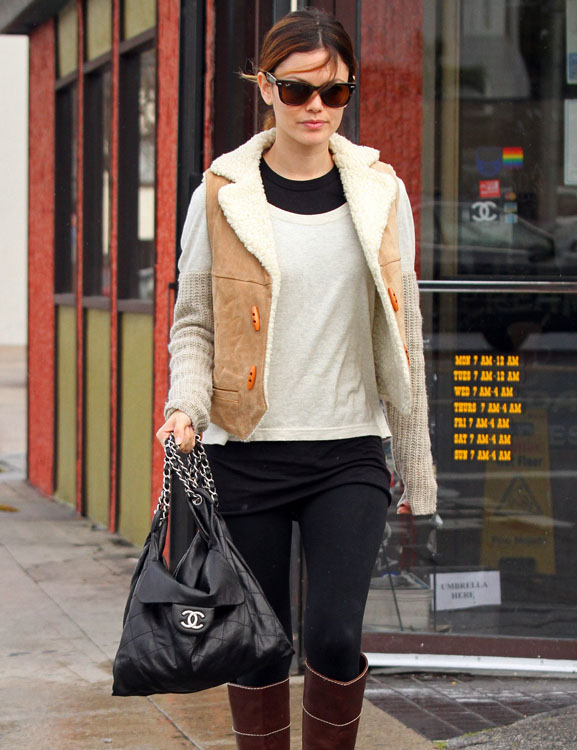 And then there's Rachel's big black Chanel Quilted Tote, which seems to be another of her great loves, based on the frequency that she carries it.
8 / 25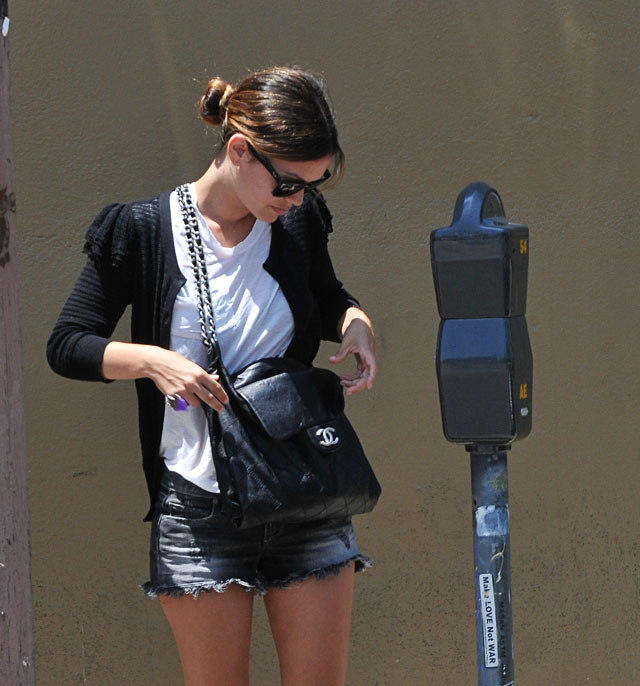 See what we're saying?
9 / 25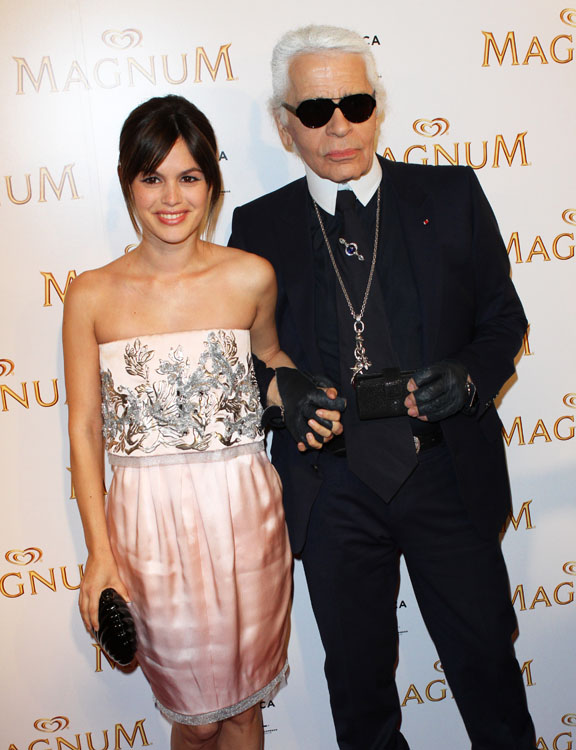 Rachel's such a Chanel girl that she's even tight with Karl Lagerfeld. Naturally, that's a Chanel Tahiti Clutch in her hand.
10 / 25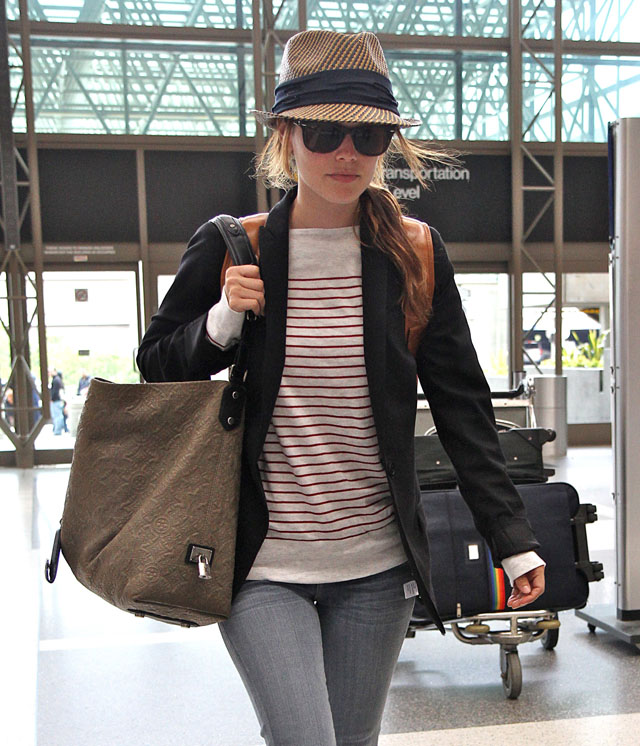 Now, for a bit of a palate cleanser, here's Rachel with her Louis Vuitton Antheia Leather Hobo. Bilson's not a huge Vuitton girl, it seems, but this bag fits right in with her collection. You can pick up your own via Louis Vuitton for $3600.
11 / 25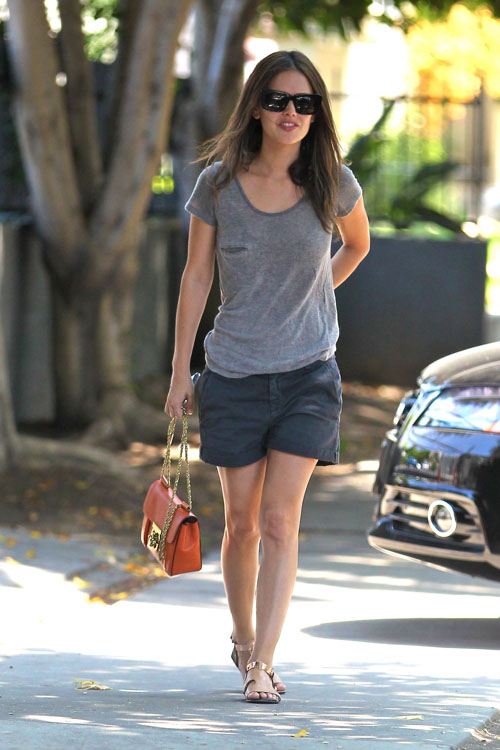 Going in to the process of writing this post, I also expected to find a lot of Chloe bags in Rachel's collection, and I wasn't disappointed. This is the Chloe Elsie Bag in orange and tan. Buy through Neiman Marcus for $1495.
12 / 25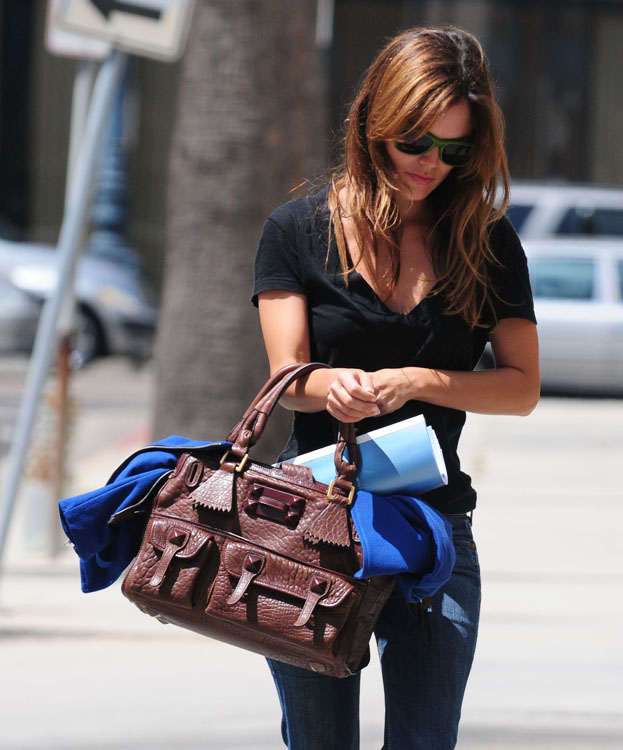 Rachel even has a Chloe bag that I don't think I've ever seen before - the Chloe Elvire Leather Tote. Shop Chloe via Net-a-Porter.
13 / 25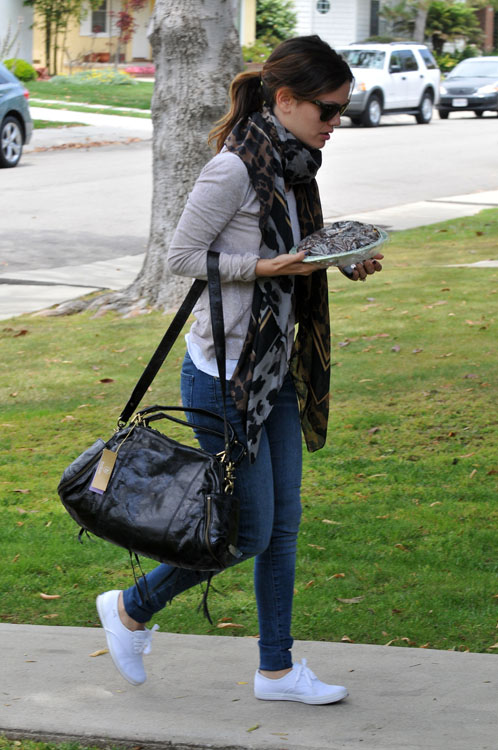 It appears as though sometimes, Rachel changes bags so quickly that she forgets to take the tags off new ones, as was the case with this Botkier Logan Satchel. Shop Botkier via Bloomingdale's!
14 / 25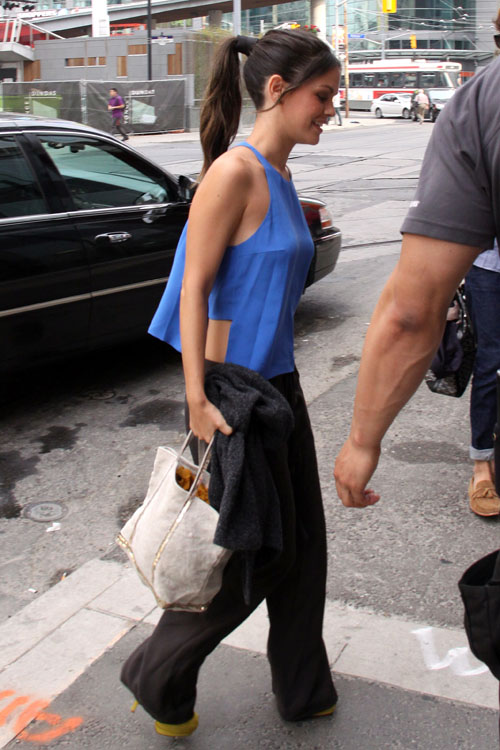 Not everything Rachel carries is scarily expensive (although, let's be real, a lot of it is and that's why we love her). This Vanessa Bruno 669 Tote for $165 via FarFetch.
15 / 25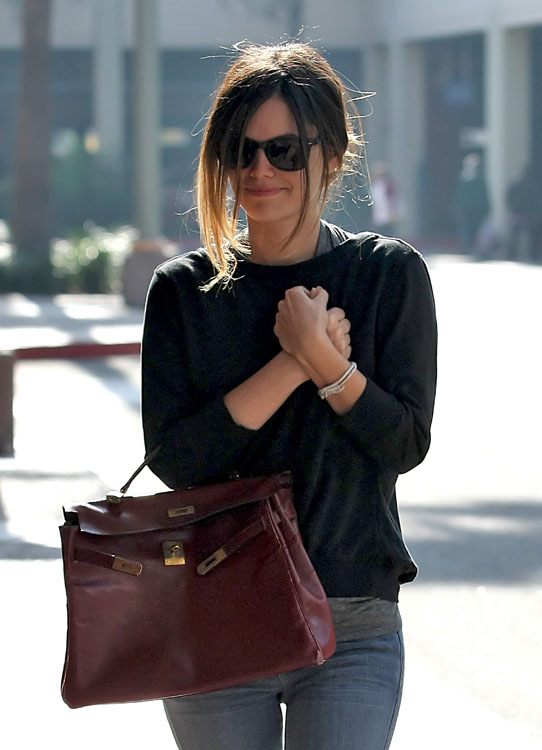 On the other end of the spectrum, Rachel rocks a vintage Hermes Kelly every so often.
16 / 25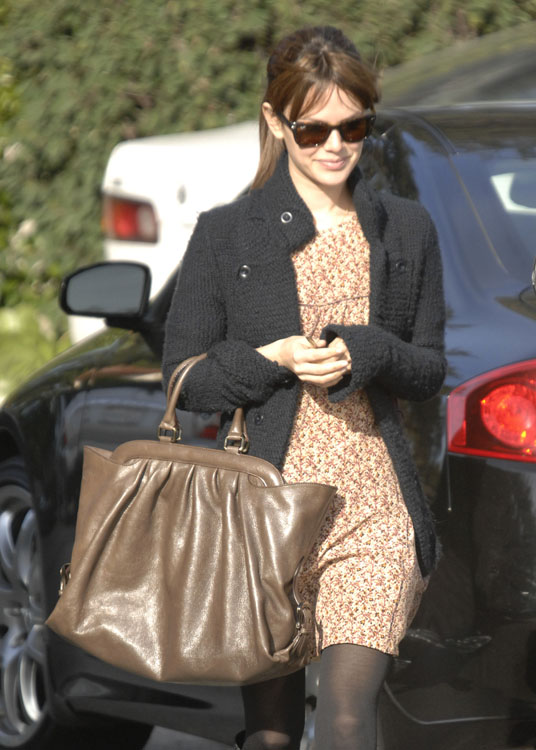 And for a little variety, a big, functional Fendi Tote. Shop Fendi via Neiman Marcus.
17 / 25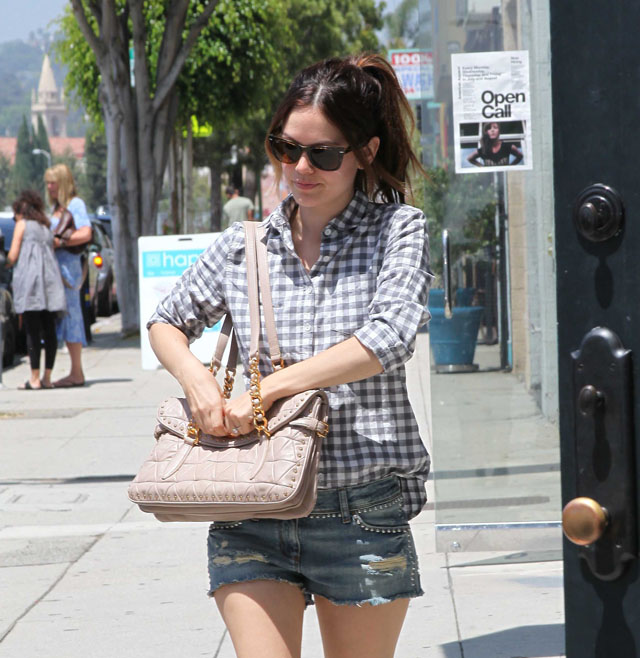 Rachel's young, fashionable look fits perfectly with Miu Miu, which is probably why she's been caught carrying the brand's bags several time. First, the Miu Miu Shopping Pattina Tote. Shop Miu Miu via Net-a-Porter.
18 / 25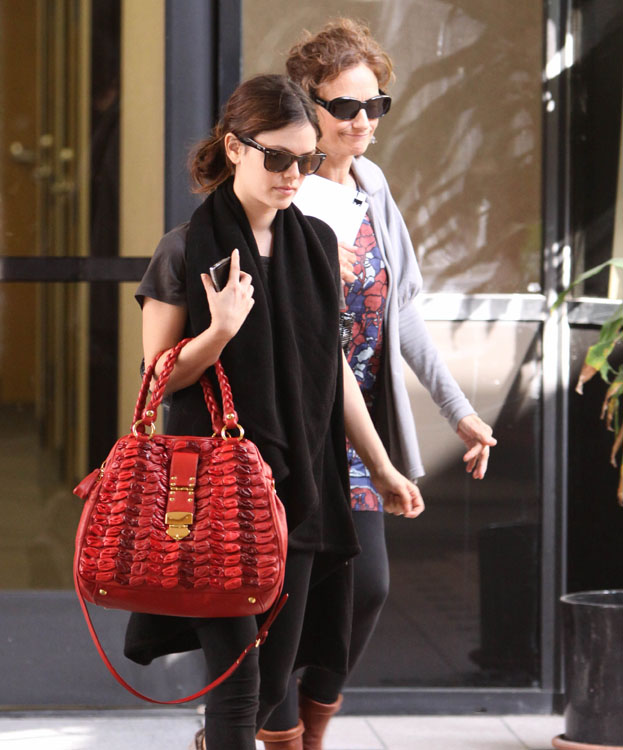 Prefer something brighter? Rachel's Miu Miu Ruched Bag in bright red might do the trick. Shop Miu Miu via Net-a-Porter.
19 / 25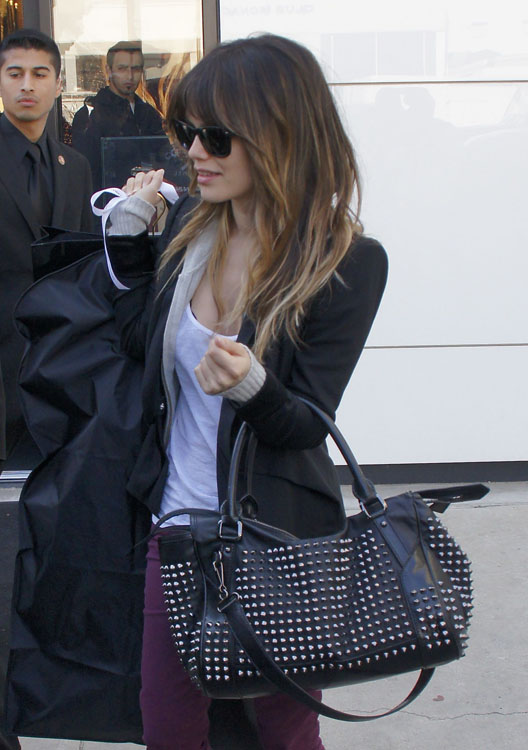 Rachel's also a big fan of the Burberry Studded Satchel, the best bag that Burberry has released in recent seasons. Shop Burberry via Net-a-Porter.
20 / 25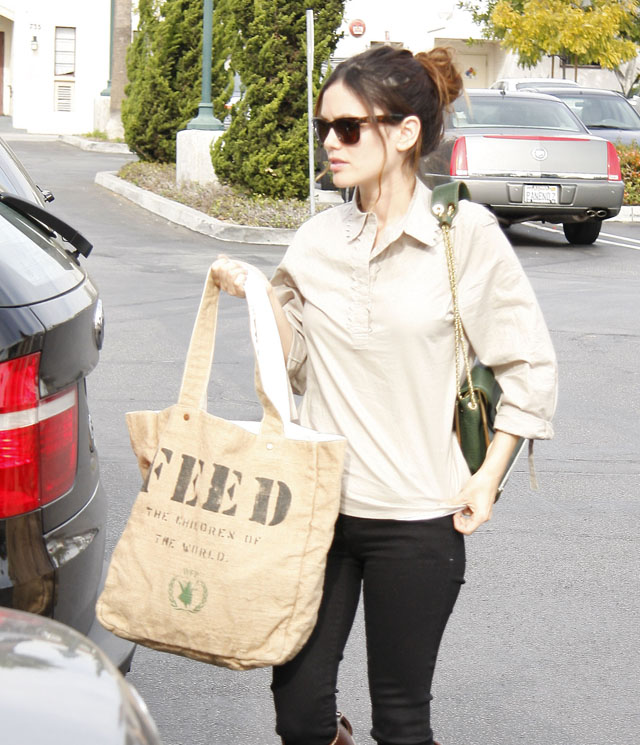 A bag for a good cause? That's right up Rachel's ally - she uses her FEED Tote to grocery shop. (I think that's also probably a Chloe Sally Shoulder Bag under her arm, but I can't see enough of it to confirm.) Pick up your own FEED bag via Saks for $80.
21 / 25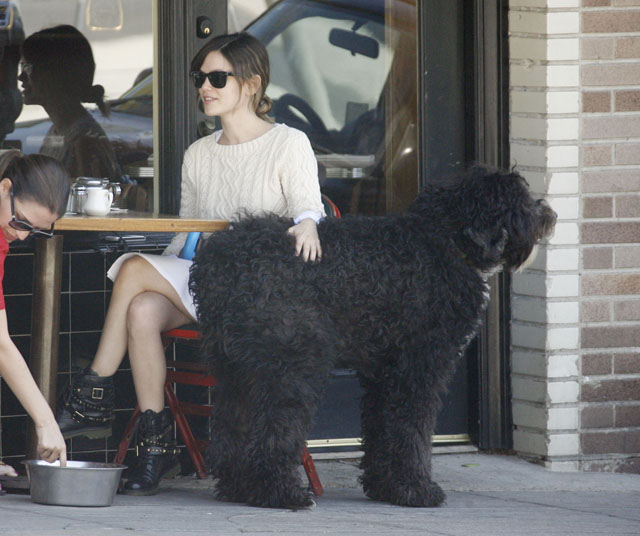 Running through all these bags is making us a little out of breath, so here's something completely different: Rachel Bilson and her absolutely enormous dog. I just couldn't resist this picture. Now, on with the bags!
22 / 25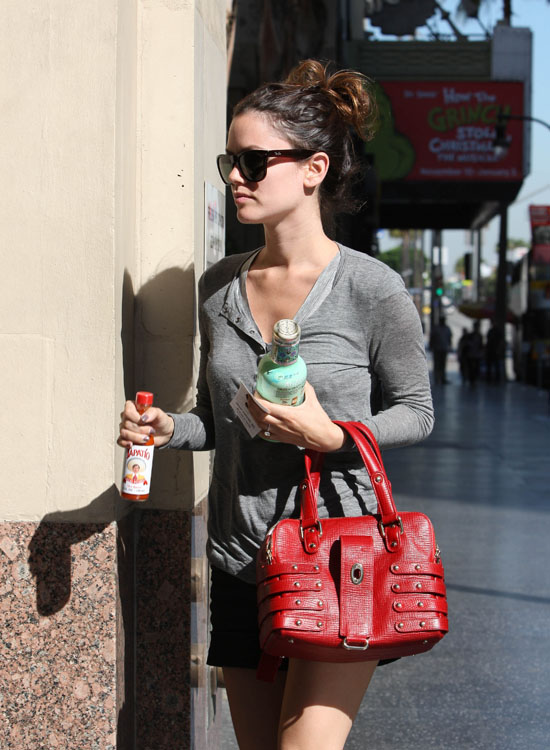 Rachel has several red bags in her collection, the Jimmy Choo Blythe Satchel among them. Shop Jimmy Choo via Net-a-Porter.
23 / 25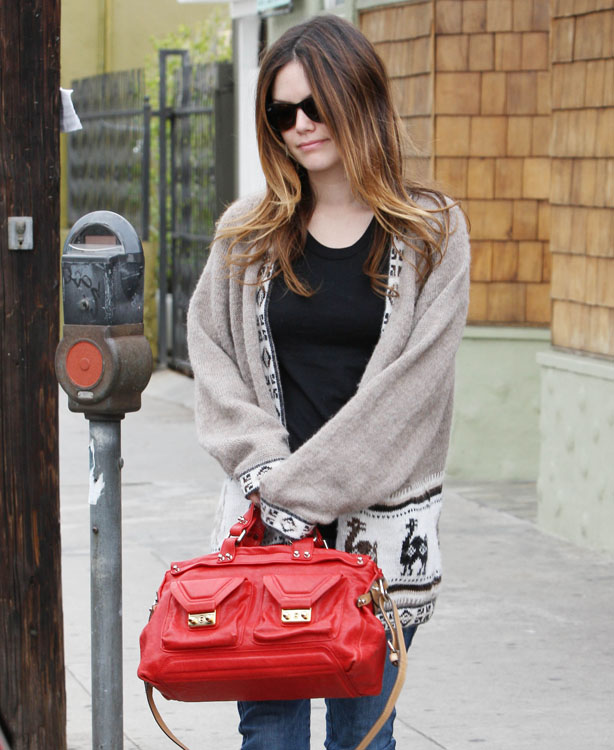 Also among Bilson's red collection is a bag from another one of her most-carried designers, the 3.1 Phillip Lim Page Bag. Shop 3.1 Phillip Lim via Net-a-Porter.
24 / 25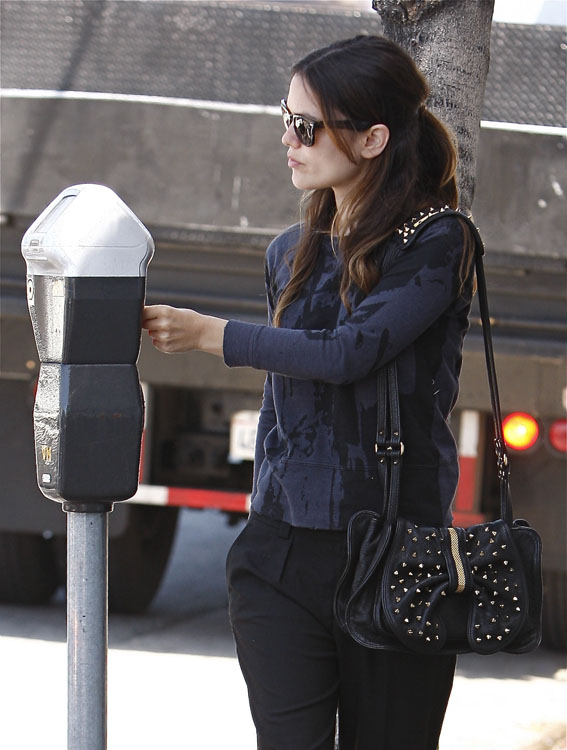 Also in Rachel's old-school Phillip Lim collection: the 3.1 Phillip Lim Edie Bow Bag. Shop 3.1 Phillip Lim via Net-a-Porter.
25 / 25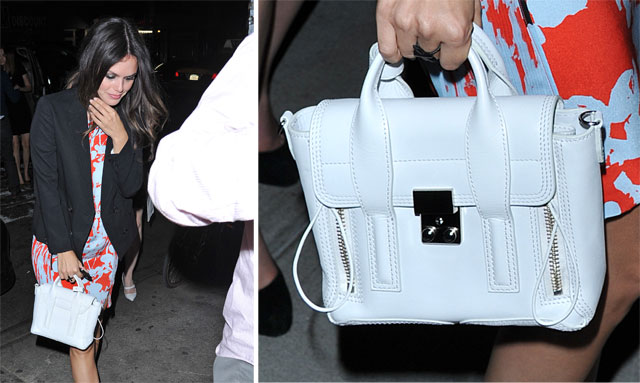 Last but certainly not least, Rachel also loves some current-season Lim. Her 3.1 Phillip Lim Mini Pashli in pure, smooth white leather is a stunning choice next to one of Lim's floral dresses from the same season.
P.S. Please consider supporting our small, bag-loving team by clicking our links before shopping or checking out at your favorite online retailers like Amazon, Neiman Marcus, Nordstrom, or any of the listed partners on our shop page. We truly appreciate your support!