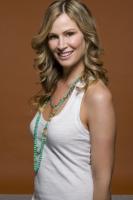 I know I am not alone in complaining about my lack of closet space and desire for a much larger closet to organize my handbags and wardrobe. Every one of you reading this website may have felt this way at one point before (or still feel that way).
Tracy Hutson is one of the original style consultants on the show Extreme Makeover Home Edition. And she was always one of my favorites, pulling together finishing touches to give the transformed homes the "homey" feeling while remaining completely stylish. Tracy has teamed up with QVC to release a line of home accent pieces, the Love Where You Live Collection, to integrate her style into items for your home. Luckily, I was able to chat with Tracy Hutson on how to keep a tidy closet. Read her tips and thoughts below!
A common complaint among women is lack of closet space, not everyone has a Carrie Bradshaw closet. What simple steps can be taken to make the most out of your closet space?
Tracy: Who wouldn't want to have CB's closet! There are several things that can help achieve maximum closet space. Take a look at where your problem areas are. Are your clothes so packed in it's hard to see what you have? Doubling your hanging rods is easy and inexpensive. Is your coveted shoe collection taking over the floor? Adding extra shelving always comes in handy to display the goods. The Photo on the box trick is a must! It really does save a lot of time and heartache. Also, storing your last season's clothes elsewhere really frees up a ton of space. A friend in New York swears by the space bags, found at spacebag.com – genius! Just slide those sweaters and pea-coats under your bed until next winter! Also, hangers are a great space saver if they are all the same they fit nicely together. My faves are the bamboo hangers at bgreenhangers.com. (more…)