7 posts tagged with
Paris Couture Week
I like to joke that it's always Fashion Week somewhere, but lately, that seems to be factually correct. We've had Pre-Fall 2016 shows happening regularly for months, and then the men's shows happened in London, …
accessorize appropriately.
Is it just me, or did Paris Haute Couture Week catch anyone else a little off guard? Because we're an accessories site and haute couture and handbags don't mix on any sort of grand scale, these shows mostly serve as a harbinger for what's to come in the fast-approaching Fashion Weeks and the flurry of accessories that they bring, but a few of the collections are always interesting enough for us to break stride and take a look. This season, Armani Privé Spring 2011 is one of those collections.
Giorgio Armani's couture is often worn on the world's biggest red carpets, but the space-age fabrics and construction of this collection call to mind only one celebrity: Lady Gaga. Armani has provided many of Gaga's more spectacular outfits for events and awards shows, including her fantastic 2010 Grammy dress, and the singer's personal style has clearly made an impression on the legendary designer. Many of the lines retain Armani's traditional modernist flair, but the futuristic materials and embellishments found therein can be credited to the aesthetic that Gaga has ushered into favor. It's to Armani's credit that he has chosen to take the zeitgeist by the horns and make some interesting clothing in the process. (more…)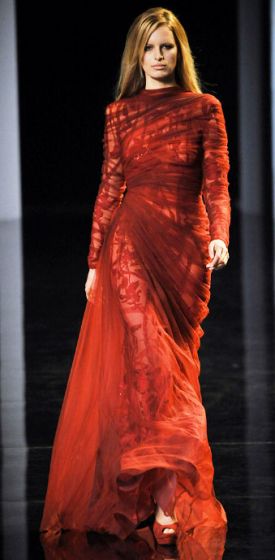 At times, fashion can be difficult. It can be temperamental, confusing and subversive in ways both good and bad, and when you get into the upper echelons of the style world, not all good clothes are pretty. In fact, that's probably one of the biggest misconceptions about the fashion industry from those on the outside looking in – fashion is often not about being traditionally pretty.
Sometimes, though, it is. Elie Saab is a reliable purveyor of the beautiful and sparkly, and he certainly didn't fail to bring the glamour with his Fall/Winter 2010 Haute Couture collection. With a palette ranging from scarlet to baby blue, Saab explored the various and sundry ways to make a woman feel like a million bucks.
His goals may not be as high-brow (or pretentious, depending on how you look at it) as someone like Karl Lagerfeld, but he hit his mark admirably with everything from cocktail dresses to a stunning, couture-traditional wedding gown to end the show. I'd be amazed if every last one of these looks didn't end up on a high-profile red carpet sometime in the next year.
Who do you think will wear them? One of the gold numbers in particular screams "Angelina Jolie" to me. (more…)
First, I'd like to say that I'm so incredibly happy that Chanel Haute Couture chose to do something more interesting for their show this season than they did for their show last season. Although, if you find silver and white boring, this may be another loser for you.
It was a winner for me, however. For the first time in his lengthy career, Karl Lagerfeld created a collection that completely eschewed black and navy – in fact, it eschewed color of any sort, save for a few traditional Chanel suits with a culotte twist (I just dry heaved a little bit there), which were rendered in various pastels. The collection was beautifully draped, beaded and rendered in the most unforgiving color palette you can imagine for the construction of clothing, but it all worked exactly as it should have. Of course it did; it's couture. (more…)