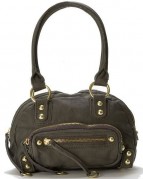 Creative Director for Linea Pelle, Andrew Cotton, took some time to spread love with Purse Blog and all of our readers! Even better yet, after you enjoy reading Andrew's answers keep reading to find out about an AMAZING deal going on over at Linea Pelle!
This Valentine's Day, is there a certain bottle of wine you'd definitely like to have on the menu? Can't go wrong with a vintage Dom… but a very, very, very dry Belvedere martini works just as beautifully to set a mood!
Since you get a chance to travel a lot, if you could pick any city in the world, which city would you spend Valentine's Day in? Paris – one of the most beautiful cities in the world! Romantic in every way… Merci!
What are your plans for Valentine's Day this year? Undecided as of now, but let me assure you I want to spread LOVE!!
What is the best Linea Pelle gift for Valentine's Day? Why? Easy! A Dylan Bowler or any Dylan in our gorgeous cherry red, special for VDay – roomy, washed and supple Italian leather -what more could a girl want?! (Except maybe a real live Italian to carry it for her!) (more…)