5 posts tagged with
Beach Bag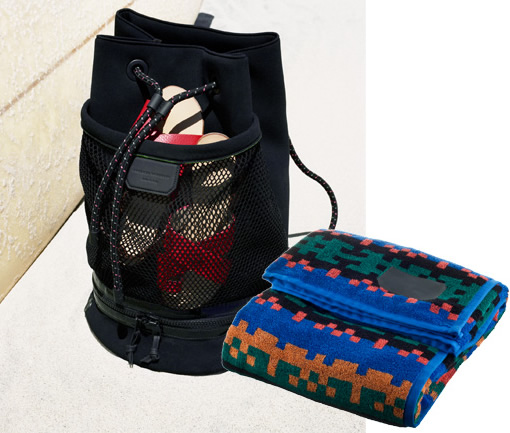 If you are in the Northeast, then you are part of this intense heat wave we are all experiencing. I may be from South Florida, but there is something about the heat radiating off the buildings and through this concrete jungle that intensifies the temperature in a way I can not describe. Oh, and the heat cooks the smells that are notoriously part of the city's allure into a rather unalluring mixture of garbage and sweat. If you're going to visit, wait until fall.
Here is the good news: With summer knocking at the door, the duo behind Proenza Schouler created a beach bag and patterned towel to make all of these hot days worth a trip to the shore in style. I used to think splurging on beach goods was silly, but with so many fashionable options at a variety of price points, we should all put a bit of thought into our beach wear. (more…)
accessorize appropriately.
It was stupidly, obnoxiously hot and humid in Atlanta this weekend, as I've heard that it was on much of the East Coast, and we all know what that sort of weather does to me: it makes me look for straw bags. Usually a straw tote of some sort implies use at the beach, but I think that the Ted Baker Print Basket Tote is a bit too dressed up and pretty to be abused that way.
In fact, I think it could be more aptly described as an after-beach tote. Seaside vacations rarely consist only of time spent in the sand, and having multiple bag options is probably a must for anyone that's currently taking time out of their day to read this blog (and we love you for it!) As such, having a tote that's obviously location-appropriate but also a tad fancy is the perfect nighttime option. (more…)
If there's one thing I love, it's getting more for my money. $300 for a bag is about mid-range for the Marc by Marc Jacobs line (let's face it, even for a non-leather bag), and for the average price of one of their bags, if you go with the Marc by Marc Jacobs Miss Marc Beach Tote you get…*counts*…FOUR THINGS!
That's right, folks. Not only do you get a cute, clear beach bag with the ever-popular Miss Marc character on it, but you also get a beach towel, hat, and flip-flops with similar designers and cute purple color scheme. The flip-flops are one-size-fits-all, and I know that some people will gripe about that, but I think it would be incredibly difficult to introduce sizing to handbags. It's hard enough to find what you want anyway, even when everything is the same size. Plus, I have average-size feet, so I'll be fine and that's honestly my main concern. Even if the flip-flops are the wrong size for you, though, you still get three other things with which to entertain yourself. Buy through Saks for $298.