I've spent the past couple of days revisiting the Marc Jacobs Imogen Shoulder Bag several times, trying to decide what I think about it. Every time I open its product page to look at it again, my opinion lands somewhere in the chasm between "WTF" and "I see what they did there."
I've decided that I don't really think that this bag is attractive, which I suppose is a step toward figuring out what my overall opinion of it is. I do think it's interesting to look at, however, and that may ultimately be more important than attractiveness when it comes to the demographic that Jacobs is trying to reach with this particular piece. Sometimes, having something that's unlike what most people understand is the objective, even if it means stepping outside the normal bounds of aesthetic pleasure.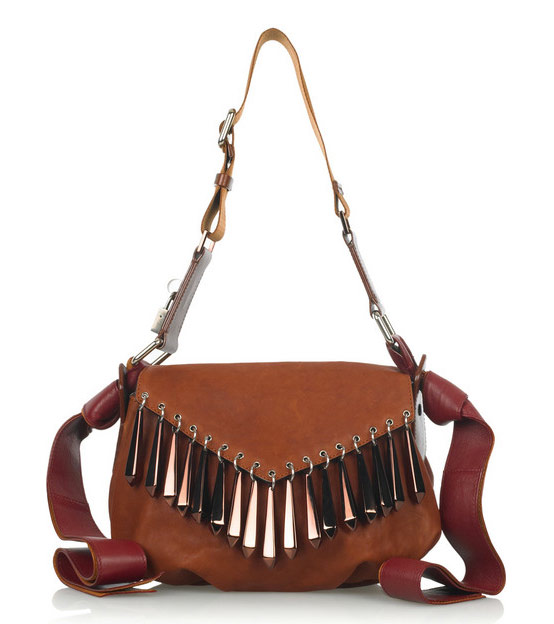 I really enjoy looking at the web's major street style blogs – The Sartorialist, Jack and Jil, you know the type. I particularly like to look at them during the world's various Fashion Weeks, when editors and stylists put on as much of a sartorial display outside as the models and designers do during the actual shows. In that context, I could see this bag being a total hit – it's esoteric, deceptively simple, and not for the faint of heart. The piercings are odd, as are the icecicle charms hanging from them, but they would look completely at home on the arm of a Paris Vogue editor in a deconstructed leather jacket and platforms so towering that even looking at them makes your ankles hurt.
This bag may not be for everyone, but I have a feeling that was sort of the point Marc Jacobs was trying to make – sometimes, fashion is still for the few. Buy through Net-a-Porter for $1795.