Alexander Wang Bianca Vest Bag for some time, wondering if I should write about it. Is it a vest? A bag? Or worse, some incarnation of a fanny pack? But as you can see, my curiosity got the better of me. The following are my musings on this vest bag: Why would anyone wear this?
I've been staring at this
Or even more important, how would anyone wear this? Oh wait. That was a silly question. Clearly this is meant to be worn as a vest, hence the name. But now I'm back to square one, which is the big question of Why Wear This.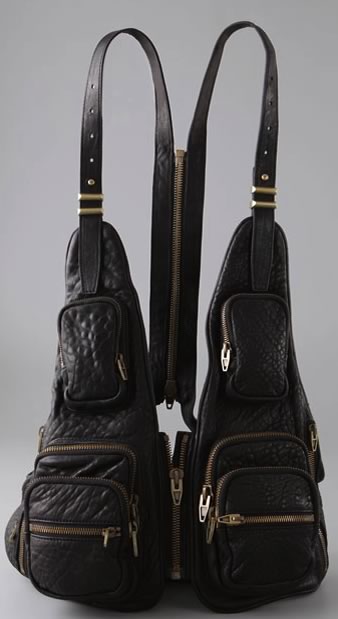 Is it possible that Alexander Wang has made a mistake and made something that is just too strange for us, the fashion-obsessed? Rihanna, that wonder who can pull off anything, has not even pulled this off… yet. I think even this Shopbop model has a hard time pulling it off. Ok, and if a paid model can't pull this off; who does Alexander Wang think we are, a culture of models? Hmph. Well, I wouldn't wear it. Even if I do like the fact that it has many little zippered compartments. But Mr. Wang has other bags for that. Well, I don't like the pebbled leather anyways. So you see- this is what a freakish bag will make you think like. Buy through Shopbop for $850, if you dare.