Excuse me while I shower the Rebecca Minkoff Mini Matinee Satchel with cliches:
Be still my heart.
I think I'm in love.
It had me at "hello."
Ahem. Ok. I'm done with that for now, but I'm definitely not done with this bag. Not by a long shot. Why would I be? It's a gorgeous color with a funky design and functional shape. It's everything I've wanted and more. Ok, so maybe I wasn't done with the cliches.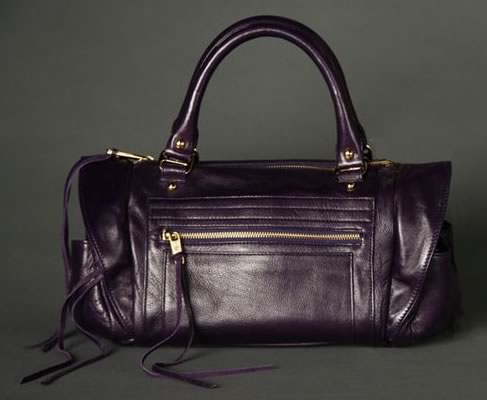 I've always loved the Matinee shape but thought that it was a bit big for me, so this slightly smaller version (at 14″ long, it's hardly tiny), a Luna Boston exclusive, is right up my alley. When you add in the fact that I'm preternaturally attracted to purple handbags of almost any type, I'm practically salivating over this bag. The flaps at either end turn up to reveal a more vivid purple suede, adding just a bit of sass to a seriously sexy design. Buy through Luna Boston for $565.