Wednesday night, I went to Kelly Cutrone's book signing at a Border's in Atlanta (I'll have a full post about that on Monday at PurseBlog), and, predictably, there were a lot of interesting looks going on among the over 700 people that turned up to hear Cutrone answer questions and get a moment of face time with her. One girl in particular stuck out to me, and it all started because she was carrying the Rebecca Minkoff Loveletter Leopard Morning After Mini Satchel.
In this picture, admittedly, the bag does not look all that great. It might even look a bit cheap here (and even in real life, I still thought the brushed gold hardware looked surprisingly down-market), but it was a million times better on this girl's arm and with the outfit she chose than in any photos I've seen. Sometimes in the realm of accessories, a bag's context can make a world of difference.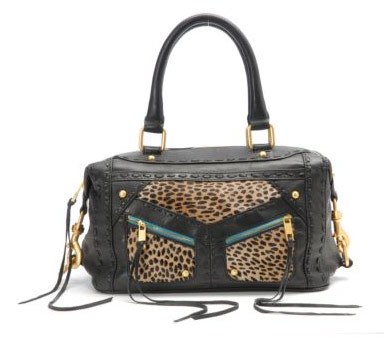 I really should have taken a photo of this girl, because her outfit was like a case study in how to mix patterns and look chic instead of looking like a mental patient. She paired this leopard-print bag with black skinny jeans, a tank, and a cardigan in a grey, magenta and blue pattern that managed to be both modern and slightly 80s at the same time. The mood of the sweater's pattern matched the leopard print perfectly, even though their colors weren't the same. Not only did her outfit make sense, but it made the bag look more useful and chic in the process. Buy through Bloomingdale's for $615.