Some of you know that I've been searching high and low for the right minibag for what seems like months now, and it always seems like there's something wrong with all the ones that I find – they're too little or too big, they cost too much or way too much, they're too traditional or too bohemian. I review handbags for a living, so I'm good at finding fault and not quite as good at finding something that I totally love, without reservation.
Well, I found it: I'm head over heels for the Olivia Harris Baby Ball Bag, and I very much intend to order one.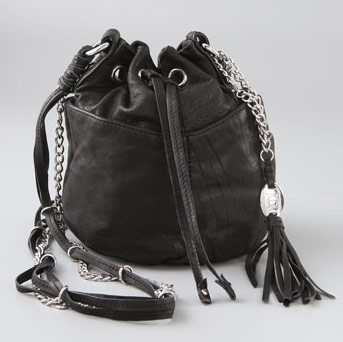 Where do I even start? This bag is the perfect size to fit my Blackberry, keys, card case and sunglasses without being so large that it reminds me of the corduroy messenger bag that I carried as an angsty high schooler. It's small and has a drawstring closure, which fits current trends, but the neutral leather and modern hardware aren't something that will go out of style too quickly.
Speaking of the hardware, I think that my favorite part of the entire bag is the strap. Finally, someone figured out how to make a chain that incorporates leather without looking like a Chanel ripoff – here, the combination looks fresh when it usually just looks a bit played out. So, to summarize: not only is this bag perfectly sized, fashionable and modern, but it's also one heck of a deal. Buy through ShopBop for $255.