It still sort of surprises me that Maison Martin Margiela has a diffusion line. I guess it's only financially reasonable to have one these days, but Margiela and his brand always seemed a bit to esoteric to me to play the game like everyone else. A line like this probably gives them the cash necessary to stay afloat and play at all, however, so the move is logical, if not expected. It has been widely reported that Margiela has been uninvolved with the brand, now owned by Diesel, for an unknown period of time, so I guess that the decision can not be credited to the man himself.
However it came about, their gain is also ours. Bags like the MM6 Maison Martin Margiela Perforated Leather Hobo look almost exact like some of the regular line's bags, but they're at a much more palatable price – in this case, the damage is less than half of the original bag.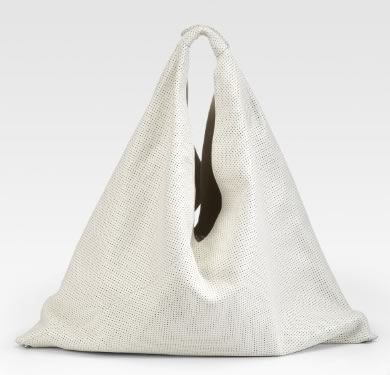 The similarities between this bag and some for which Margiela has charged over $1200 are uncanny. In fact, except for a slightly more intricate handle wrap on the more expensive version, I see very few differences at all.
The perforated leather is another one, since the previous bag hadn't been poked and prodded in such an obvious way, but I don't entirely dislike the tiny little holes. I usually think that perforated bags look like basketball jerseys, but I'm not getting quite the same effect here. Even if I was, it would make a bit more sense coming from Margiela's brand than from a company known for things that aren't so minimalist. Buy through Saks for $495.