How do you guys feel about multicolored python? I haven't seen it enough to call it a "trend" with any accuracy, but bags made out of such fabrics have appeared from several designers over the past few seasons, and I'm still not sure exactly how much I like it. Or maybe, how much I dislike it. My feelings aren't entirely positive.
Of the bags that use this technique, however, the Michele Lily Python-Embossed Clutch isn't so bad. I could even imagine a few situations in which it might go with an outfit rather nicely.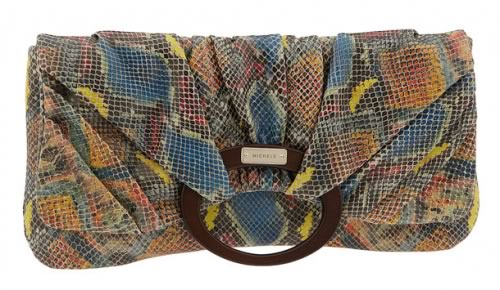 It's not that bad…and the colors are, uh, natural-ish. It would look nice with white, probably. Yeah, that's it. Wear it with white.
I know that this bag isn't real python, so I may be missing the point in this particular case, but I think that my generalized distaste for python bags dyed multiple shades is that it distracts from the natural beauty of the material. To me, the point of buying an exotic (or, I guess, a mock exotic) is that the inherent variations of the material is a design feature in and of itself, and doing things to a bag that lessen the impact of the skin is not only futile, but bad design. Or maybe I just don't really like multicolor bags, period. It's a distinct possibility. Buy through Nordstrom for $275.