It's rare that I come across a Marc by Marc Jacobs bag that I just don't understand – normally I love nearly everything that the line makes, particularly their simple leather bags. Plus, I'm a big fan of hobos anyway, so it's doubly surprising that I just can't bring myself to like the Marc by Marc Jacobs Hexi Lafayette Pleated Hobo.
Does anyone else look at his and see a deflated soccer ball with a strap attached? Of course, deflated football clutches popped up in Alexander Wang's show last season, so perhaps this is a budding trend. I hope not, however – the footballs were cute and irreverently preppy, but this is just a bit sloppy-looking.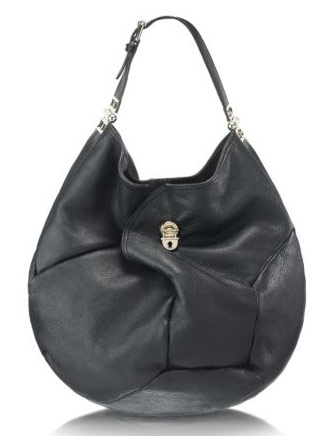 I know that it's hard to create texture when a brand has such a clean, simple aesthetic to consider, but haphazard pleating that makes a bag look bunchy and deflated are not the answer. If the bag was alive, it would be totally uncomfortable in the position into which it has been sewn. As it is, I would be uncomfortable carrying it. I wish they'd take those cute little hinges on the handle and put them on a much cuter bag. Buy through Bloomingdale's for $498.