I absolutely hate it when I look at a handbag that I really want to like and see another, better handbag by a different designer lurking behind it. The ladylike shape and interesting finish of the Kate Spade Windsor Place Gwendolyn Hobo appeal to me, but I can't get a vision of another brand out of my head.
The brand is Lanvin, and the bag that it reminds me of could be any of their recent chain-handle creations. It reminds me of their ever-popular Amalia bags the most, however, and as much as I like those, I don't need a cheaper imitation.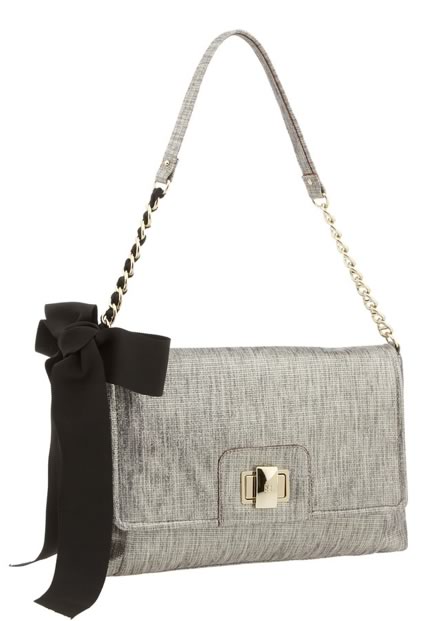 The asymmetrical chain strap is something that Lanvin has made a signature of theirs, and they also use grosgrain ribbon inserts to achieve the off-balance look. Those ribbons usually end in big bows, just like the one you see here. The treatment is almost exactly the same, if maybe a bit more streamlined and less bohemian, which would be appropriate for Kate Spade.
I have a bit of a soft spot in my heart for Spade, so it pains me to see them do something that's derivative. The finish of this bag's leather and the shape are fun and wearable, I only wish it didn't remind me so much of stuff I've already seen. Buy through Nordstrom for $595.