I'm normally an ardent and vocal Marc by Marc Jacobs fangirl, as many of my previous posts on the brand prove. Lately, though, the brand's bags are almost entirely missing the mark (or the Marc, as it were) for me.
When I saw the Marc by Marc Jacobs Fantastical Perfect Purse, my first instinct was to roll my eyes. I've been ok with Jacobs's use of embossed initials in the past, but when you add things like spades and clubs into the mix, the effect gets cheap and silly very quickly.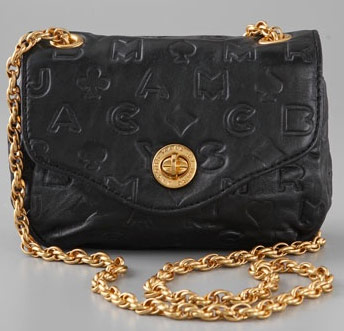 Whimsy is one thing; this is quite another. The playing card symbols remind me of those nasty vinyl "inspired" Louis Vuitton bags that you see pushy sales clerks hawking at carts in the mall, and there's no situation in which that could be considered a compliment. The irony is that Jacobs also designs Vuitton's line, and it would appear that he's taken a cue from bags that try to market themselves based on their aesthetic similarities to LV's monogram.
If the cheapy monogram had been left off entirely, I'd have very little problem with this bag. Even if the pattern had been restricted to the brand's initials, as it has been in past seasons, I could deal with it for such a relatively reasonable price point. But at this stage in the game, Jacobs should know better than to think that this is what his customers want. Buy through ShopBop for $258.