Elie Tahari isn't a designer that we normally think of for bags, but I'm always open to seeing something genuinely interesting from a relatively new entrant in the marketplace, and the Elie Tahari Leather Slit Tote is exactly that. Earlier this morning, I talked about how important texture is in good design over at PurseBlog, and this bag is a perfect example of how a good designer uses it to take a bag from average to exceptional.
Big leather totes: we've all seen them. Most of us have one. Every designer has made one. So how do you continue to convince people to buy new ones? You make them utterly unique and fabulous, just like this one, while still maintaining the bag's essential functionality.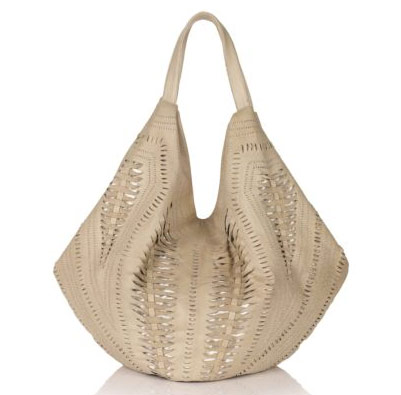 This bag is a bit more expensive than the average tote that we feature on this site, but it's so detailed and visually interesting that I couldn't help but post it. The laser-cut leather is woven and twisted in a variety of different patterns, providing something different to look at from virtually every angle. There's even an interesting design element when you open the bag – it's lined in leopard-printed satin. If you're looking for something a little more tough-looking, try the black version. Buy through Bloomingdale's for $898.