Since the very successful Diane Von Furstenberg Stephanie Hobo first came out, I've gone through many stages of thought over it. First, I loved that they used weather in a way that was, as far as I could tell, both new to the handbag world and really interesting. I wanted to have one.
And then I saw how it hung on some women, and how enormous it was, and I was unsure. Then I saw a slightly smaller version, and I knew I loved it. Then I wondered if too many people had already hopped on that bandwagon for there to be a seat left for me. With the advent of the Diane Von Furstenberg Stephanie Shoulder Bag, however, I know that the folks at DVF were simply testing my commitment and they've finally rewarded me with my own perfect version of the Stephanie bag.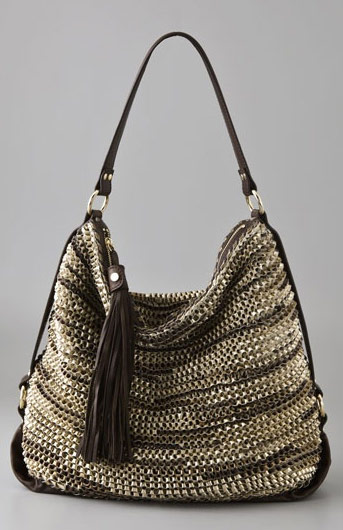 I tend to prefer hobos over other bags, and my favorite hobos are longer than they are wide and hang down to my waist. I own plenty of bags that don't meet that description, but I tend to gravitate most towards bags that do. The original version of the Stephanie, while being wildly creative and unique, was just not the kind of bag that I tend to use often.
This shoulder bag version, however, is much closer to my one true north. It still has all the charm of the original Stephanie via the gold woven leather, but in a shape that's slightly more conventional and not quite so enormous. But maybe…is it too conventional, maybe? Here I go again…Buy through ShopBop for $875.