The more I look at Botkier's spring line, the more I love it. Every time I think I've decided what my favorite bag from the collection is, something else comes along and tickles my fancy, and I have to start planning new outfits in my head around it. Today, the bag getting the imaginary stylist treatment is the Botkier Rivington Shoulder Bag.
I like this bag for a few reasons. First, just look at how soft the leather is. I don't think I should need to explain myself any further. Second, it fits the new drawstring trend perfectly without being a full-on 80s throwback that you won't be able to wear once the style becomes passé again. Third, it's black, and we all know how much I love black.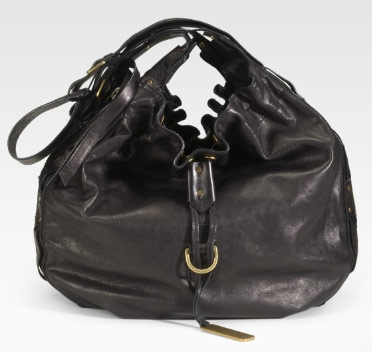 I can picture this worn with a patterned tunic and cut-off white denim for spring and summer – something bohemian and sunny in order to match the shape of the bag and offset the dark color. Because it's a black shoulder bag, however, I'd be more excited to transition it in to fall with tights and an oversized belted sweater. How would you wear it? Buy through Saks for $595.