I don't think that there's a brand in all of fashion that is more annoying to type out than BCBGMAXAZRIA. I don't know why it has to be in all caps and with no spaces. It's not a pronounceable word, and I don't think that they intend it to look like yelling.
As a result, I'm tempted to give a bad review to the BXBGMAXAZRIA Oversized Hobo out of spite. Holding down that shift key is hard. But I won't because in reality, this bag has almost everything that I like. I hate when that happens.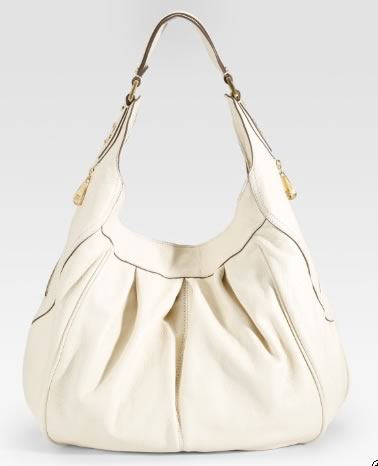 The slouchy, soft ruching really makes this bag for me. It underlines the quality of the leather without making the design fussy or overdone, and it should provide for a very comfortable look when worn. The darker edging around the leather pieces is the only thing that gives me pause, but not enough to change my opinion of the overall design. Buy through Saks for $458.