We've already talked about the weaker points of Prada's Fall/Winter 2010 handbag collection – I'm no great fan of camouflage, and it seems like most of you agree with me. Thankfully most of the bags in the collection aren't decked in camo, and I'd love to have most of them in my closet.
In particular, the Prada Cervo Shine Bowler looks like a perfect everyday bag – it's neutral but doesn't lack luxury and can be carried on the shoulder or arm, depending on how badly you need to carry other things at the same time.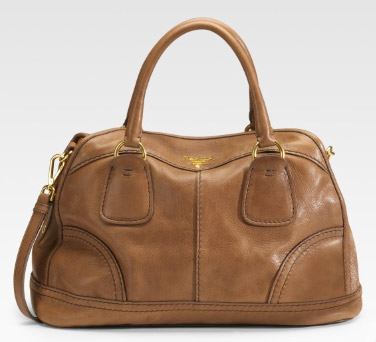 I used to think that bags like this from Prada were kind of boring, but they've grown on me in the past six months or so because of how subtle they are. Season in and season out, Prada makes bags that a woman can take to her office without feeling as though she's showing off in an inappropriate way. Showy runway bags may get all the attention, but I have a feeling that bags like this one that appeal to grown women are what make the brand so successful. Buy through Saks for $2100.