For Dolce & Gabbana, the flap satchel has become something of a brand signature. We've all seen the Miss Sicily in everything from allover sequins to knitted wool, and now the Dolce & Gabbana Miss Rosa Satchel is here to bring some lightness to your heavy winter wardrobe.
This bag is technically a Pre-Spring 2011 piece and therefore won't arrive until around the first of the year, but as long as you live in the Northern Hemisphere, that's still plenty of time to pair it with winter knits and and dark colors. Just don't put it anywhere near your dark-wash skinny jeans unless you want the entire back side to turn blue. (Not that I know this from experience or anything… Of course not… Who would be silly enough to do such a thing?)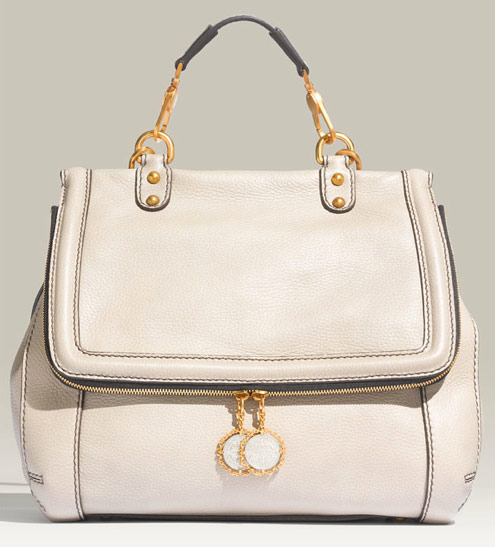 What makes this bag such a brilliant winter options is the abundance (but not over-abundance) of grey trim. Instead of using tonal stitching and finishing for the edges of the leather, the designer used a medium grey that makes the look clearly appropriate for cold weather. It also doesn't hurt that the creamy, ivory tone of the leather will coordinate perfectly with all your favorite cold-weather neutrals, no matter what they might be. If you're not much of a jeans-wearer (and I'm certainly not), then this just might be your perfect everyday bag for winter. So long as you're willing to ignore the dangling coin closures, that is. Buy through Nordstrom for $1925.