Story time! When I purchased the Valentino Small Rockstud Bag in Black Smooth Calfskin in Italy this past spring, I carefully boxed it up inside my suitcase before embarking on the trip back to Miami. To my horror, when I began unpacking at home, I realized one of my unbranded (less than $50) leather travel bags was pierced along the left side. At first I had no idea how such a thing could happen (the bag was in fine condition just 24 hours ago), and then it hit me: The Valentino Rockstud Bag was the culprit.
I accidentally packed the leather purse below the Rockstud. Though the Valentino was wrapped in paper and a cushy dust bag, it proved to not be enough. Yes, those spikes on the Valentino aren't just mesmerizing to look at… they really are spiky. So if you're thinking about adding one to your arsenal – be it the Rockstud Bag or a similar studded piece from Valentino's collection – keep that in mind.
Here's what you need to know about this bad boy (yes, I went there.).
Aesthetics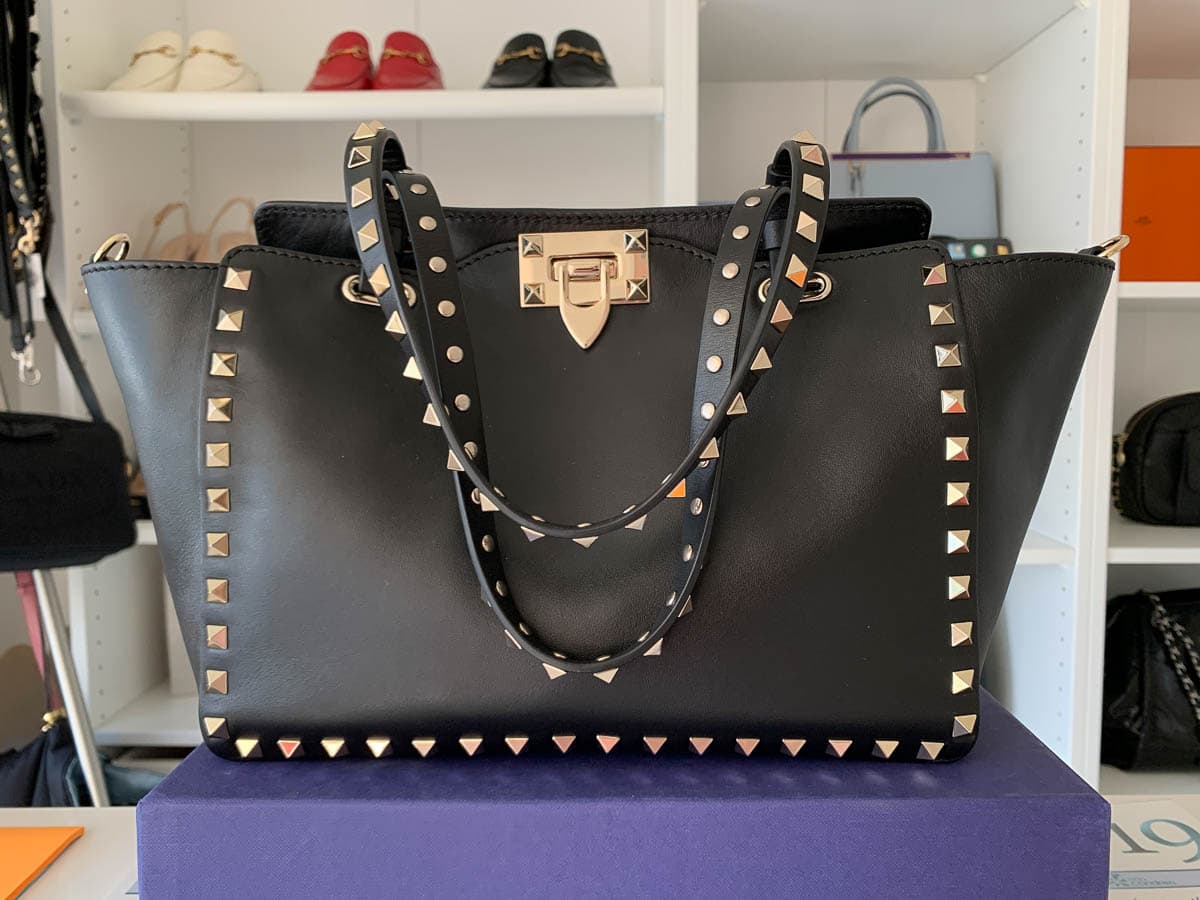 The Rockstud look is stunning – whether it be on a pair of shoes, a clutch, or in this case, along a bag. Valentino's metal studs are simultaneously spunky, edgy, and eye-catching, while also appearing subtle compared to something like Louis Vuitton's monogram or Fendi's double F; and that subtleness is something I appreciate, especially in today's logo-loving climate. Those "in the know" will automatically associate this bag with Valentino, without the actual name plastered across the front.
Beyond that, the leather itself is gorgeous. To my surprise, the smooth calfskin has proven to be quite durable (more on that later), providing a shiny and finished look to the bag. There's a grained calfskin version as well, but the leather is slightly dulled compared to the smooth calfskin. Either way, thanks to those dangerous spikes, this bag – in smooth or grained calfskin – immediately enhances an outfit and adds a bit of a "cool factor," even if you're just running a quick errand.
Usability + Functionality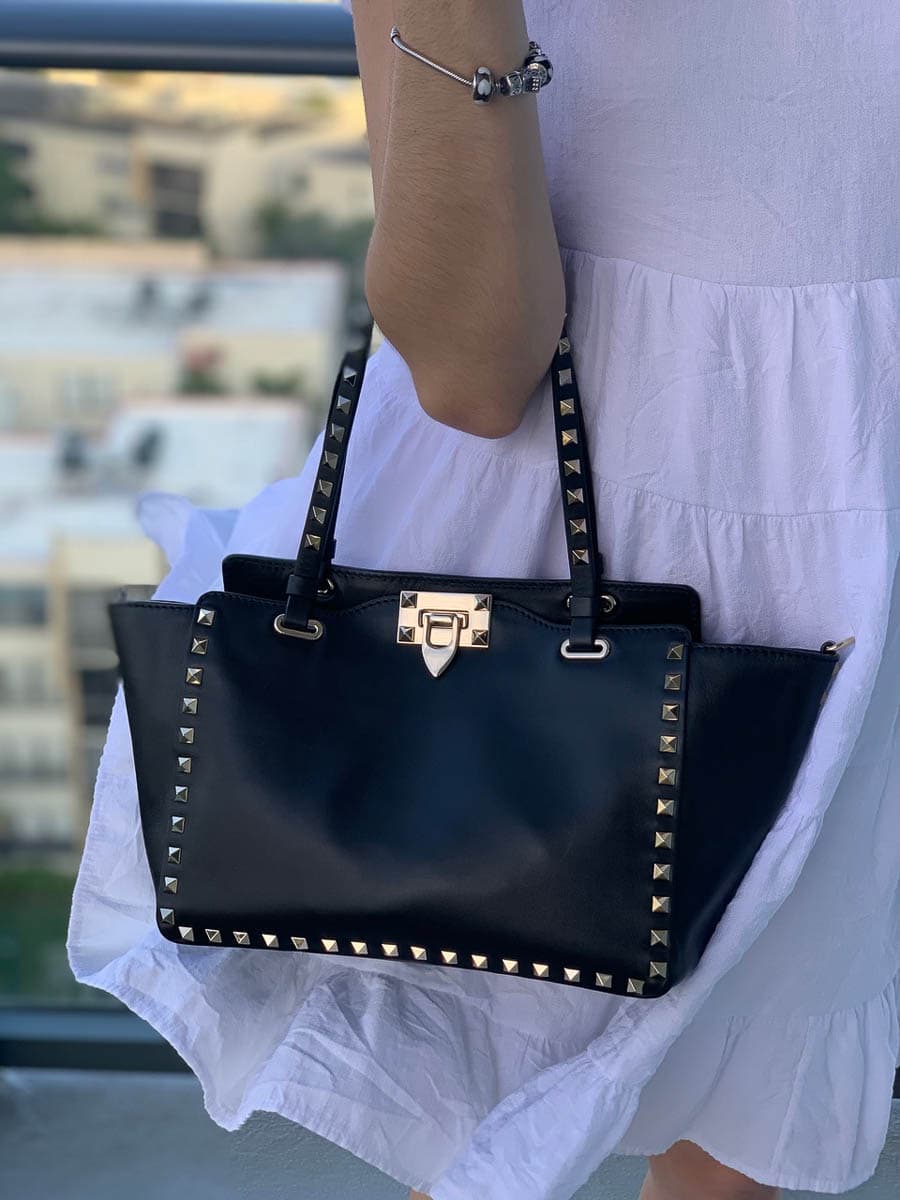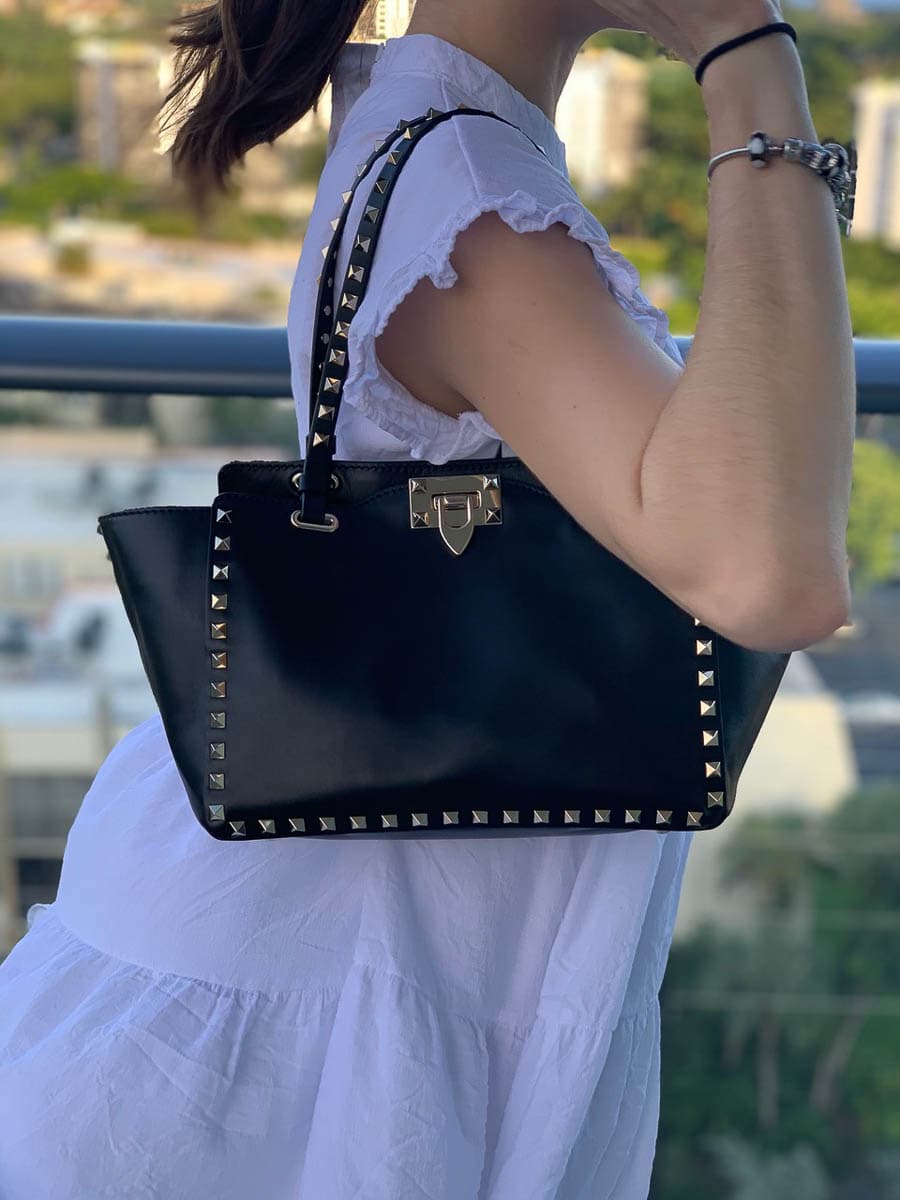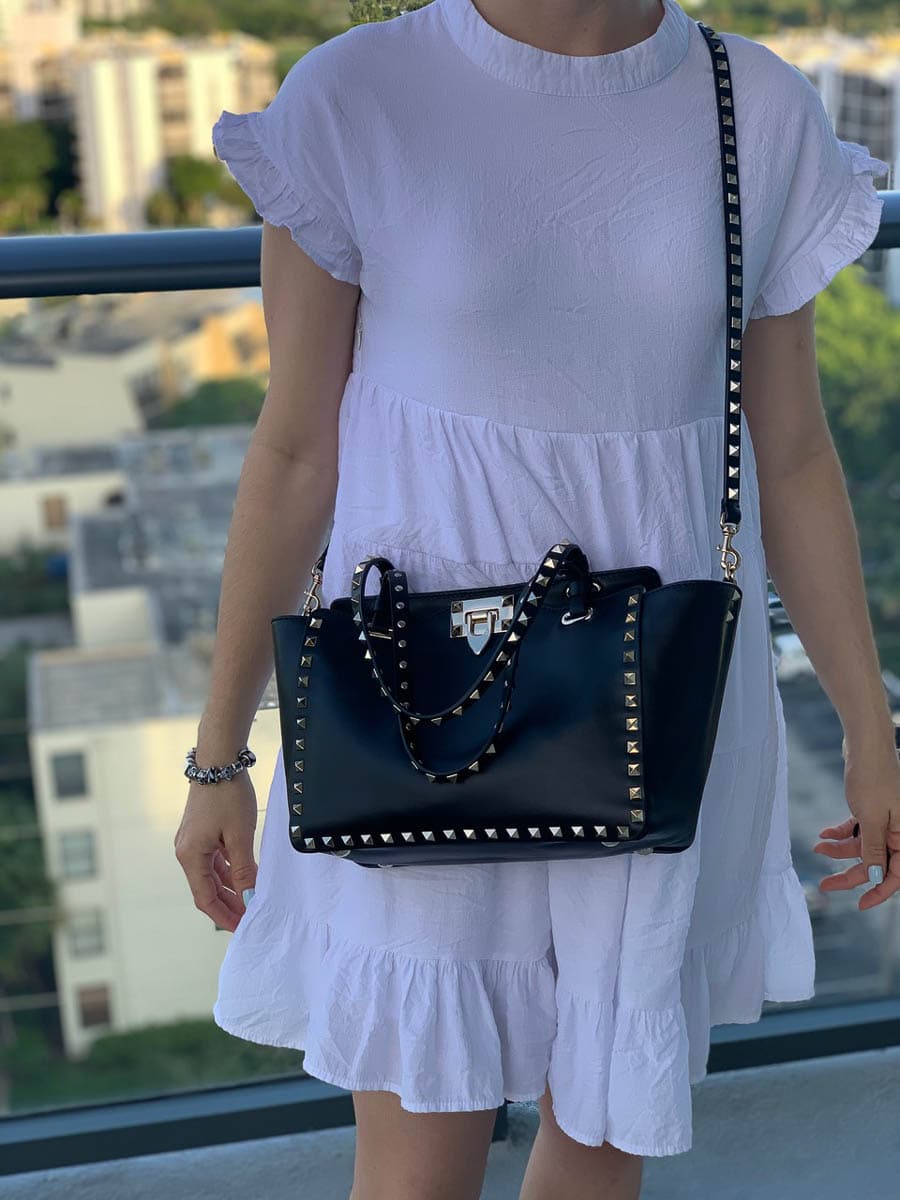 Available in a few sizes, this particular style is considered "small" though the measurements tell a different story. The dimensions are 10.2 inches wide and 5.5 inches high, which provides more than enough room for everyday essentials. Though it's not as big as a Louis Vuitton Neverfull, it still manages to hold all of my belongings (laptop, water bottle, wallet)… and then some.
With a metal flip lock closure, a detachable strap (lined with metal studs), a spiked top handle, and a flat zipper pocket, this style is definitely more of a tote than a traditional handbag. I would recommend adding some sort of purse divider as the bag itself does not have any major interior split. I'm happy to report the flip lock closure is fairly strong and manages to keep all of my belongings intact. This is big for me, as I usually opt for bags with a top zipper. The small metal feet are another great feature, which protect the bottom of the bag (also made of calfskin).
Unfortunately, the spikes along the strap and handle make the bag slightly uncomfortable, especially for long periods of use. (If you're not wearing a sleeved shirt, the studs will dig into your skin, especially if the bag is weighed down.) If I would have known this prior, I may have steered clear of this particular Rockstud style. (Like I said before, the spikes really are that spiky… but there are other Rockstud bags that feature different shoulder straps sans the spikes.)
Though the bag is both stylish and quite functional (as a tote, crossbody, and shoulder bag), the awkwardness of the spikes along the handles really do put a damper on it.
Quality + Construction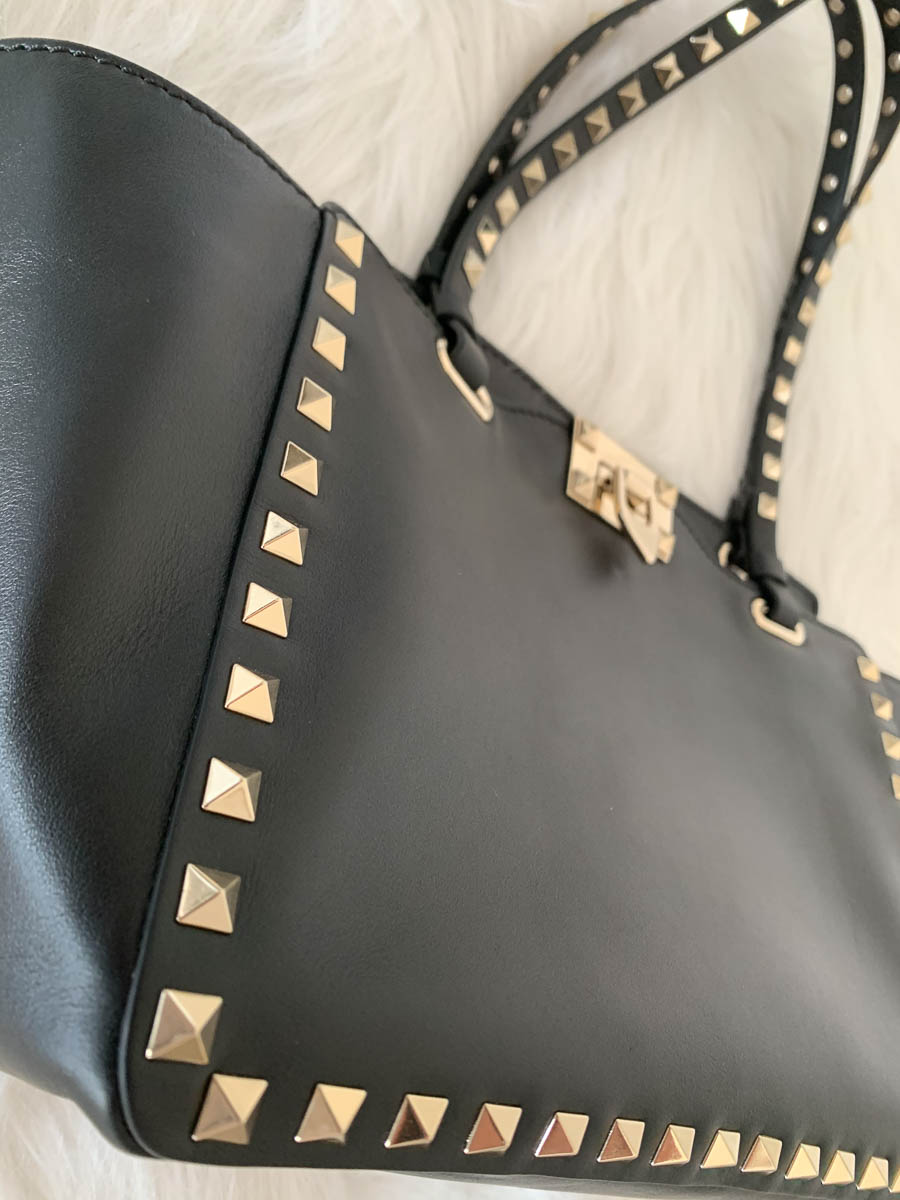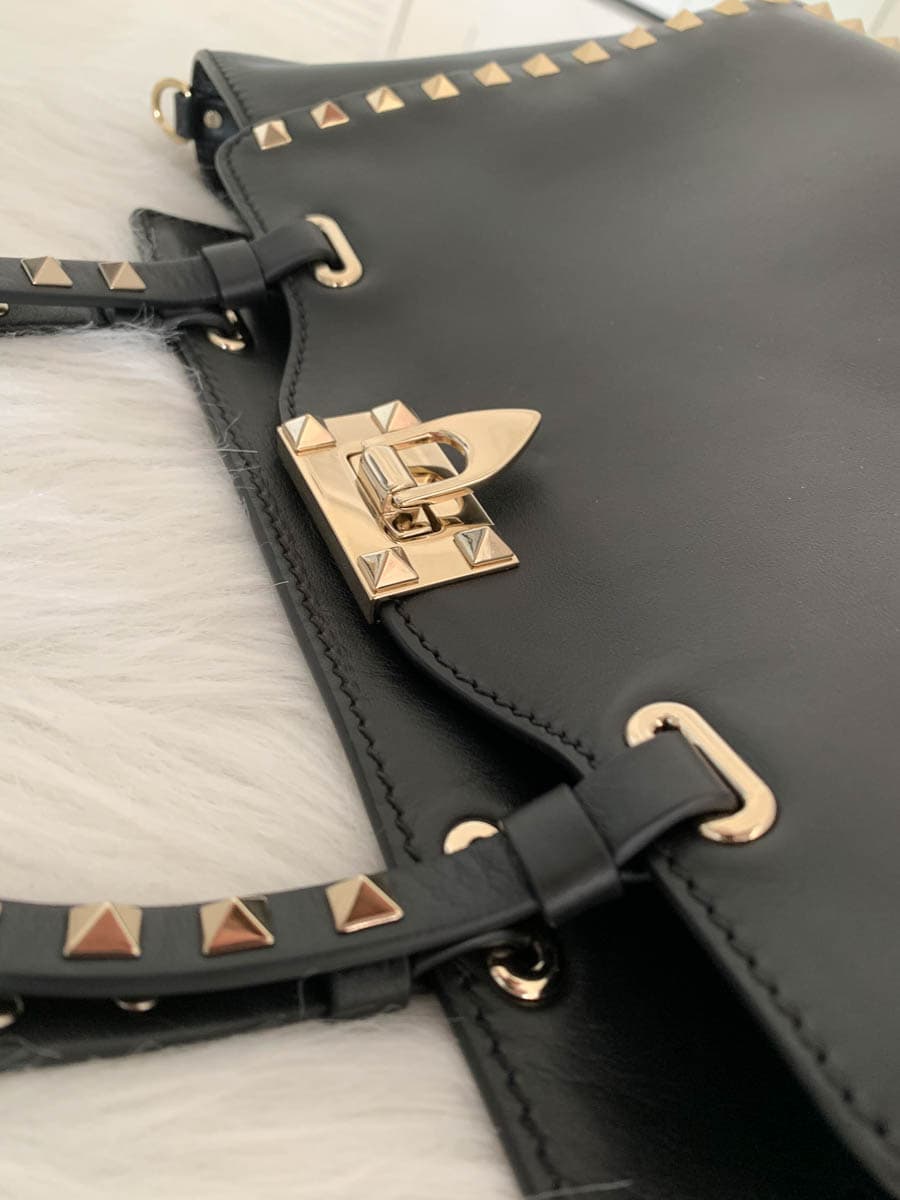 As I mentioned before, the calfskin leather is surprisingly durable. Before taking this bag out for the first time, I feared it would easily scratch and scuff – but so far, so good! The leather is strong and definitely holds up to its price tag, which is a win considering the same cannot always be said for other popular luxury brands. The feet on the bottom are an added bonus, too.
When I purchased the bag, I was given a few metallic studs in the event one falls off. For the price of the bag, let's hope that never occurs. They seem pretty sturdy though, so I'd be shocked if that actually happens.
Price + Value
Valentino's Rockstud line, which first appeared in Spring 2011 (it's been almost a decade!), has prevailed for years – even though many thought it wouldn't last more than a few seasons. Since then, Valentino has made bags and shoes in a seemingly never-ending series of colors, sizes, shapes, and combinations, all sporting the signature studded look. With that being said, I think it's safe to say that buying into the collection will prove to be worth it. Not necessarily as an investment, but you can bet that the bag itself won't be out of style by next year, or even the year after.
It's important to note that I personally acquired the bag for a heavily discounted amount because I bought it in an outlet in Italy. To be exact, I found it for 1,100 Euros, which is a little over $1,200, plus a 12 percent VAT refund. Go to Neiman Marcus in the U.S. and the tote will cost you somewhere around $2,400 and a couple hundred in tax. What I'm trying to say here is I didn't make the kind of investment that's required when purchasing it in the U.S. Honestly, after using it for a few months, I think I would still have been pleased to buy it full price.
Staying Power



As for staying power, the odds are definitely in Valentino's favor. It helps that the Rockstud line has maintained its presence for years within the fashion house's many designs. Medium size tote bags featuring soft lambskin leather never seem to quite go out of style either, and the metallic studs add a chic and edgy touch. If I had to place my bets, I'd say any bag lover would be happy with having a Rockstud in his or her collection.
Overall Rating
Between its subtle edginess, quality craftsmanship, and projected staying power, I'd definitely recommend adding a Rockstud piece to your collection, be it this specific style (if you're in the market for a tote) or something else. (Valentino makes nearly every type of bag in a Rockstud variation.)
Besides the hiccup that is the spiked and uncomfortable shoulder strap, the bag is an overall win – especially the leather quality… which is arguably hard to come by these days. If you're in the market for a Rockstud, let me know which one you're eyeing in the comments below!