Last October we partnered with Neiman Marcus for National Handbag Day and I got myself a Loewe Puzzle Bag. I had been obsessing over this bag for a while and was never sure if it was for me, but I couldn't stop thinking about it. The more I saw it on others, the more I decided I needed to have it for myself. There are so many color options, and I always liked the idea of the baby blue or soft pink hue, but wound up opting for classic black with added zipper details.
This bag is high fashion and I'm so glad I have it in my collection. After sharing a peek at my Loewe Puzzle bag in March, some of you asked for me to do a Purseonals with it. As I've been making it a priority to bring you Purseonals more often, here's a look at this bag and how it scores in our ratings.
1 / 6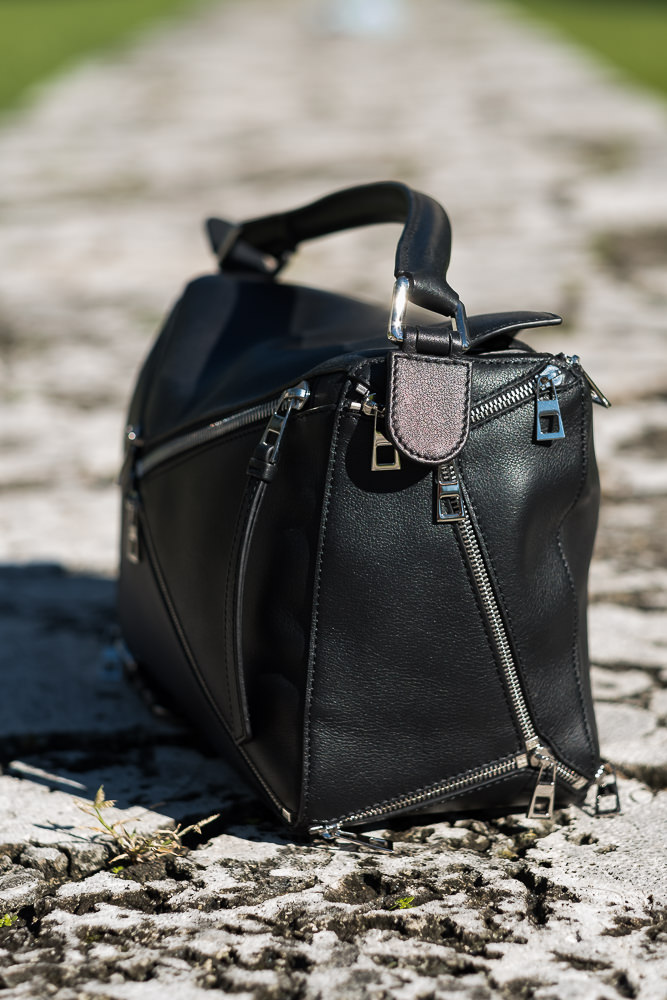 Aesthetics
Hands down the best part of this bag is how it looks. When it comes to handbags, it's harder and harder for brands to create a bag that is not like every other bag you see and that finds a way to be not overly garish and try-hard while also not being so simple its boring. This bag is the perfect middle ground of the two; it's fashionable and modern, but the look is well-edited. The lines are what make this bag so fun, with the Puzzle pieced together in a way that adds dimensionality.
I found that the more I saw this bag on editors and fashion people, the more I realized what a standout design it was. Sure, I don't look like or dress like most fashion editors, but I loved the way they made this bag come to life, and I wanted to add a classic black bag to my collection that wasn't boring—one that was just the opposite.
The shape of the bag is a bit different too, with a longer East West design that is more compact. I don't have another bag like this in my collection, and that makes it something special.
2 / 6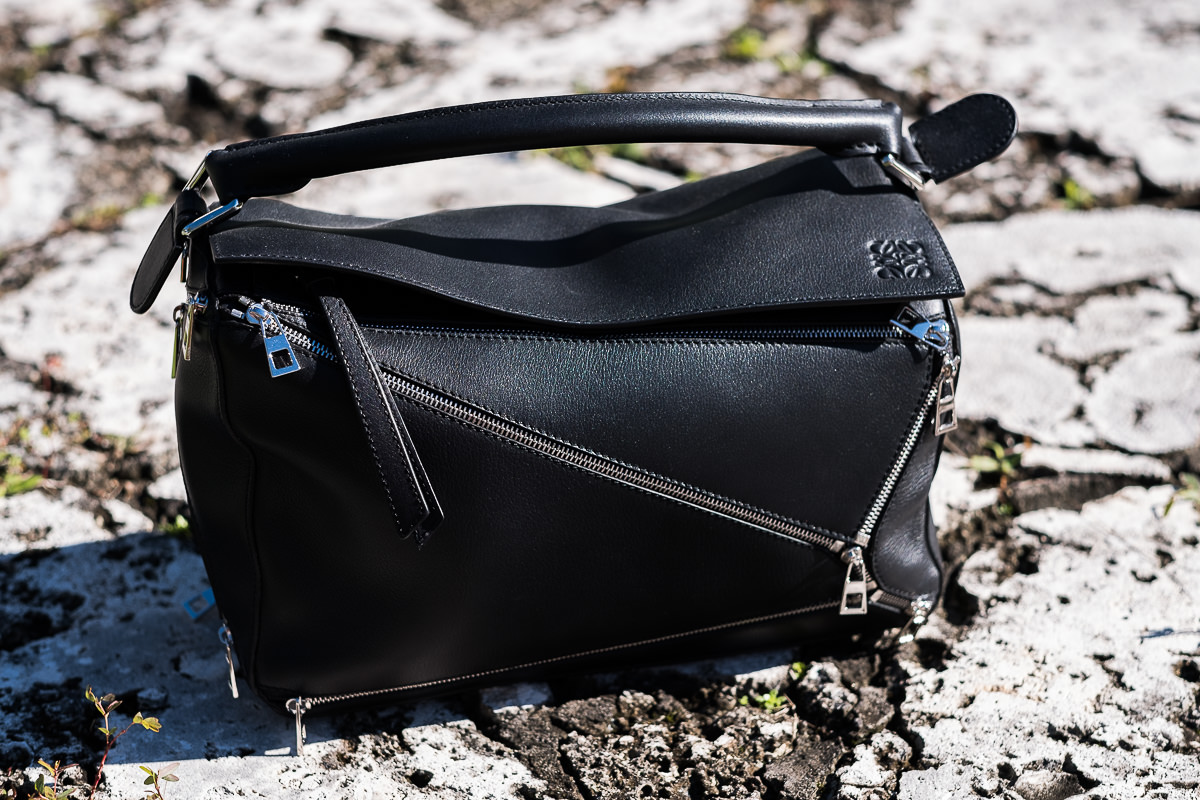 Usability + Functionality
Here's where this bag loses major points. I've read others accounts of the design making it very difficult to access the interior, and those complaints are so right. By the time you open the bag and get your hand inside, it's like reaching into a magician's hat to see what's inside. You don't know what's what or where anything is, and the opening area is not only small, but also hidden under a top flap. You can see from the photos how this bag naturally sits and how small the top opening is.
I don't know if the designers decided that the bag looks so good that they didn't care about the functionality, but that is a major downside. All but one of the zippers on the exterior of my bag are just for fun, and though I keep trying to open each one to see if I find a special compartment, all that I find myself doing is getting one zipper open and having the hardest time closing it back up. The one functional zipper is on the back of the bag, but it doesn't fit my iPhone, so I don't really know what I'd put in there. If I add my keys, it would make such a random bulky pooch, and I don't want that. So there's nothing much to do with the exterior zipper. And even worse is this zipper on the back of the bag got caught and snagged my sweater non-stop when we were taking pictures. We rarely have sweater weather in Florida, but a couple days ago we did and while this will be something I keep in mind going forward, I wouldn't want it to happen to one of your favorite sweaters!
This is probably the most negative I have been in any one category on a specific review, but I hate to harp on it because I do love the bag. I haven't seen many of these other bags in person and opened them up, so I can't compare interior colors, but the black interior lining makes this bag that much harder to find any one item inside. There is an open pocket, but it's awkward to get to.
I haven't used this bag so many times that you can consider the leather fully broken in, so there's a chance that with additional wear, it may open up a bit more. I see plenty of people carry the bag by the top handle, but there is an optional shoulder strap that is adjustable but not long enough for crossbody wear.
What this bag scores on style, it lacks in usability and functionality.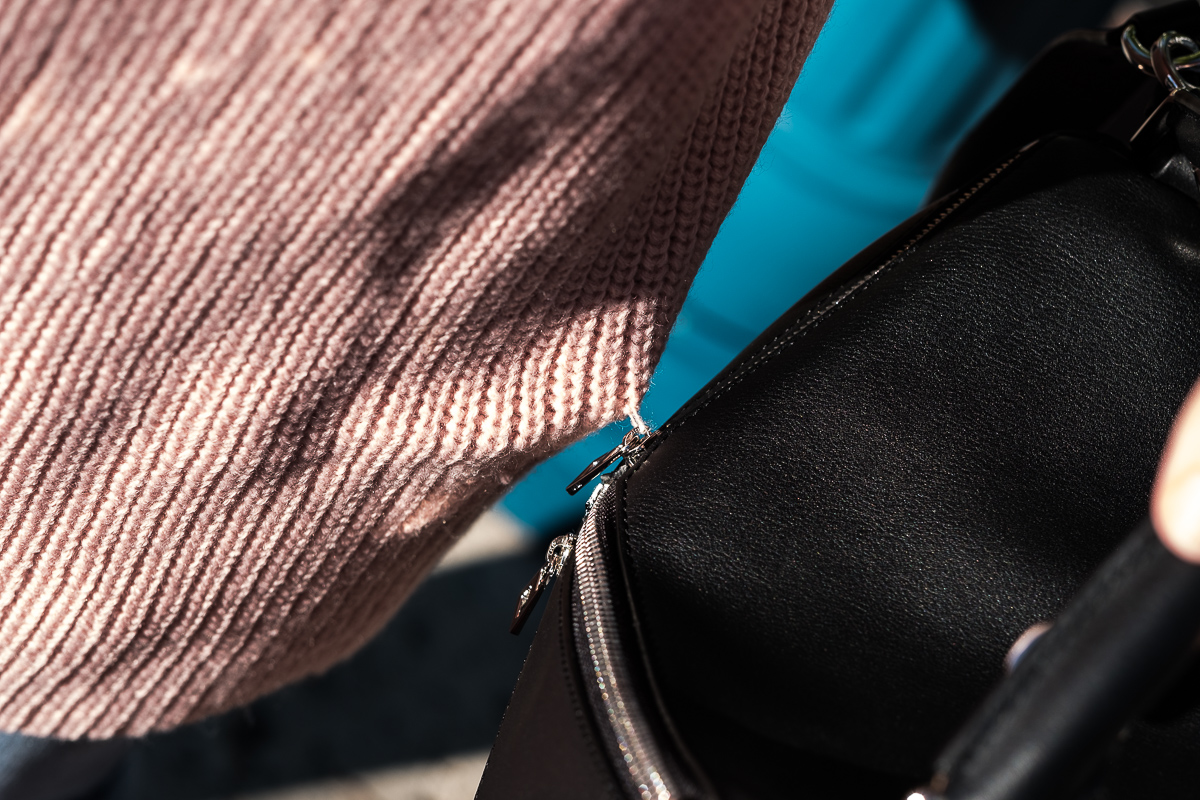 3 / 6
Quality + Construction
Though this bag is lacking in some ways, quality and construction is not one of them. My only complaint is that the zipper pulls on this bag are hard to open and shut—however, keep in mind these zippers serve no function. I suppose I am just easily amused by zippers and want to open and close them when I'm bored, but it's important to note that the additional zippers on the exterior are only available on this specific version of the bag I picked, not the usual version.
Aside from that, the quality is superb. The leather is thick and still smells amazing, almost like new car smell, and is both pretty to look at and touch. I love the grain on this bag, and I've found myself studying it up close more than once. Not one stitch is out of place after eight months of use, and overall, the bag feels supremely luxurious.
4 / 6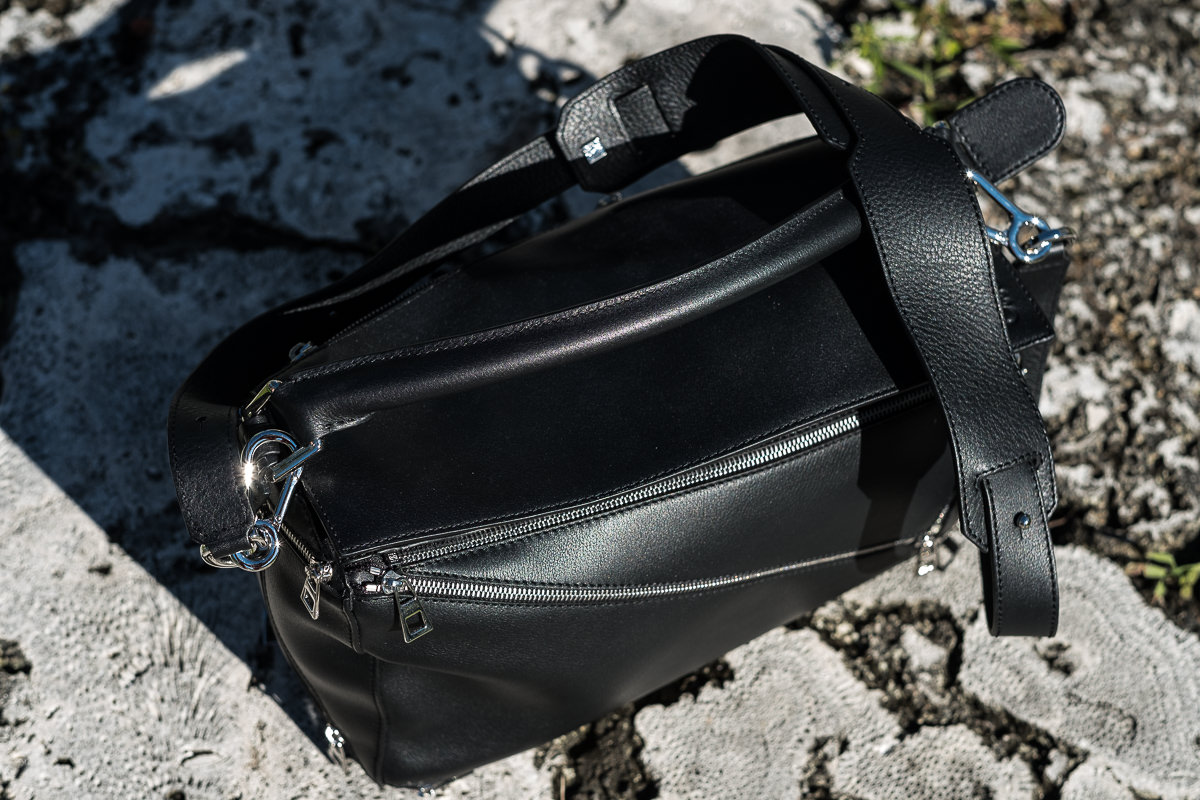 Value
Guys, is it just me or are handbag prices seeming pretty insane? It's hard to get away with a designer bag under $2,000 anymore, and this bag is on the pricier side. My version has a $500 markup from the simple leather version. Base price of this size Loewe Puzzle bag is $2,350, while my exact version is $2,850.
I do think the bag costs a bit more than I'd like it to for what you get. I love the style of the bag and think it's very imaginative and different from what else is out there. I think because it's harder to use, it becomes less of an everyday bag and should cost a bit less for that, but we all know that's not how handbag pricing works. The quality is great and that works for the price. Overall, I give the value a middle 2.5 stars, probably 3 stars if you got the regular leather version.
5 / 6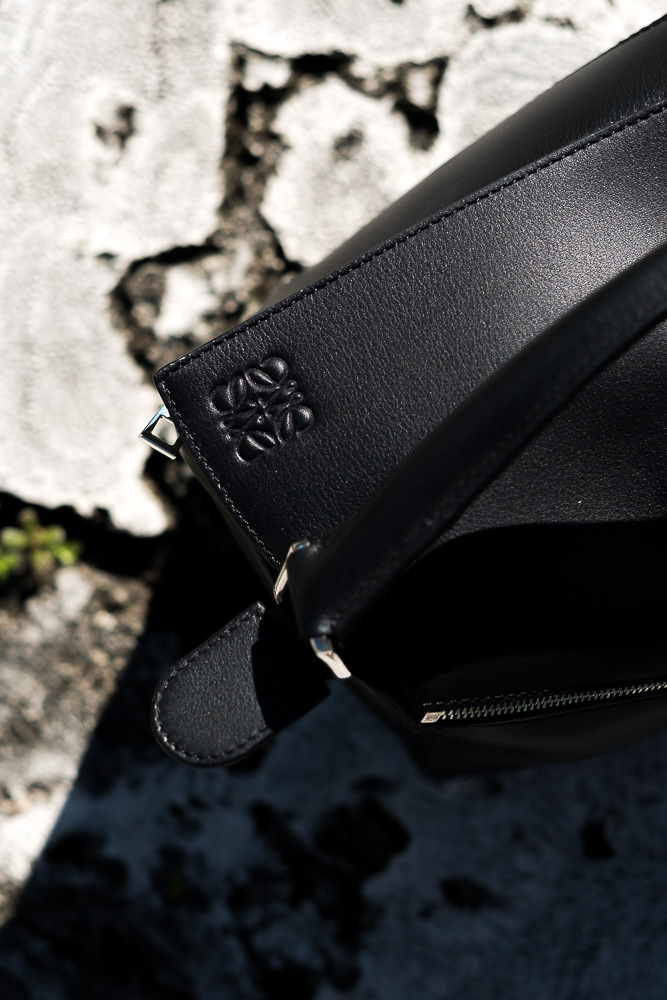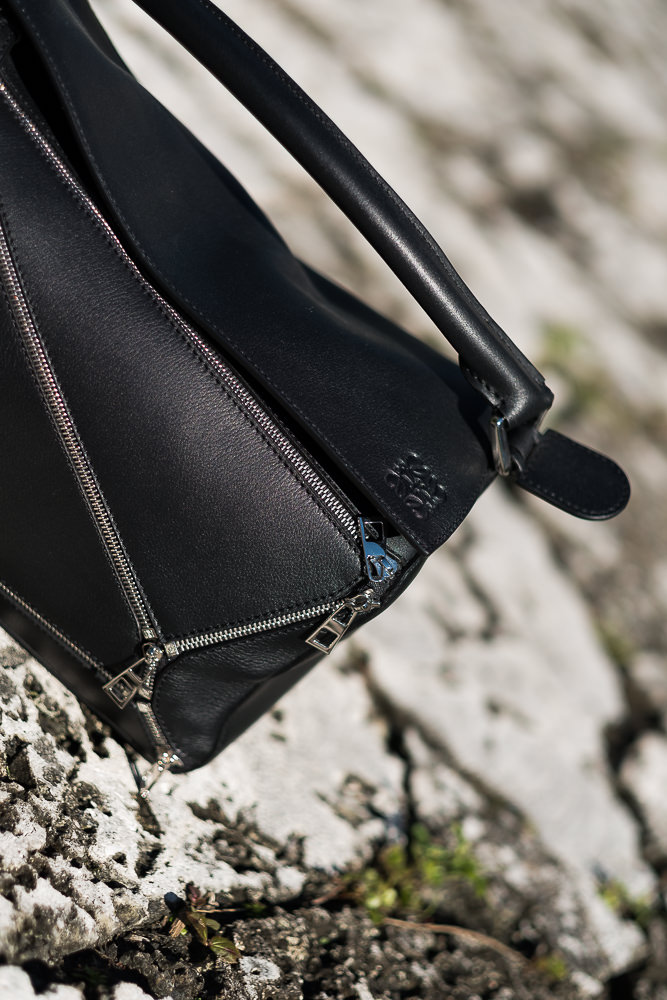 Staying Power
Though this bag falls into the trendier category, I find it to be one of those bags that I am so happy to have in my collection. It's fashionable enough that some people know about it, but it's not one of those bags that's reached peaked saturation to the point of being over-exposed, and I don't see that happening. As it is, this bag is a great option if you want something different from anything else in your collection, and there are so many glorious colors to choose from.
6 / 6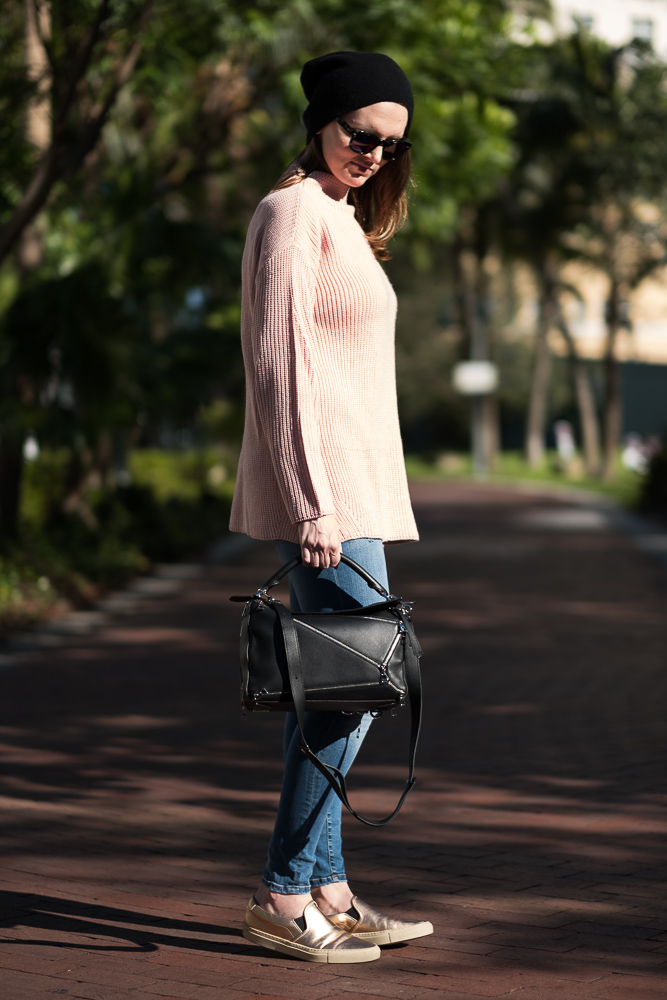 Total
This bag ranks lower than many others I've reviewed thus far, as the usability really put a dent in the overall score. Though the number may not reflect it, I am really happy I have this bag. If I didn't own as many bags as I do, I probably wouldn't love this bag as much, but it serves a purpose in my bag collection: it's a classic black bag with an edgy twist. If you love the Loewe Puzzle Bag as much as I do, there is a size and color for you. Prices range from just under $2,000 and up.
My version of the Loewe Puzzle Zips bag was $2,850 via Neiman Marcus.
Since my version is sold out, some of my other favorite options are Mini black, electric blue, dreamy light blue, funky polka dot, light sand, and black leather lacing.