I've wanted a Chanel bag for as long as I can remember. Before I took the plunge into full-blown ownership (they don't come cheap, after all!), I spent hours upon hours ruminating on which exact one would become my first.
As a true bag lover, I planned the exact moment I'd buy it months in advance. I had a trip to Paris in the works (unrelated to the bag) and figured it would be memorable to purchase a Chanel overseas versus back home in the States. Off I went to Champs-Elysées and the rest is history.
Here's your first look at my new Chanel Caviar Quilted Camera Case, a bag I (shockingly) prefer over my Classic Chanel Flap Bag (more on that later). While this specific style isn't currently available online, Chanel recently released a handful of similar versions which share virtually the same look, feel, and shape.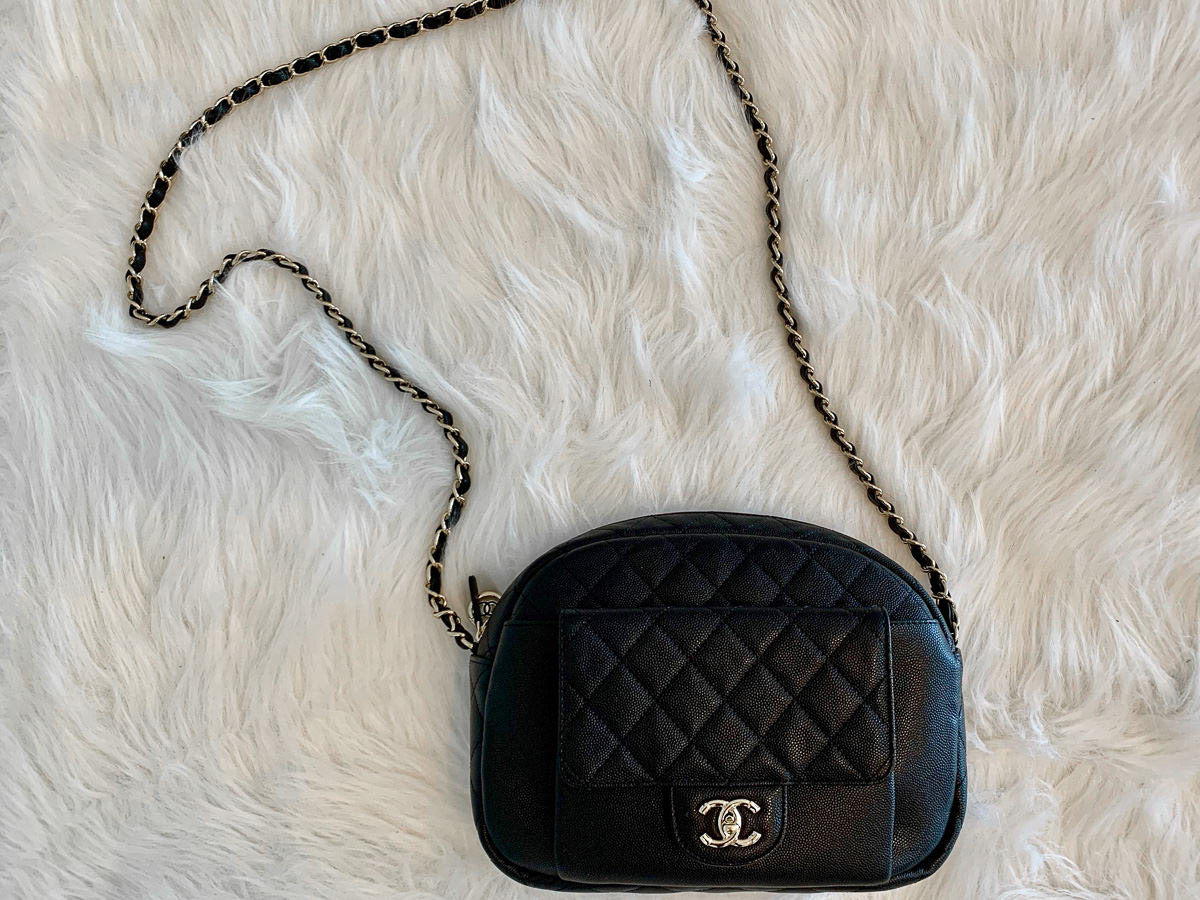 Aesthetics
As with many of Chanel's bags, this specific Camera Case comes in caviar quilted leather, aka my favorite. (Sorry, smooth calfskin.) With that, the bag sports a timeless and classic "Chanel" look, something that can't (and hopefully won't) ever go out of style. As with the Classic Flap, the frontside features a silver double-C clasp with a convenient pocket. The chain is pretty standard for Chanel, and the zipper is adorned with a second silver-and-black double-C logo.
In terms of overall aesthetics, this bag offers the best of Chanel's Business Affinity, Classic Flap, and standard Camera Bag. It's simple to take it from "day" to "night," given the hardware adds a decidedly dressier feel while the style and shape are more casual.
This particular bag, as well as many of Chanel's Camera Cases, are ideal for those who don't want to spend $5,000 or more on a Classic Flap, but still want the timeless essence of a Chanel. It also adds an effortless touch to just about any outfit – be it for girls' night out, a professional lunch, or a weekend of travel.
Usability + Functionality
These two factors are major to me, which is why I frequently discuss the importance I place on a bag's usability and functionality. If you're not going to get substantial wear out of a bag, what's the point? In most cases, we're talking about a significant purchase, so the financier in me always calculates and compares the price of the bag against my expected wear and potential investment return.
In terms of functionality, the best kind of camera bag (which, in this case, is the Chanel) is small and chic but still holds a ton, namely a full-sized wallet and a water bottle. There's a sturdy top zipper involved, and two interior pockets (one open and one zipped). The strap is perfect for crossbody as well as shoulder, and the front flap pocket is a welcomed bonus. It's a great spot to quickly store your phone or keys.
While the bag may appear small, the inside is roomy and easy to navigate. A frequent criticism of top-zip camera bags is the challenge to place items in and out of the bag. That doesn't apply here. Once unzipped, the bag opens wide, enough to even fit a 17-ounce bottle inside.
I'm about 5'4 and the bag sits nicely on my body at around my hip. Wearing it on my shoulder makes it a little longer but still doable. As with any camera bag without removable straps (sigh), the only way to wear this particular style is with its long straps. That makes it difficult to store when sitting at a coffee shop or restaurant, unless you place it on your lap.
All in all, this bag is the perfect counterpart to the on-the-go woman. You'll have more than enough room to hold your valuables, and you may even forget you have the bag on. (It's that comfortable!) It's not in the slightest bit heavy either. Suffice to say, you'll be turning heads (the CC logo has that effect) without even realizing.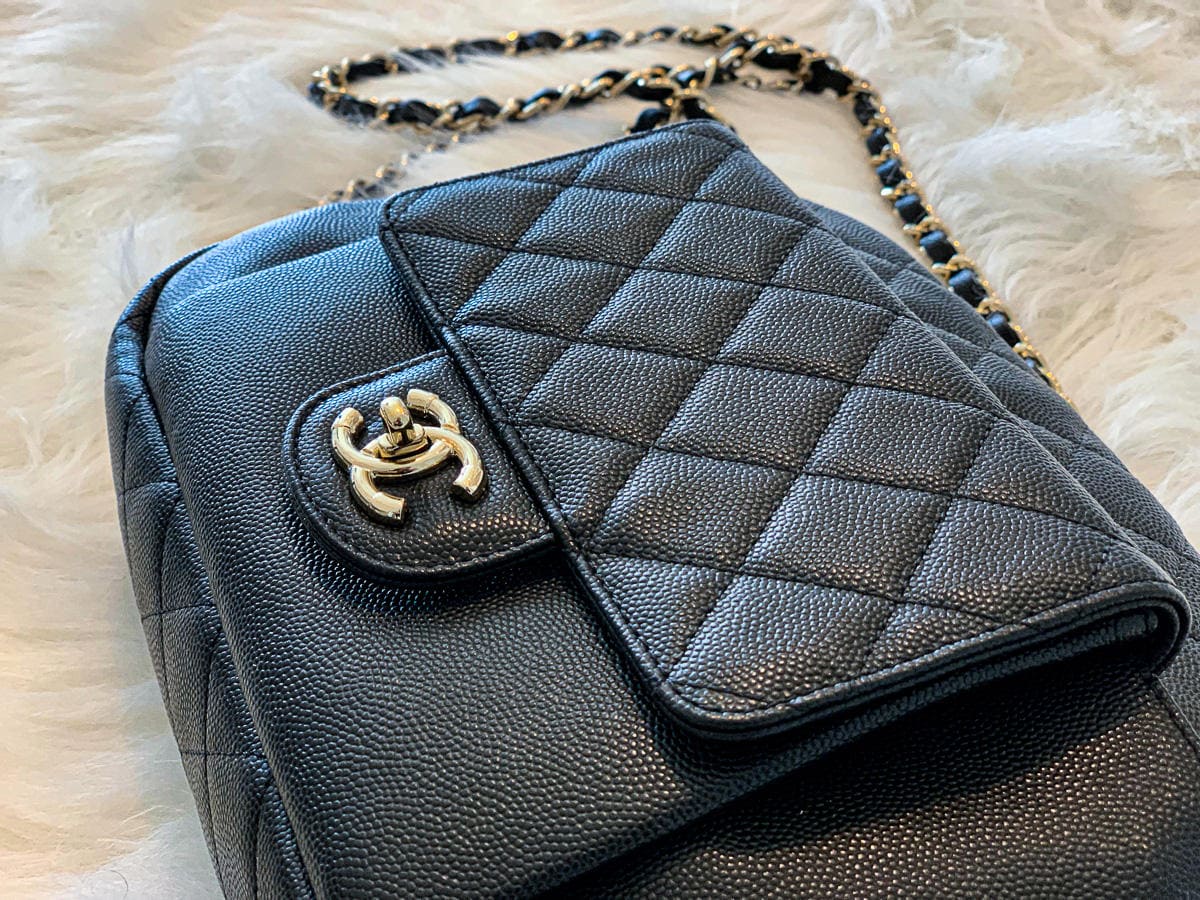 Quality + Construction
In terms of quality and construction, this bag falls in line with what you'd expect from Chanel. Though there's been discussion on whether or not Chanel's quality has deteriorated over time, I have had nothing but positive experiences with it. To me, the quality and construction is as luxurious as a Classic Flap, with gorgeous hardware, fine stitching, and a well-built chain.
I've carried in through the rain and heat and thrown it around my apartment and car. By no means have I "babied" it. With about three months of almost daily wear, you can see (evidenced from the photos) that the bag looks virtually untouched.
No, it's not some sort of illusion. The bag is just that sturdy, and the quilted caviar leather definitely helps. I can't say it would be the same if the bag was made with smooth lambskin or suede.
The only issue I have with the construction is, due in part to the front flap and lack of "feet," the bag tilts forward, especially when it's close to empty. That means you have to be quite careful that it won't completely tip forward when not in use.
Price + Value
Compared to Chanel's line-up of bags and small leather goods, this one is a steal. When I purchased it (in April 2019), it retailed for just over $3,500. As I mentioned before, this specific style is not currently available. However, I've heard from SAs and insiders that it is likely to be resurrected in an upcoming season, similar to Chanel's Business Affinity.
Anyway, I think given its design (reminiscent of a Classic Flap) and its functionality, the value speaks for itself. If you're anything like me, you'll get an unbelievable amount of use out of it. Just call it your new everyday bag.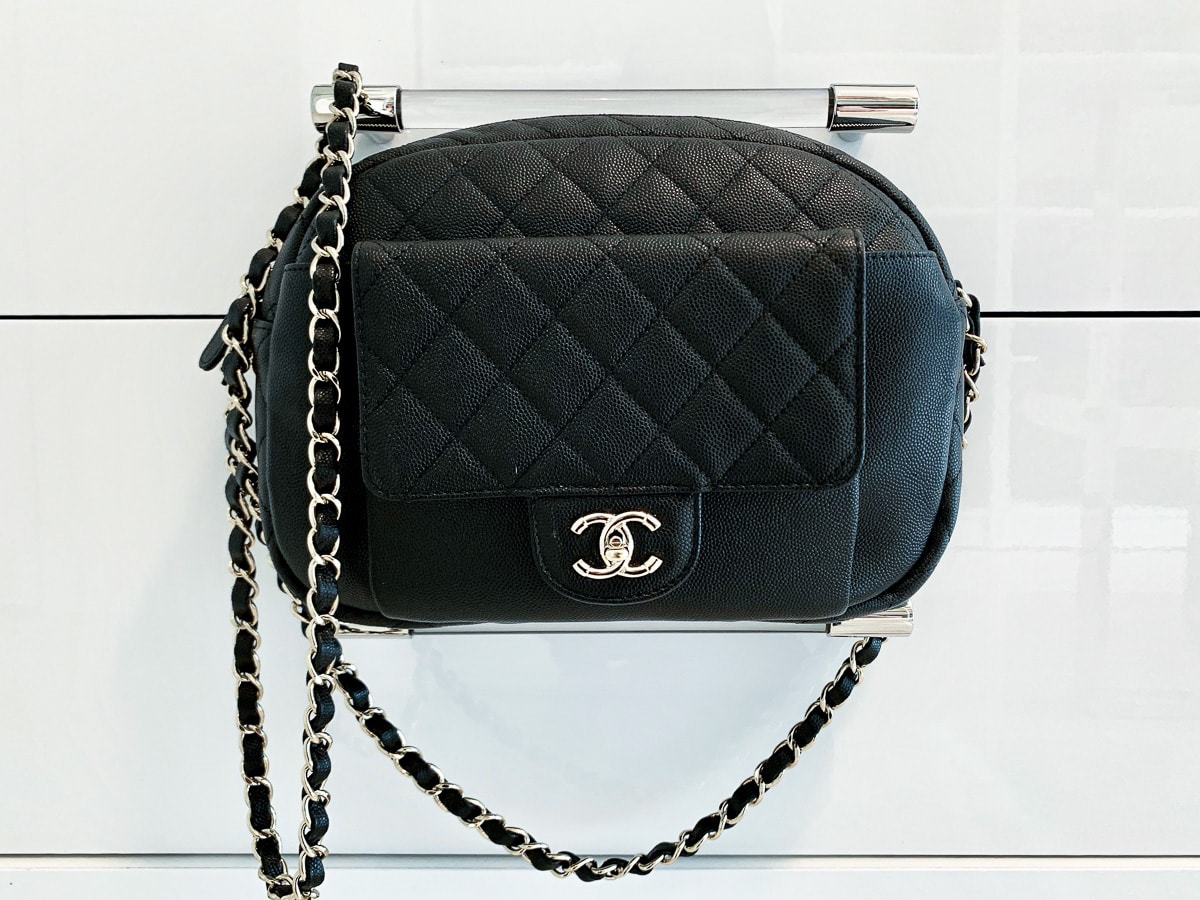 Staying Power
Because this style is comparable to many of Chanel's most beloved bags, and I don't anticipate Chanel going anywhere anytime soon, having one in your arsenal can't hurt. There's a classic and timeless perception associated with most Chanel bags (I'd say all, but some of them are a little too funky for my liking), and this style surely fits the bill.
Worst-case scenario, Chanel never brings back this particular camera case style. You still have yourself a classic double-C bag in quilted leather with the signature chain. Let's just say, there's worse problems to have.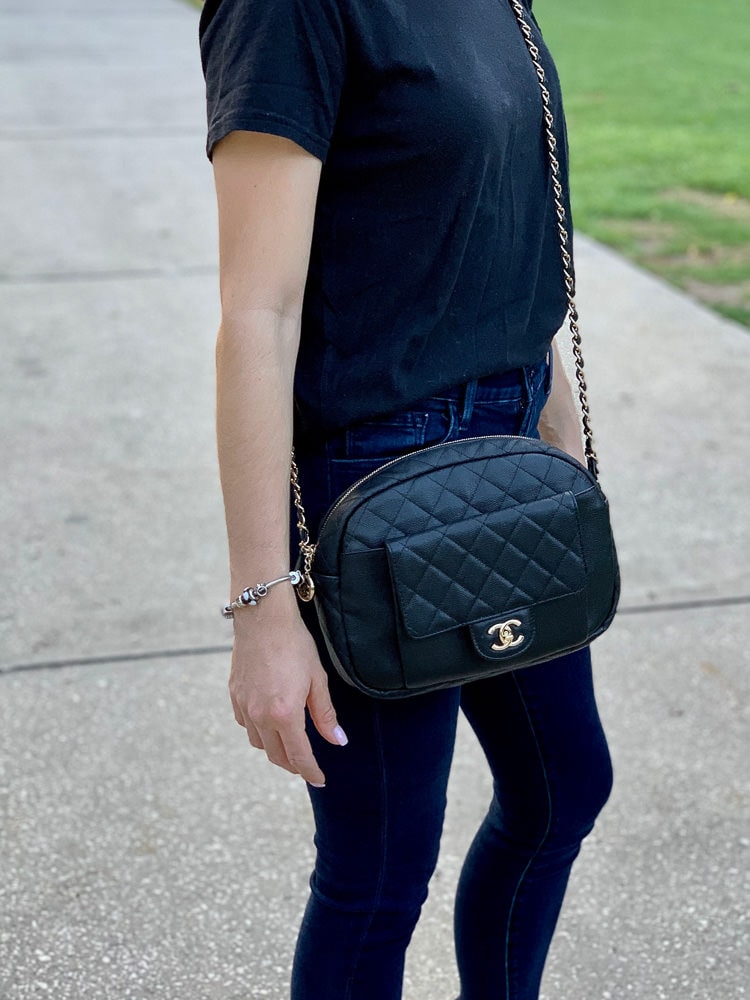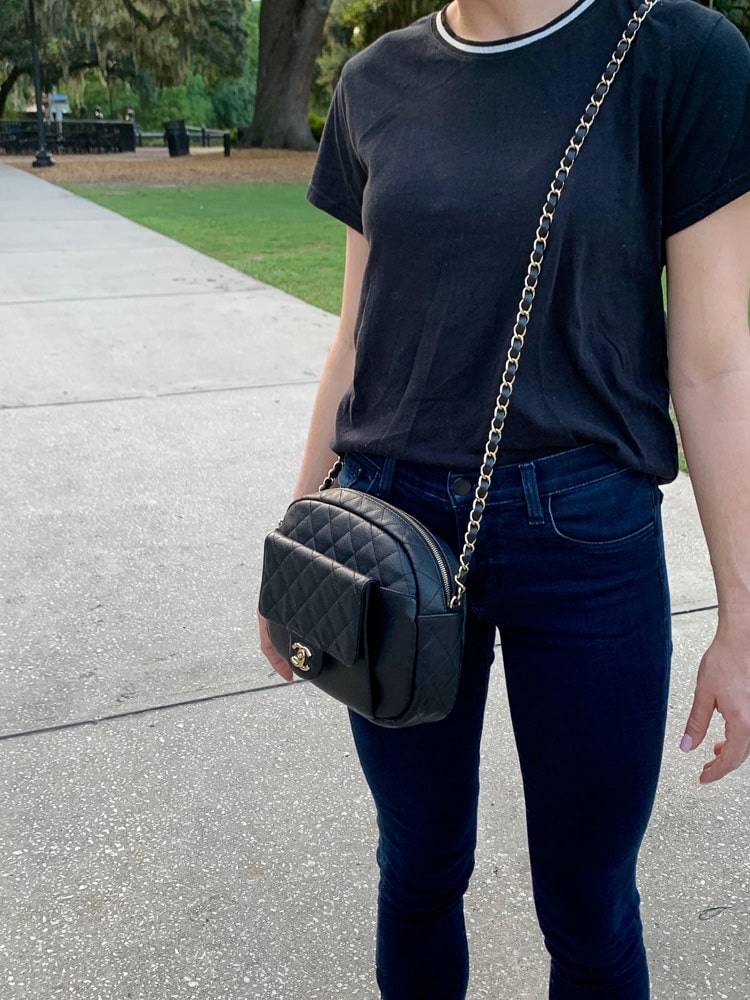 Overall Rating
Since I purchased this bag and the Classic Chanel Flap, I've used the former almost every day and the latter maybe twice. I don't regret purchasing both (and I probably wouldn't have been satisfied without the Classic Flap), but if I had to choose, I would undoubtedly go for the Camera Case instead.
The classic Chanel look and feel, coupled with its incredibly functionality and somewhat approachable price (for Chanel!) make this bag a no-brainer.
I'll leave you with this, something I've said many times to friends and family since purchasing it: If something happened to this bag tomorrow, I'd without a shadow of a doubt find the nearest Chanel boutique and buy a new one, be it this specific style (if I could find it) or something similar. No bag fund. No second-thought. That's how much I've come to love this bag. It will definitely be a major part of my collection going forward.
Check out Chanel's current line of Camera Cases here. A word of advice: Check back often, as I've noticed styles are frequently updated.
P.S. Please consider supporting our small, bag-loving team by clicking our links before shopping or checking out at your favorite online retailers like Amazon, Neiman Marcus, Nordstrom, or any of the listed partners on our shop page. We truly appreciate your support!