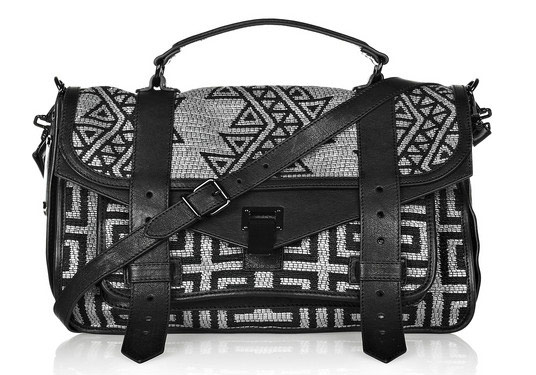 Both Megs and I hold a special place in our hearts for the Proenza Schouler PS1 Bag, and I only find myself liking it more as time goes on. Jack & Lazaro's decision to have their black-on-black beauties hand-embroidered with a grey pattern for fall just makes my heart flip all the more, and it was already flipping quite a bit over the simple leather PS1s.
Sadly, I won't have to start making arrangements in my budget and closet to accomodate one of these lovely bags, because they sold out almost immediately upon their Net-a-Porter debut yesterday morning. But a girl can still dream, right?
Usually I eschew patterned bags (unless they're animal print, of course), but this one has my attention. The obvious neutrality of the color choices would make it just as easy to work this bag into my wardrobe as one that was only black or only grey, and you get so much more visual interest when you combine the two into this geometric, slightly tribal-leaning pattern. This bag probably won't do anything to convince women who are still skeptical of the PS1, but for those who are already in love, it's an unexpected treat. It retails for $1825, and you can add it to your Net-a-Porter wish list for stock updates.