Before Vlad and I headed to NYC to find an apartment, I told everyone on Twitter that if we found a place I was going to reward myself with a new bag. I had decided it would either be a Balenciaga bag or Proenza Schouler bag. Well, hello! What was I thinking? A move to NYC is very expensive, especially when it comes down to all of the fees. So I left bag-less but with a great apartment, which was obviously the way to go.
To be completely honest, I desperately want both the PS1 and a Balenciaga City. So it was probably better not to over tempt myself. Speaking of tempting, here is the Proenza Schouler PS1 in olive green.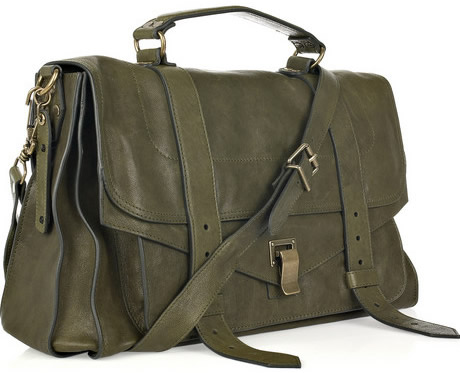 Military green is making a huge statement. The color is always soothing to be, the perfect pairing of green with hues of brown that gives it a very wearable coloring. The PS1 bag itself is already a little rugged chic, so olive green is a match made in heaven with this bag. Buy via Net A Porter for $1,995.