I obsessed over the Proenza Schouler PS1 all of 2010 but never bought one. It wasn't for lack of love, more for my wanting not to buy every single bag I saw that I liked – because that would get ridiculous. But I don't see me lasting all of 2011 without buying a Proenza Schouler bag, it is getting to the place of "needing" one.
Fresh for 2011, the Proenza Schouler PS1 gets a color and material makeover with brown leather, black suede and beige linen. The colors are meticulously placed on different areas of the bag, giving a very clean and eye-catching appearance. The body of the bag is beige linen with brown leather offsets and then there are black suede strap detailing.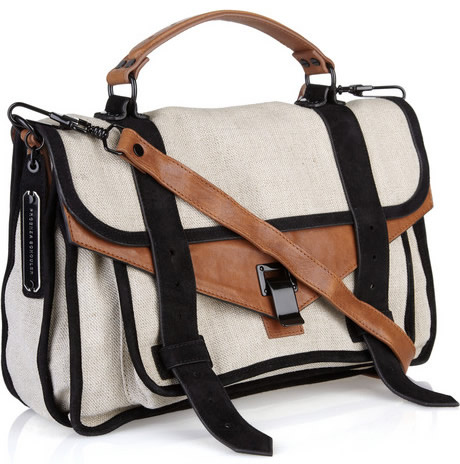 We will always tell you how hard it is to keep linen clean, and that is still true. The funny thing is accessory designers tend to pick light linen colors which are so much more difficult to keep clean. Then again, it looks the best. And on this bag, I am seriously loving the contrasting colors. The beige, brown and black may all appear drastic next to each other, but it is such a welcomed change.
At first I was unsure, but now I am in love. I started off thinking I would tell you all that this is not the Proenza Schouler bag I would be buying, but when I reflect on my 2011 handbag resolutions I remember saying to think of what I need in my collection. I have nothing like this and I totally adore it. Buy via Net-A-Porter for $1,485.