Megs and I are big Proenza Schouler fangirls already, as many of you might have noticed, and I'm already on the record as loving the Proenza Schouler PS1 Crossbody Pouch. The bag is functional, exactly my style and cute as a button – how could I not love it? So when you add gorgeous sueded yellow crocodile into the mix, my heart beats even faster.
Unfortunately, with crocodile comes a significantly increased price tag. If money were no object, I'd gladly plunk down in excess of six grand to have one of these little bags hanging from my shoulder. It's a great pop of color and Proenza Schouler is still a relatively small, independently run brand, after all. So it would sort of be like supporting a local small business…right? Right? Ok, maybe it's different. But the bag is still great.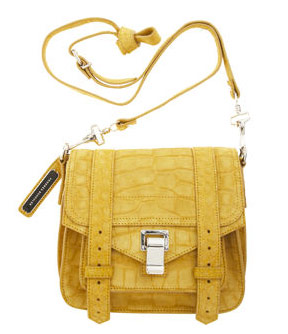 The only problem, of course, is that $6000 is a lot of money for almost anything except a house or vehicle, and spending that amount on a relatively trendy piece isn't advisable for anyone except the most wealthy among us. Since I'm sadly not part of that group, I'll have to continue to covet this piece of handbag gold from afar. And covet I shall. Buy through Barneys for $6275.